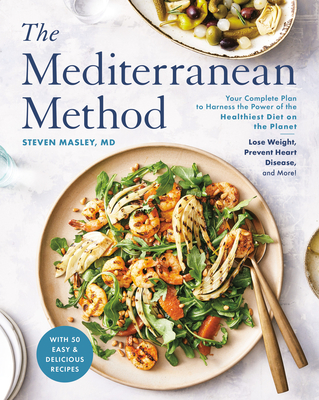 The Mediterranean Method
Your Complete Plan to Harness the Power of the Healthiest Diet on the Planet -- Lose Weight, Prevent Heart Disease, and More! (A Mediterranean Diet Cookbook)
Hardcover

* Individual store prices may vary.
Other Editions of This Title:
Paperback (12/28/2021)
Description
From a bestselling author and physician, this fresh approach to the Mediterranean diet—ranked #1 by U.S. News and World Report in 2021—helps readers lose weight and improve the health of their heart, brain, gut, and microbiome.

From southern Italy, Sardinia, and France to Spain, Greece, and Northern Africa the Mediterranean region is synonymous with sparkling azure waters and clear blue skies. It's also home to most of the world's longest-lived and vibrantly healthy people. Now we know why! Repeatedly ranked the #1 diet by U.S. News and World Report, the Mediterranean eating style—abundant seafood, vegetables, fruits, beans and nuts; lots of olive oil; a wide variety of herbs and spices; and even dark chocolate and red wine—has been scientifically proven to maintain a healthy gut and healthy weight, thereby reducing your risk for heart disease, dementia, memory loss, and many cancers in the process.

Taking this famously healthy and life-enhancing "prescription" one step further, Dr. Steven Masley—renowned physician, nutritionist, bestselling author, and trained chef—offers all the flavors and benefits of the Mediterranean diet, but with a "skinny" twist: he focuses on delicious ingredients with a low-glycemic load. Including 50 recipes for food everyone at the table will love—from hearty breakfasts, crowd-pleasing appetizers, soups, and sides, to family-style salads, memorable main meals, and irresistible desserts—The Mediterranean Method is a revolutionary program for losing weight and maintaining the amazing health you regain. Slim down and protect your heart, your brain, and your healthy longevity—all while you enjoy the amazing bounty, variety, and joy of Mediterranean cooking!
Praise For The Mediterranean Method: Your Complete Plan to Harness the Power of the Healthiest Diet on the Planet -- Lose Weight, Prevent Heart Disease, and More! (A Mediterranean Diet Cookbook)…
"You can't lose when you get your eating plan from a trained chef who also happens to be an incredible physician and nutrition expert! Dr. Steven Masley's Mediterranean Method uses smart science and mouthwatering recipes to create a healthy weight-loss protocol that you can actually stick to long-term. Bonus: you're protecting your brain and heart health in the process."—JJ Virgin, New York Times bestselling author of The Virgin Diet and The Sugar Impact Diet

"If you want to protect your heart, brain, and gut health all while losing weight, this is the book for you. The program detailed in this innovative book is easy to follow, and—most important—deliciously satisfying."—Daniel G. Amen, MD, founder of Amen Clinics and author of Change Your Brain, Change Your Life

"Leveraging the very best in nutritional science . . . Dr. Masley has truly created the Mediterranean diet '2.0' and skillfully guides the reader through its implementation."—David Perlmutter, MD, #1 New York Times bestselling author of Grain Brain and Brain Wash

"Combines traditional Mediterranean wisdom with the very latest in nutritional science to create a way of eating that's fresh, delicious, slimming, and incredibly good for you. This is a plan you can follow—and love—for life."—Dr. Kellyann Petrucci, New York Times bestselling author of Dr. Kellyann's Bone Broth Diet

"Dr. Masley provides the best explanation and application yet of this famous dietary and lifestyle approach. . . . I recommend it with enthusiasm."—Dale E. Bredesen, MD, founding president and professor emeritus of Buck Institute for Research on Aging and author of The End of Alzheimer's

"What do you get when you cross a world-renowned physician/nutritionist with a trained gourmet chef? You get Dr. Steven Masley! In this absolutely wonderful book, Dr. Masley presents a novel way of eating that puts a low-glycemic twist on the Mediterranean diet. You'll never miss the sugar, and the recipes are fantastic!"—Jonny Bowden, PhD, CNS, board-certified nutritionist and bestselling author of The 150 Healthiest Foods on Earth

"The next best thing to actually living there, The Mediterranean Method gives you all of the flavors and ingredients of the healthiest region in the world, but none of the deprivation you might associate with a 'diet.' Dr. Masley is an expert clinician, physician and foodie, ensuring that his plan will deliciously improve the lives of all!"—Anna Cabeca, DO, author of The Hormone Fix

"We all need to get back to what has worked for the Mediterranean peoples for centuries. This book is a great place to start and a genuine must-read! It's a superb, comprehensive, and easy-to-read book on nutritional healing."—Stephen Sinatra, MD, author of The Sinatra Solution
 
"Dr. Masley makes eating well easy and enjoyable. My favorite 'Method' recipe is one you might not associate with Mediterranean cuisine: the breakfast shake. It's a phenomenally delicious and nutritious way to start the day. You'll be able to find the ingredients of his plan anywhere, and with his clear explanations and authoritative instructions, he'll make you feel like a gourmet chef!"—Robyn Openshaw, MSW, LCSW, founder of GreenSmoothieGirl and bestselling author of Vibe and The Green Smoothies Diet

"If you're looking for a delicious way to eat without all the diet jargon and special ingredients, this is your book.  Dr. Masley is brilliant—he explains the science behind the Mediterranean eating style but also gives you delicious, flavorful, and simple recipes for adopting this healthful way of life. He's also a real chef—I've cooked with him and know he's the best. I highly, highly recommend this book!"—Leanne Ely, author of Saving Dinner
Harmony, 9780593136034, 240pp.
Publication Date: December 31, 2019
About the Author
Steven Masley, MD, is a physician, nutritionist, and trained chef. A fellow with the American Heart Association and the American College of Nutrition, he has helped thousands of patients improve their cognitive function and prevent and reverse type II diabetes and heart disease. His clinical research focuses on the impact of lifestyle choices on brain function, heart health, and aging. Masley has published several best-selling books, including The Better Brain Solution, The 30-Day Heart Tune-Up, Ten Years Younger, and Smart Fat, and numerous scientific articles that have appeared in The Journal of the American College of Nutrition, Integrative Medicine, JAMA, The American Family Physician, and The Journal of Clinical Psychology. His health programs have been seen on PBS, the Discovery Channel, and the Today show. Dr. Masley is a clinical associate professor with the University of South Florida. He lives in St. Petersburg, Florida.