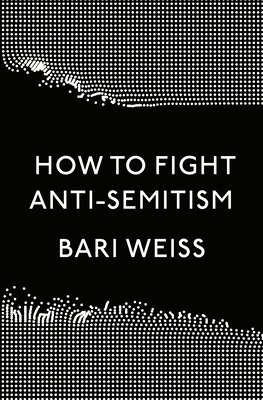 How to Fight Anti-Semitism
Hardcover

* Individual store prices may vary.
Other Editions of This Title:
Digital Audiobook (9/9/2019)
Paperback (9/7/2021)
Description
"The most important book you will read this year."—Caitlin Flanagan, author of To Hell with All That

WINNER OF THE NATIONAL JEWISH BOOK AWARD • The prescient former New York Times writer delivers an urgent wake-up call to all Americans exposing the alarming rise of anti-Semitism in this country—and explains what we can do to defeat it.
 
On October 27, 2018, eleven Jews were gunned down as they prayed at their synagogue in Pittsburgh. It was the deadliest attack on Jews in American history.
 
For most Americans, the massacre at Tree of Life, the synagogue where Bari Weiss became a bat mitzvah, came as a shock. But anti-Semitism is the oldest hatred, commonplace across the Middle East and on the rise for years in Europe. So that terrible morning in Pittsburgh, as well as the continued surge of hate crimes against Jews in cities and towns across the country, raise a question Americans cannot avoid: Could it happen here?
 
This book is Weiss's answer.
 
Like many, Weiss long believed this country could escape the rising tide of anti-Semitism. With its promise of free speech and religion, its insistence that all people are created equal, its tolerance for difference, and its emphasis on shared ideals rather than bloodlines, America has been, even with all its flaws, a new Jerusalem for the Jewish people. But now the luckiest Jews in history are beginning to face a three-headed dragon known all too well to Jews of other times and places: the physical fear of violent assault, the moral fear of ideological vilification, and the political fear of resurgent fascism and populism.
 
No longer the exclusive province of the far right, the far left, and assorted religious bigots, anti-Semitism now finds a home in identity politics as well as the reaction against identity politics, in the renewal of America First isolationism and the rise of one-world socialism, and in the spread of Islamist ideas into unlikely places. A hatred that was, until recently, reliably taboo is migrating toward the mainstream, amplified by social media and a culture of conspiracy that threatens us all.
 
Weiss is one of our most provocative writers, and her cri de coeur makes a powerful case for renewing Jewish and American values in this uncertain moment. Not just for the sake of America's Jews, but for the sake of America.
Praise For How to Fight Anti-Semitism…
"A timely warning against a Judaism that trembles at the knees."—Washington Examiner

"Bari Weiss has written what must be judged a brave book. . . . Weiss has delivered a praiseworthy and concise brief against modern-day anti-Semitism."—The New York Times

"Weiss's book feels like one long, soul-wrenching letter, written in a charmingly accessible style by a proud American reeling from the realization that the haters are on the rise in this land we love."—Jewish Journal

"An important read . . . Because a battle over normalizing anti-Semitism is already underway, Weiss's real public service is encouraging mainstream Americans to join the forces of light."—The Federalist

"What Heinrich Graetz required six volumes of Jewish history to encompass, Bari Weiss has achieved with remarkable succinctness. This important book will engender a thousand conversations."—Cynthia Ozick

"Her childhood synagogue in Pittsburgh was the site of last year's Shabbat morning massacre. This passionate, vividly written, regularly insightful book is her pained, fighting elegy."—The Guardian

"A bold summons to confront humanity's oldest hatred."—National Review

"Weiss's refreshingly forthright opinions and remarkably thorough yet concise history lessons make this a must-read for anyone seeking to understand and stop the rise of a pernicious ideology."—Publishers Weekly

"At the core of the text is the author's concern for the health and safety of American citizens, and she encourages anyone 'who loves freedom and seeks to protect it' to join with her in vigorous activism."—Kirkus Reviews
 
"This is the most important book you will read this year. Concise, morally certain, it's a bullet train from the first sentence to the last. There needs to be a copy in every classroom in the country. If you think something dark is rising, you're right. What can you do? This is what you do."—Caitlin Flanagan, staff writer, The Atlantic, and author of To Hell with All That

"How to Fight Anti-Semitism is urgent, frank, and fearless. There is something here to offend everyone—because there is something here to awaken everyone."—Rabbi David Wolpe, author of David: The Divided Heart

"While European anti-Semitism has put Jews in mortal danger for too long, the 'shining city upon a hill'—America—has descended into this same toxic darkness. Bari Weiss's book is a powerful wake-up call against complacency and should push all freethinkers on both sides of the Atlantic to take a stand against new guises of the oldest form of hate in the world. How to Fight Anti-Semitism? Yes. But it could also be called How to Save Liberal Democracy.'"—Bernard-Henri Lévy, bestselling author of The Empire and the Five Kings
Crown, 9780593136058, 224pp.
Publication Date: September 10, 2019
About the Author
Bari Weiss is a writer and editor who worked for the opinion section of The New York Times from 2017 to 2020. Previously, she was an op-ed and book review editor at The Wall Street Journal and a senior editor at Tablet, the online magazine of Jewish politics and culture. She is a native of Pittsburgh and lives in New York City.