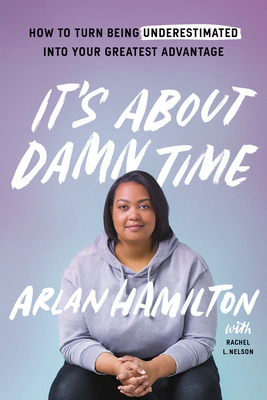 It's About Damn Time
How to Turn Being Underestimated into Your Greatest Advantage
Hardcover

* Individual store prices may vary.
Other Editions of This Title:
Digital Audiobook (5/4/2020)
Paperback (2/15/2022)
Description
"A hero's tale of what's possible when we unlock our potential, continue the search for knowledge, and draw on our lived experiences to guide us through the darkest moments."—Stacey Abrams

From a Black, gay woman who broke into the boys' club of Silicon Valley comes an empowering guide to finding your voice, working your way into any room you want to be in, and achieving your own dreams.

NAMED ONE OF THE BEST BOOKS OF THE YEAR BY FORTUNE

In 2015, Arlan Hamilton was on food stamps and sleeping on the floor of the San Francisco airport, with nothing but an old laptop and a dream of breaking into the venture capital business. She couldn't understand why people starting companies all looked the same (White and male), and she wanted the chance to invest in the ideas and people who didn't conform to this image of how a founder is supposed to look. Hamilton had no contacts or network in Silicon Valley, no background in finance—not even a college degree. What she did have was fierce determination and the will to succeed.

As much as we wish it weren't so, we still live in a world where being underrepresented often means being underestimated. But as someone who makes her living investing in high-potential founders who also happen to be female, LGBTQ, or people of color, Hamilton understands that being undervalued simply means that a big upside exists. Because even if you have to work twice as hard to get to the starting line, she says, once you are on a level playing field, you will sprint ahead. 

Despite what society would have you believe, Hamilton argues, a privileged background, an influential network, and a fancy college degree are not prerequisites for success. Here she shares the hard-won wisdom she's picked up on her remarkable journey from food-stamp recipient to venture capitalist, with lessons like "The Best Music Comes from the Worst Breakups," "Let Someone Shorter Stand in Front of You," "The Dangers of Hustle Porn," and "Don't Let Anyone Drink Your Diet Coke." Along the way, she inspires us all to defy other people's expectations and to become the role models we've been looking for.

Praise for It's About Damn Time

"Reading Arlan Hamilton's It's About Damn Time is like having a conversation with that frank, bawdy friend who somehow always manages to make you laugh, get a little emo, and, ultimately, think about ­­the world in a different way. . . . The book is warm, witty, and unflinching in its critique of the fake meritocracy that permeates Silicon Valley."—Shondaland
Praise For It's About Damn Time: How to Turn Being Underestimated into Your Greatest Advantage…
"Hamilton's story speaks to all the would-be entrepreneurs and dreamers out there. She brings a unique perspective that has enabled her to see opportunities that others cannot. Her message is simple: Those of us who are different can rule the business world, and no one can stop us."—Mark Cuban

"The world needs more Arlan Hamiltons. Although full of practical wisdom, It's About Damn Time isn't the typical business book. Hamilton is unfiltered, vulnerable, and funny as hell. Her story teaches us we can be successful on our own terms, without sacrificing our values or personalities."—Sophia Amoruso, New York Times bestselling author of #GIRLBOSS

"Hamilton is dead right: It is about damn time. It's about damn time we as women start trusting our voice, knowing our worth, and being unapologetically proud of who we are. In her new book, Hamilton proves that none of us need to ask permission to show the world what we're made of. If you want to feel inspired, read this now."—Jameela Jamil, actress, model, and writer

"It's About Damn Time hits at the heart of leadership and risk taking—that we must each foster an unwavering belief in our own capacity. Arlan Hamilton's insights about the venture capital industry are met by her daring to build something intended for those left outside the gates. Hamilton's story is a hero's tale of what's possible when we unlock our potential, continue the search for knowledge, and draw on our lived experiences to guide us through the darkest moments. For aspiring entrepreneurs and those ready to start a new chapter, It's About Damn Time is a necessary reminder that every no isn't the end."—Stacey Abrams, former minority leader of the Georgia House of Representatives 

"In many ways, Hamilton's book debut—a combination memoir and how-to—couldn't have been better timed. Because if anyone has proven she knows how to advance, thrive, and remain resilient during a crisis, it's this intrepid woman who hasn't allowed fame, the skeptics, or haters to alter her path, her voice, or her mission."—Black Enterprise

"Refreshing in its inclusivity, Hamilton's book offers wise and practical lessons from the margins to all 'underestimated people' looking to make a difference in the world of business and beyond. Inspiring reading for budding entrepreneurs."—Kirkus Reviews

"Readers will find it easy to be inspired by [Hamilton's] success stories and admire her drive to continue after each defeat. . . . This book will appeal to those her company encourages as well as young women seeking a fresh and motivating role model."—Booklist
 
"[An] excellent debut . . . Though any reader can use Hamilton's sage advice, this will be a must-read for anyone interested in venture capital."—Publishers Weekly (starred review)
Currency, 9780593136416, 256pp.
Publication Date: May 5, 2020
About the Author
Arlan Hamilton is the founder and managing partner of Backstage Capital, a venture capital firm dedicated to minimizing funding disparities in tech by investing in high-potential founders who are people of color, women, or LGBTQ. Backstage has now invested more than $5 million in more than one hundred start-up companies led by underrepresented founders. In 2018, Hamilton co-founded Backstage Studio, which launched accelerator programs in Detroit, Los Angeles, Philadelphia, and London. She is the first non-celebrity Black woman to be featured on the cover of Fast Company.
or
Not Currently Available for Direct Purchase