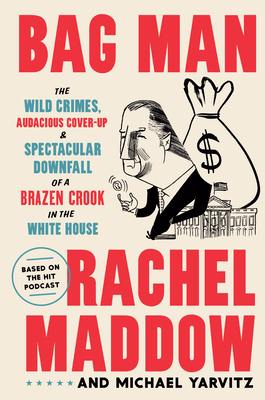 Bag Man
The Wild Crimes, Audacious Cover-Up, and Spectacular Downfall of a Brazen Crook in the White House
Hardcover

* Individual store prices may vary.
Other Editions of This Title:
Paperback (2/7/2023)
Description
NEW YORK TIMES BESTSELLER • The knockdown, drag-out, untold story of the other scandal that rocked Nixon's White House, and reset the rules for crooked presidents to come—with new reporting that expands on Rachel Maddow's Peabody Award–nominated podcast

"Both a thriller and a history book, Bag Man is a triumph of storytelling."—Preet Bharara, New York Times bestselling author of Doing Justice and host of the podcast Stay Tuned with Preet

Is it possible for a sitting vice president to direct a vast criminal enterprise within the halls of the White House? To have one of the most brazen corruption scandals in American history play out while nobody's paying attention? And for that scandal to be all but forgotten decades later?

The year was 1973, and Spiro T. Agnew, the former governor of Maryland, was Richard Nixon's second-in-command. Long on firebrand rhetoric and short on political experience, Agnew had carried out a bribery and extortion ring in office for years, when—at the height of Watergate—three young federal prosecutors discovered his crimes and launched a mission to take him down before it was too late, before Nixon's impending downfall elevated Agnew to the presidency. The self-described "counterpuncher" vice president did everything he could to bury their investigation: dismissing it as a "witch hunt," riling up his partisan base, making the press the enemy, and, with a crumbling circle of loyalists, scheming to obstruct justice in order to survive.

In this blockbuster account, Rachel Maddow and Michael Yarvitz detail the investigation that exposed Agnew's crimes, the attempts at a cover-up—which involved future president George H. W. Bush—and the backroom bargain that forced Agnew's resignation but also spared him years in federal prison. Based on the award-winning hit podcast, Bag Man expands and deepens the story of Spiro Agnew's scandal and its lasting influence on our politics, our media, and our understanding of what it takes to confront a criminal in the White House.
Praise For Bag Man: The Wild Crimes, Audacious Cover-Up, and Spectacular Downfall of a Brazen Crook in the White House…
"The full sordid story of Spiro Agnew . . . [Maddow and Yarvitz] don't hold back." —The New York Times

"A case study in how the democratic ideal of equal justice under the law collides with the squalid realities of America's political system . . . a brisk and engaging account [that] sheds light on the challenges—legal, moral, political—of treating presidents and vice presidents like every other citizen."—The Washington Post

"Bag Man delivers a powerful and timeless lesson about America's enduring principles while demonstrating that the final verdict of history may differ from self-interested contemporary accounts and highlighting how much the rule of law depends upon the character of the people who enforce it."—Rod J. Rosenstein, former U.S. Deputy Attorney General
 
"Bag Man is a super-entertaining page-turner about a mostly forgotten—yet hugely important—chapter of American history that played out right in the shadow of Watergate. It's a deeply wild tale of greed, criminality, and corruption infecting the highest levels of our government. But at its heart, it's a human story, a reminder that people make up our institutions, and ultimately they have the ability to protect—and to save—our democracy when it really needs their help."—Ben Stiller

"Long before Donald Trump disrupted the rules of politics, Spiro Agnew cheerfully derided liberals, the establishment, ivory tower professors, and the press. In Bag Man, Maddow and Yarvitz provide rich new details about the shameless corruption and astonishing fall of Richard Nixon's vice president. Meticulous reporting and vivid storytelling bring to life the lessons from the investigation and prosecution of a leader at the top of American government, providing useful guidance today as we navigate rhyming themes. As the authors write, 'History is here to help.'"—Barbara McQuade, former U.S. Attorney for the Eastern District of Michigan

"Rachel Maddow and Michael Yarvitz expand on their riveting podcast to create a work both scholarly and disturbing. Their fast-paced unfurling of Vice President Agnew's almost forgotten crimes—which feel all too familiar to anyone paying attention to politics lately—offers a critical case study in the patterns of corruption that continue to plague our democracy, documenting how politicians abuse their office and how the good guys can bring them to justice. Both a thriller and a history book, Bag Man is a triumph of storytelling."—Preet Bharara, New York Times bestselling author of Doing Justice and host of the podcast Stay Tuned with Preet

"A welcome reminder that, unlike today, in the case of Agnew, political crimes were actually punished (and in a nonpartisan fashion)."—Kirkus Reviews

"Colorful . . . Maddow's fans will enjoy this entertaining and well-researched recap of Agnew's comeuppance."—Publishers Weekly
Crown, 9780593136683, 304pp.
Publication Date: December 8, 2020
About the Author
Rachel Maddow is host of the Emmy Award–winning Rachel Maddow Show on MSNBC, as well as the #1 New York Times bestselling author of Drift: The Unmooring of American Military Power; Blowout: Corrupted Democracy, Rogue State Russia, and the Richest, Most Destructive Industry on Earth; and Bag Man: The Wild Crimes, Audacious Cover-Up, and Spectacular Downfall of a Brazen Crook in the White House. Maddow received a bachelor's degree in public policy from Stanford University and earned her doctorate in political science at Oxford University. She lives in New York City and Massachusetts with her partner, artist Susan Mikula.

Michael Yarvitz is an Emmy and Peabody award-winning television producer and journalist. He was the executive producer and co-writer of the podcast series Bag Man.