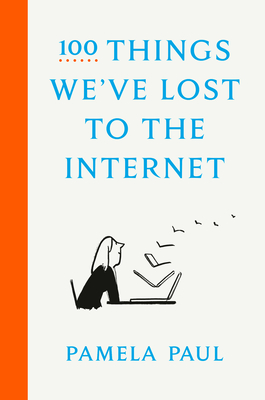 100 Things We've Lost to the Internet
Hardcover

* Individual store prices may vary.
Other Editions of This Title:
Digital Audiobook (10/25/2021)
Description
The acclaimed editor of The New York Times Book Review takes readers on a nostalgic tour of the pre-Internet age, offering powerful insights into both the profound and the seemingly trivial things we've lost. It is hard to think of a single aspect of modern life that hasn't been altered by the Internet. Today we exist, for the most part, in filtered, isolated corners of cyberspace--a place that has slowly subsumed our physical habitats and all at once become our local library, office, bar, movie theater, and concert hall. But as we've gained the ability to gather without leaving our bedrooms or looking another person in the eye, many of the fundamentally human experiences that sustained us have silently disappeared. In 100 short, never-before-published essays, enlivened with illustrations by Nishant Choksi, Pamela Paul presents a record of all the things we long for without realizing that they're gone as well as the things we're all too happy to let slip into the pre-Internet past--from voicemails to punctuation to civility. There are the small losses: postcards, the blessings of an adolescence largely spared of documentation, and the genuine surprises at high school reunions. But there are larger repercussions, too: weaker memories, the inability to entertain oneself, and the utter demolition of privacy. While the Internet has put an entire world at our fingertips, it has also taken much away, quietly creating a new and synthetic experience of being alive. 100 Things We've Lost to the Internet is at once a swan song for a disappearing era and, perhaps, a guide to reclaiming just a little bit more of life IRL.
Crown Publishing Group (NY), 9780593136775, 288pp.
Publication Date: October 26, 2021
About the Author
Pamela Paul is the editor of The New York Times Book Review and oversees book coverage at the Times, where she hosts the weekly Book Review podcast. Her previous books include My Life with Bob; How to Raise a Reader; By the Book; Parenting, Inc.; Pornified; The Starter Marriage and the Future of Matrimony; and Rectangle Time, a book for children. Prior to joining The New York Times, she was a contributor to Time and The Economist, and her work has appeared in The Atlantic, The Washington Post, and Vogue.