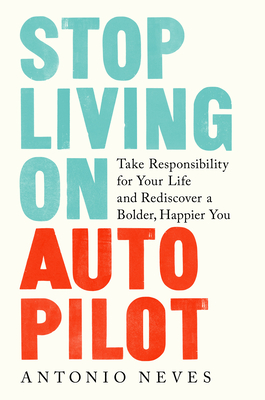 Stop Living on Autopilot
Take Responsibility for Your Life and Rediscover a Bolder, Happier You
Hardcover

* Individual store prices may vary.
Other Editions of This Title:
Digital Audiobook (1/18/2021)
Description
A raw and inspiring how-to guide that will help you recommit to your life, find your drive, and take action to stay bold, honest, and accountable for lasting happiness.

"If it's time to make a bold and courageous shift in your life, Stop Living on Autopilot is the guide you need."—Marie Forleo, #1 New York Times bestselling author of Everything Is Figureoutable

Take stock of your life: Based on your last 30 days of work (or marriage, or parenting), would your company rehire you? Would your partner immediately recommit to you? Would your children want you to continue to be their parent?

The easy answer is, "Absolutely!" But it's probably not the honest answer. Your life might read like a success story, and your parents and friends might even think you have it all figured out, but you have a secret: You've stopped caring about much of anything. You feel out of place in your own life. You'd rather binge-watch Netflix than think about what's next. You're living on autopilot. You have two choices: Experience a slow self-destruction, or commit to a course correction. The good news is, it's never too late to find your drive again.

Popular speaker and success coach Antonio Neves is here to offer hard-won lessons and remind you that you do have a say—that you can reboot your life and find fulfillment right where you are. You don't have to quit your job or move to Bali to follow your passion. You do, however, need to shift your perspective and commit to living courageously, replacing passivity with boldness.

Stop Living on Autopilot will guide you to confront hard truths about where you are and how you got there, inviting compassion, honesty, and accountability. There's no better time than now to reevaluate your life and lay a stronger foundationfor your next 30 days. Step by step, you can become an active player in your own life and rediscover what makes you great.
Praise For Stop Living on Autopilot: Take Responsibility for Your Life and Rediscover a Bolder, Happier You…
"For anyone who has ever felt lost, stuck, or is rethinking everything, Stop Living on Autopilot will help you recommit to your dreams and reimagine your future."—Elaine Welteroth, New York Times bestselling author of More Than Enough

"If it's time to make a bold and courageous shift in your life, Stop Living on Autopilot is the guide you need."—Marie Forleo, author of the #1 New York Times bestseller, Everything Is Figureoutable

"Stop Living on Autopilot helps people overcome any obstacles to reach their ultimate potential. Antonio's approach to transformation drives people to become the hero of their own story and realize they were born for greatness."—Lewis Howes, The New York Times bestselling author and host of The School of Greatness

"If you find yourself feeling disconnected from your life, your family, and your career, read this book. Antonio's writing, and in turn his heart, leaps off the page and will help you rekindle that spark in everything that you pursue."—Jon Gordon, bestselling author of The Carpenter, The Energy Bus, and The Garden

"Stop Living on Autopilot is the hard look in the mirror I didn't know I needed. Antonio has this way of writing that makes you laugh, cry, and be inspired all on the same page. If you're looking for that wake-up call to live the life you want, this book is it."—Jess Ekstrom, author of Chasing the Bright Side

"Antonio knows how to tell a great story—one that motivates and inspires—and Stop Living on Autopilot is full of ' em. So if you need some inspiration for living your best life, start with this book. I still can't get the image of the green glove out of my head, and that's a good thing."—Light Watkins, bestselling author of Bliss More

"Stop Living on Autopilot is an enlightening and entertaining read that will help people improve both their personal and professional lives. With an unflinching yet compassionate approach, Antonio helps readers take accountability for their lives, find their drive, and take bold action to tap into their potential."—Emily Fletcher, founder of Ziva Meditation and bestselling author of Stress Less, Accomplish More

"Stop Living on Autopilot is like no other book of wisdom you've ever read, and Antonio Neves is like no other wise man you've ever met. Antonio Neves is willing to let you see the real him because he wants you to be who you really are. Take his hand and you will be changed."—Dan Charnas, author of The Big Payback and Work Clean
Rodale Books, 9780593136836, 256pp.
Publication Date: January 19, 2021
About the Author
Antonio Neves is an internationally recognized speaker, success coach, and award-winning journalist. He regularly delivers keynotes and trainings at top organizations worldwide. For over ten years, Antonio worked as a business correspondent, host, and producer with top television networks. As a journalist, he has spent hundreds of hours interviewing and profiling prominent CEOs, startup founders, politicians, entertainers, athletes, and beyond. A first-generation college graduate, Antonio earned his master's degree from Columbia University.