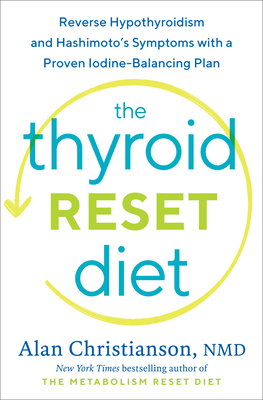 The Thyroid Reset Diet
Reverse Hypothyroidism and Hashimoto's Symptoms with a Proven Iodine-Balancing Plan
Hardcover

* Individual store prices may vary.
Description
A surprising new plan to reverse the symptoms of thyroid disease by reducing excess dietary iodine, from integrative physician and New York Times bestselling author Dr. Alan Christianson.

"The most innovative treatment plan around."—JJ Virgin, New York Times bestselling author, celebrity nutrition expert, and Fitness Hall of Famer

Though the thyroid gland is small, it produces hormones that control the rate of nearly every chemical reaction in the body—turning food into energy, controlling the rate of tissue growth, stimulating the activity of other hormones, and much more. An estimated twenty million Americans have some form of thyroid disease, and up to 60 percent of them are unaware of their condition. Depending on the type and severity of the thyroid disease, symptoms can range from weight gain and fatigue to hair thinning and memory loss.

In The Thyroid Reset Diet, Dr. Alan Christianson helps readers reverse chronic thyroid diseases like hypothyroidism and Hashimoto's Thyroiditis with nothing more than dietary change: the reduction of iodine intake. Backed by new research showing that proper dietary iodine intake can start to reverse thyroid disease in as little as four weeks, his diet plan contains the optimal amount of iron and dietary iodine to control thyroid hormones, effectively resetting the thyroid.

Instead of following a restrictive diet for thyroid health, The Thyroid Reset Diet does not require eliminating any food category. Instead, Dr. Christianson recommends food swaps like brown rice instead of processed bread to regulate iodine intake. He shares the latest on supplements and other thyroid health strategies, along with more than sixty-five recipes, weekly meal plans, and maintenance info. His cutting-edge research and clear results, coupled with an easy-to-follow diet plan, will help anyone struggling with thyroid disease.
Praise For The Thyroid Reset Diet: Reverse Hypothyroidism and Hashimoto's Symptoms with a Proven Iodine-Balancing Plan…
"Important and indispensable. Everyone with thyroid disease should read The Thyroid Reset Diet. Dr. Alan Christianson makes the complexities of thyroid disease easy to understand and provides a straightforward plan that will enable most people with thyroid disease to either reverse it and/or resolve the symptoms caused by it. Highly recommended!"—Steven Masley, MD, FAHA, FACN, CNS, bestselling author, The 30-Day Heart Tune-Up

"Dr. Christianson's latest book is a science-backed, deep dive into optimizing iodine levels for those with thyroid disease, and offers an easy-to-follow plan that makes this seemingly daunting lifestyle change doable. I highly recommend The Thyroid Reset Diet for anyone who is on their journey toward better days with hypothyroidism and Hashimoto's!"—Izabella Wentz, PharmD, Clinical Pharmacist and author of Hashimoto's Protocol

"If you are tired of complicated, restrictive diets, rituals, or cleanses that have not successfully restored your thyroid function, The Thyroid Reset Diet is the book for you. Dr. Alan Christianson expertly lays out an easy-to-follow plan allowing you to regulate your dietary iodine intake to optimize thyroid function, thereby preventing the need for lifelong thyroid medication."—Brittany Bohinc Henderson, MD, ECNU, board certified endocrinologist, Charleston Thyroid Center

"Naturopathic physician Dr. Alan Christianson has written the first book that focuses on what may be the main culprit behind Hashimoto's: excessive iodine intake. He offers new insights and a holistic treatment plan, including dozens of tasty recipes that can be used with all dietary preferences. A must read!"—Anthony Youn, MD, FACS, America's Holistic Plastic Surgeon and bestselling author of The Age Fix

"All of Dr. Christianson's books are required reading for my patients, and The Thyroid Reset Diet is no exception. Dr. C is a true leader in the world of hormonal health, and The Thyroid Reset Diet is a mandatory piece of any person's library who wants wonderful thyroid health."—Shawn Tassone, MD, PhD, author of The Hormone Balance Bible
Rodale Books, 9780593137062, 288pp.
Publication Date: January 19, 2021
About the Author
Alan Christianson, NMD, author of the New York Times bestselling book The Adrenal Reset Diet and The Metabolism Reset Diet, is a naturopathic medical doctor who specializes in natural endocrinology with a focus on thyroid disorders. He founded Integrative Health, a physician group dedicated to helping people with thyroid disease and weight-loss resistance regain their health. He has been named a Top Doctor in Phoenix magazine and has appeared on national TV shows and in numerous print media. Dr. Christianson lives in Phoenix with his wife and their two children.