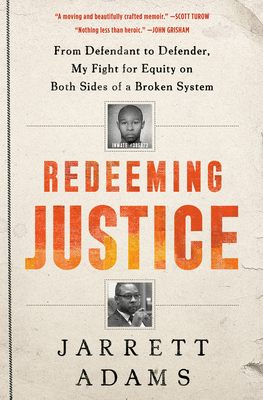 Redeeming Justice
From Defendant to Defender, My Fight for Equity on Both Sides of a Broken System
Hardcover

* Individual store prices may vary.
Other Editions of This Title:
Digital Audiobook (9/13/2021)
Description
"A moving and beautifully crafted memoir."—SCOTT TUROW
"A daring act of justified defiance."—SHAKA SENGHOR
"Nothing less than heroic."—JOHN GRISHAM
 
He was seventeen when an all-white jury sentenced him to prison for a crime he didn't commit. Now a pioneering lawyer, he recalls the journey that led to his exoneration—and inspired him to devote his life to fighting the many injustices in our legal system.

Seventeen years old and facing nearly thirty years behind bars, Jarrett Adams sought to figure out the why behind his fate. Sustained by his mother and aunts who brought him back from the edge of despair through letters of prayer and encouragement, Adams became obsessed with our legal system in all its damaged glory. After studying how his constitutional rights to effective counsel had been violated, he solicited the help of the Wisconsin Innocence Project, an organization that exonerates the wrongfully convicted, and won his release after nearly ten years in prison.

But the journey was far from over. Adams took the lessons he learned through his incarceration and worked his way through law school with the goal of helping those who, like himself, had faced our legal system at its worst. After earning his law degree, he worked with the New York Innocence Project, becoming the first exoneree ever hired by the nonprofit as a lawyer. In his first case with the Innocence Project, he argued before the same court that had convicted him a decade earlier—and won.

In this illuminating story of hope and full-circle redemption, Adams draws on his life and the cases of his clients to show the racist tactics used to convict young men of color, the unique challenges facing exonerees once released, and how the lack of equal representation in our courts is a failure not only of empathy but of our collective ability to uncover the truth. Redeeming Justice is an unforgettable firsthand account of the limits—and possibilities—of our country's system of law.
Praise For Redeeming Justice: From Defendant to Defender, My Fight for Equity on Both Sides of a Broken System…
"[Brings] to life the horrors of the criminal system through the eyes of someone readers feel they know: a person who loves and is loved. And the links between [Adams's] experiences and his choices are clear and stark: His observations of lawyers helped usher him into a career as one, just as his experience of wrongful accusation spurred his interest in exonerating the innocent. . . . The intimacy of Adams's writing illustrates the inherent violence of our carceral system in a way that would be impossible without his firsthand experience—and without his willingness to share it."—The Washington Post

"In a moving and beautifully crafted memoir, without hyperbole or rants, Jarrett Adams compellingly demonstrates the institutionalized racism of the American criminal justice system. When you finish, you will be grasped by two emotions: unbounded admiration for the author and a need to scream 'We must do something!'"—Scott Turow, #1 New York Times bestselling author of Presumed Innocent

"Redeeming Justice is a beautifully written vessel of hope and redemption— each page a daring act of justified defiance in the face of a brutish penal system."—Shaka Senghor, New York Times bestselling author of Writing My Wrongs

"Adams's story is often hard to believe. The injustice that locked him away is maddening. The cruelty of his incarceration should be actionable. His quest for the truth is inspiring. His determination to not only survive but succeed is nothing less than heroic."—John Grisham

"Adams vividly describes that as well as ten years he spent in prison, part of it in isolation at a 'supermax.' His powerful account of how being Black and poor resulted in this grave injustice shows how far the legal system is from equal justice for all."—Stephen B. Bright, visiting lecturer in law, Yale Law School

"There is rarely a minute when readers will not want to know what comes next . . . A consuming tale of a broken legal system, its trail of ruin, and the fortitude needed to overcome its scarring."—Kirkus

"[Adams's] story of education, the lifesaving work of innocence projects, and exoneration, combined with his drive and skill, becomes a powerful tool in his ongoing fight to be a positive force within a racist and broken system."—Booklist
Convergent Books, 9780593137819, 304pp.
Publication Date: September 14, 2021
About the Author
Jarrett Adams earned his Juris Doctorate from Loyola University Chicago School of Law in May 2015 and started a public-interest law fellowship with Ann Claire Williams, judge for the Seventh Circuit U.S. Court of Appeals, the same court that reversed his conviction. Jarrett also clerked in the U.S. District Court for the Southern District of New York with the late Honorable Deborah Batts. After working for the Innocence Project in New York, he launched the Law Office of Jarrett Adams, PLLC, in 2017, and now practices in both federal and state courts throughout the country.