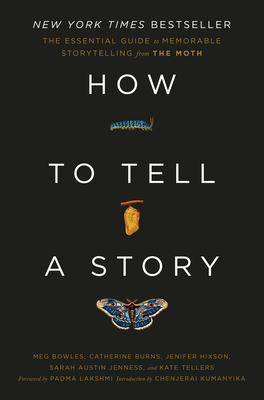 How to Tell a Story
The Essential Guide to Memorable Storytelling from The Moth
Hardcover

* Individual store prices may vary.
Description
NEW YORK TIMES BESTSELLER • The definitive guide to telling an unforgettable story in any setting, drawing on twenty-five years of experience from the storytelling experts at The Moth

"From toasts to eulogies, from job interviews to social events, this book will help you with ideas, structure, delivery and more."—CNN

Over the past twenty-five years, the directors of The Moth have worked with people from all walks of life—including astronauts, hairdressers, rock stars, a retired pickpocket, high school students, and Nobel Prize winners—to develop true personal stories that have moved and delighted live audiences and listeners of The Moth's Peabody Award–winning radio hour and podcast. A leader in the modern storytelling movement, The Moth inspires thousands of people around the globe to share their stories each year.
 
Now, with How to Tell a Story, The Moth will help you learn how to uncover and craft your own unique stories, like Moth storytellers Mike Birbiglia, Rosanne Cash, Neil Gaiman, Elizabeth Gilbert, Padma Lakshmi, Darryl "DMC" McDaniels, Hasan Minhaj, Tig Notaro, Boots Riley, Betty Reid Soskin, John Turturro, and more.
 
Whether your goal is to make it to the Moth stage, deliver the perfect wedding toast, wow clients at a business dinner, give a moving eulogy, ace a job interview, be a hit at parties, change the world, or simply connect more deeply to those around you, stories are essential. Sharing secrets of The Moth's time-honed process and using examples from beloved storytellers, a team of Moth directors will show you how to
 
• mine your memories for your best stories
• explore structures that will boost the impact of your story
• deliver your stories with confidence
• tailor your stories for any occasion
 
Filled with empowering, easy-to-follow tips for crafting stories that forge lasting bonds with friends, family, and colleagues alike, this book will help you connect authentically with the world around you and unleash the power of story in your life.
Praise For How to Tell a Story: The Essential Guide to Memorable Storytelling from The Moth…
Praise for How to Tell a Story

"Fans of nonprofit storytelling organization The Moth, which, since 1997, has presented 50,000-plus stories, won a Peabody Award for its The Moth Radio Hour and boasts a popular eponymous podcast, will be drawn to this guide to, yep, telling stories. From toasts to eulogies, from job interviews to social events, this book will help you with ideas, structure, delivery and more."—CNN

"True to its title, How to Tell a Story is a wonderfully practical and thoughtful guide to turning your own experiences and epiphanies into engaging tales. The book is very Moth-centric—'Moth stories are true and told out loud, in the first person'—but there's also advice about telling stories during job interviews, business presentations and toasts. Everything here could be easily adapted by classroom teachers or (one can hope) by relatives you see once a year at Thanksgiving."—The Washington Post

"Inspiring . . . This book . . . provides everything readers need to share their own personal narratives."—Booklist



Praise for The Moth

"There are many reasons I feel compelled to tell stories. Without stories, the past starts to mush together. And that makes me very anxious. Creating stories is a way for me to make sense of life. The Moth will help you tell great stories."—Roz Chast, New Yorker staff cartoonist

"It's because of The Moth that I learned the dynamic range of storytelling."—Hasan Minhaj, Peabody Award–winning comedian, writer, and producer

"The Moth changed my brain in the best possible way. Working with their amazing directors, I learned how to share my story in an authentic and powerful way that I now use almost every day as a teacher, author, and speaker. Now, that's some brain-changing magic!"—Dr. Wendy Suzuki, author and professor of neuroscience and psychology at New York University
Crown, 9780593139004, 336pp.
Publication Date: April 26, 2022
About the Author
The Moth is an acclaimed nonprofit organization dedicated to the art and craft of storytelling. Since its launch in 1997, The Moth has presented more than fifty thousand stories and received the MacArthur Award for Creative and Effective Institutions and a Peabody Award for The Moth Radio Hour, which airs on more than 570 stations nationwide. The Moth podcast is downloaded more than ninety million times annually.

Meg Bowles, Catherine Burns, Jenifer Hixson, Sarah Austin Jenness, and Kate Tellers, along with The Moth's artistic and workshop teams, have spent more than two decades helping people all around the world tell their true personal stories.