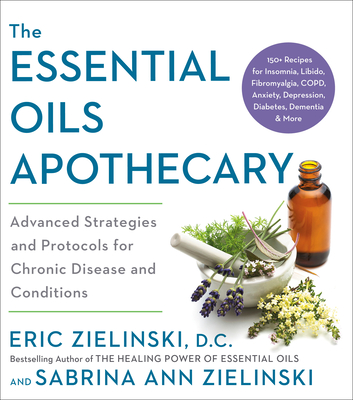 The Essential Oils Apothecary
Advanced Strategies and Protocols for Chronic Disease and Conditions
Paperback

* Individual store prices may vary.
Other Editions of This Title:
Digital Audiobook (9/6/2021)
Description
Soothing practices, healing rituals, and 150+ practical recipes for applying essential oils to the treatment and symptom management of 25 chronic illnesses, including insomnia, libido, fibromyalgia, COPD, anxiety, depression, diabetes. dementia. and more—by the bestselling author of The Healing Power of Essential Oils

"The most comprehensive essential oils resource I know . . . I highly recommend it!"—Amy Myers, MD, New York Times bestselling author of The Autoimmune Solution and The Thyroid Connection

Extracted directly from the bark, flowers, leaves, resins, and roots of plants, essential oils are highly concentrated plant-based chemical compounds that have been the basis for natural medicine for thousands of years. Whether you apply them topically, ingest them, or diffuse them in the air, they are scientifically proven to work on the body's physiology gently and quickly, which is why more and more people living with chronic conditions—from insomnia, hypertension, and fibromyalgia to Parkinson's, epilepsy, insulin resistance, cancer, and even Alzheimer's disease—are reaching for them as a complementary therapy.

Drawing on their authoritative understanding of these powerful concentrations and their mastery of DIY usage, Dr. Eric and Sabrina Ann Zielinski share more than 150 research-backed and easy-to-prepare topical recipes, capsule remedies, and diffusions that work to combat the root causes of all disease: stress, anxiety, and systemic inflammation. Using oils from more than 70 aromatic plants—from copaiba and lemongrass to turmeric and ylang ylang—their healing formulations include:

• Earthy Wood Inhaler, the perfect way to bring nature inside—"forest bathing" on demand!
• Immune-Boosting Diffuser Blend, to help protect your body against airborne pathogens.
• IBD Synergy Capsules, a gentle mixture of coriander, Melissa, and peppermint to soothe and promote gut health
• Extra-Strength Bone and Joint Salve, powerful pain relief that uses CBD, frankincense, lavender and wintergreen.
• Sensual Body Spray, an alluring scent to help spice up your love life!

Easy to prepare and apply, these time-tested recipes and protocols will help you take control of your health and start to enjoy the abundant life again!
Praise For The Essential Oils Apothecary: Advanced Strategies and Protocols for Chronic Disease and Conditions…
"The Essential Oils Apothecary is the volume I wish I had years ago. Solid, science-backed information combined with simple, proven recipes—I can't recommend this resource enough!"—Jill Winger, bestselling author of The Prairie Homestead Cookbook

"It's exciting to see all the creative ways essential oils and lifestyle changes can be applied for overall healthier living. This book is a must-have for the modern-day 'health library'!"—Deanna Minich, PhD, author of Whole Detox

"I consider this is a must-have, one-of-a-kind reference book that you'll use for a lifetime."—Marc David, bestselling author of Nourishing Wisdom and The Slow Down Diet

"I will rely on this book to help me improve brain health, mood, and sleep, and to support a healthy immune response."—Dr. David Jockers, bestselling author of Keto Metabolic Breakthrough and The Fasting Transformation

"With their practical approach, Dr. Eric and Sabrina Zielinski clearly lay the groundwork for harnessing the healing power of essential oils. Their healing recipes and soothing remedies—all backed by science—will teach you how to successfully manage debilitating chronic conditions and nagging symptoms."—Josh Axe, DNM, DC, CNS, bestselling author of Ancient Remedies

"This book is a treasure trove of information, a 'must' for every household. Dr. Eric and Mama Z live and breathe essential oils (pun intended), but there is nobody we trust more for this sort of honest, sound, and cutting-edge information. High praise for this book. We know it will bless hundreds of thousands of families."—Pearl Barrett and Serene Allison, authors of Trim Healthy Mama Cookbook and Trim Healthy Future

"Essential oils are one of nature's greatest gifts, and they can help many chronic conditions, both mental and physical. A concise, evidence-based, safety-first guide to their use, The Essential Oils Apothecary will help you easily begin to use essential oils for all your chronic health needs."—Sylla Sheppard-Hanger, Founder of the Atlantic Institute of Aromatherapy

"Essential oils are powerful medicine, and nobody knows more about them than Dr. Eric and Sabrina Ann Zielinski. If you're looking for both state-of-the-art science and practical, hands-on information, this is the book you need."—Dr. Kellyann Petrucci, New York Times bestselling author of Dr. Kellyann's Bone Broth Diet

"The Zielinskis are on a mission to make essential oils the missing link in twenty-first-century medicine. Their Essential Oils Apothecary offers clear-cut, evidence-based strategies for treating the twenty-five most prevalent and urgent health conditions of the day with practical recipes, internal remedies, and diffusions. This book does a masterful job of aligning ancient wisdom with modern-day science to soothe body, mind, and spirit with super natural plant power!!"—Ann Louise Gittleman, award-winning multiple New York Times bestselling author of Radical Longevity
Rodale Books, 9780593139271, 384pp.
Publication Date: September 7, 2021
About the Author
The author of the national bestseller The Healing Power of Essential Oils and The Essential Oils Diet (with Sabrina Ann Zielinski), Dr. Eric Zielinski has pioneered natural living and biblical health education since 2003. Trained as an aromatherapist, public health researcher, and chiropractor, Dr. Z started DrEricZ.com (now NaturalLivingFamily.com) in 2014 with his wife, Sabrina Ann, to help people learn how to safely and effectively use natural remedies such as essential oils. Sabrina Ann Zielinski is a certified group fitness instructor, health coach, lactation consultant, and natural health guru. The mastermind behind the allergy-friendly food recipes and do-it-yourself remedies featured on the Zielinskis' website, she's known as "Mama Z" to many mamas who are looking for natural ways to care for their families. Now visited by more than three million natural health seekers every year, NaturalLivingFamily.com has rapidly become the number one online source for biblical health and nonbrand essential oils education. The Zs live in Atlanta with their five children.