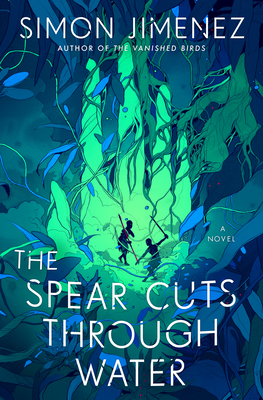 The Spear Cuts Through Water
A Novel
Hardcover

* Individual store prices may vary.
Other Editions of This Title:
Digital Audiobook (8/29/2022)
Description
Two warriors shepherd an ancient god across a broken land to end the tyrannical reign of a royal family in this new epic fantasy from the author of The Vanished Birds.

"A beguiling fantasy not to be missed."—Evelyn Skye, New York Times bestselling author of The Crown's Game

ONE OF THE MOST ANTICIPATED BOOKS OF 2022—Tordotcom, BookPage, LitHub

The people suffer under the centuries-long rule of the Moon Throne. The royal family—the despotic emperor and his monstrous sons, the Three Terrors—hold the countryside in their choking grip. They bleed the land and oppress the citizens with the frightful powers they inherited from the god locked under their palace.

But that god cannot be contained forever.

With the aid of Jun, a guard broken by his guilt-stricken past, and Keema, an outcast fighting for his future, the god escapes from her royal captivity and flees from her own children, the triplet Terrors who would drag her back to her unholy prison. And so it is that she embarks with her young companions on a five-day pilgrimage in search of freedom—and a way to end the Moon Throne forever. The journey ahead will be more dangerous than any of them could have imagined.

Both a sweeping adventure story and an intimate exploration of identity, legacy, and belonging, The Spear Cuts Through Water is an ambitious and profound saga that will transport and transform you—and is like nothing you've ever read before.
Praise For The Spear Cuts Through Water: A Novel…
"Drawing on staples of traditional fantasy such as reluctant, mismatched heroes on a quest, The Spear Cuts Through Water subverts expectations with its language, point of view, and narrative choices. Readers looking for self-aware fantasy with folkloric overtones and the sensibilities of an epic poem—look no further. Jimenez's novel is an intricate, multilayered story speaking in multiple tongues at once. Fans of diverse, nuanced epics like Black Sun and the Broken Earth series will find this worth their while."—Suyi Davies Okungbowa, author of Son of the Storm

"Gorgeously written, The Spear Cuts Through Water is unlike anything I've ever read before. It is a fable, a dream world, a love story, and a meditation on the nature of humanity all wrapped into one. Simon Jimenez has written the rare kind of book that changes the way you see the world, that makes you pause and appreciate the beauty in every small moment of life and, even, death. The Spear Cuts Through Water is a beguiling fantasy not to be missed."—Evelyn Skye, New York Times bestselling author of The Crown's Game

"Jimenez has raised the bar for every fantasy writer working; he's taken the standard engine of epic fantasy, shattered it against the ground, and rebuilt it into a glittering mosaic, where every individual tile is just as important as the picture they make together. Wholly unique, dreamy yet grounded, triumphant and bittersweet, The Spear Cuts Through Water is a tremendous achievement from beginning to end."—Martin Cahill, writer on Batman: The Blind Cut

"Reading Simon Jimenez's The Spear Cuts Through Water feels like dreaming an impossibly epic movie, cinematic yet fluidly surreal, a mythic tale of clashing gods that never loses its human heart."—Indra Das, Lambda Literary Award–winning author of The Devourers

"Lyrical, evocative, part poem, part prose—not to be missed by anyone, especially fans of historical fantasy and folktale. It's both like nothing and everything you've ever read: a tale made from the threads that weave the world, and all of us, together."—Kirkus Reviews (starred review)

"Beautiful prose and inventive worldbuilding."—Publishers Weekly
Del Rey, 9780593156599, 544pp.
Publication Date: August 30, 2022
About the Author
Simon Jimenez is the author of The Vanished Birds. This is his second book.