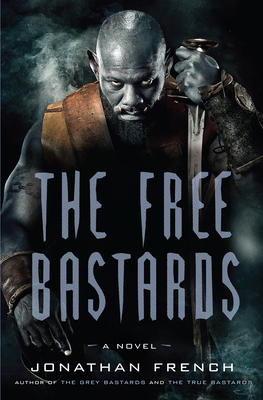 The Free Bastards (The Lot Lands #3)
Hardcover

* Individual store prices may vary.
Other Editions of This Title:
Digital Audiobook (9/27/2021)
Paperback (7/19/2022)
Description
The long-awaited war has come in the sweeping conclusion to the Lot Lands trilogy—another irresistibly swashbuckling, swaggering, foul-mouthed fantasy from the author of The Grey Bastards.

"[A] rip-roaring, shelf-bending conclusion . . . nothing short of an adventure fantasy masterwork."—Kirkus Reviews (Best Books of the Year)

War has come to the Lot Lands—and Oats stands upon the frontline.

The Hisparthan armies on the horizon are mighty, bolstered by divine champions, dread sorcerers, and gunpowder. It's almost more than the half-orc rebellion can hope to repel.

But Oats has won impossible fights before. He's a thriceblood, after all, more orc than man. And he hasn't forgotten how to kill. He'll stack the bodies high for his chief and his brethren, if that's the price of freeing the Lots from human tyranny.

Besides, the invading forces are getting a damned sight more than they bargained for. They're not facing a handful of half-orc hoofs, but a true army—one forged from all the peoples of the Lots. At its head are Fetching, in full command of the ruinous power that runs through her veins, and Jackal, armed with the blessings of a dead god.

Yet Oats can't help but find his faith wavering. Once the strongest Bastard, he soon realizes that in this battle, even the strength of a thriceblood is easily conquered. And after a grievous loss strikes, he begins to fear that this war will lead the Lots not to freedom but to ruin.

So when another path to peace beckons, he has no choice but to walk it. Even if it means betting the Lots' fate, and his own, on the promises of the Bastards' wiliest adversary—and making a perilous journey into the heart of Hispartha itself.

Brimming with all the epic battles, surprising sorcery, and fiendish twists a Bastards fan could wish for, alongside unforgettable moments for characters old and new, The Free Bastards builds a new future for the Lots—even as it gives our beloved trio of Jackal, Fetching, and Oats the rousing, blood-soaked sendoff they deserve.
Praise For The Free Bastards (The Lot Lands #3)…
Praise for The Free Bastards

"Triumphant . . . thrills with combat and astonishing magic, balanced by skillful character development . . . Fans will relish this thoroughly satisfying finale."—Publishers Weekly (starred review)
 
"A brutal, thrilling read, laced with dark humor and tough decisions, unexpected gut-punches and genuine surprises."—Fantasy Book Review


Praise for The Grey Bastards

"Nonstop action, though not for faint hearts . . . The Grey Bastards live up to their name in all respects."—The Wall Street Journal

"A dirty, blood-soaked gem of a novel [that reads] like Mad Max set in Tolkien's Middle-Earth . . . a fantasy masterwork."—Kirkus Reviews (starred review)

"Saddle up the war boar and set off on a wild, gory thrill-ride that ends in an awesome climax and begs for a sequel."—Daily Mail (UK)

"A filthy, charismatic, and frankly excellent read."—Mark Lawrence, international bestselling author of Prince of Thorns and Red Sister


Praise for The True Bastards

"A cracking sequel . . . [that] offers a dark and tense story that will make you want to keep on reading. Full of dark humor in a gritty world."—Grimdark Magazine

"Offers the same gritty, treacherous, and filthy world of the first book, but exceeds it with an elaborate bold plot, and downright awesome characterization. A filthy, fierce, fun-fueled read."―The Fantasy Hive

"Brilliant . . . This installment will more than satisfy fantasy readers who like deadly battles balanced with intricate worldbuilding and skilled characterization."—Publishers Weekly (starred review)

"A tour-de-force . . . compounds the mysteries, amps up the action and makes you want
the next book now."—Fantasy Book Critic

Del Rey, 9780593156681, 560pp.
Publication Date: September 28, 2021
About the Author
Jonathan French lives in Atlanta with his wife and son. He is a devoted reader of comic books, an expert thrower of oddly shaped dice, and a serial con attendee.