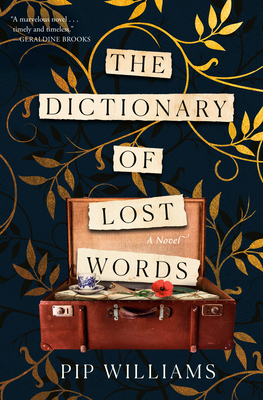 The Dictionary of Lost Words
A Novel
Hardcover

* Individual store prices may vary.
Description
In this "delightful debut" (Newsweek) based on actual events, as a team of male scholars compiles the first Oxford English Dictionary, one of their daughters decides to collect the "objectionable" words they omit.
 
"A marvelous fiction about the power of language to elevate or repress."—Geraldine Brooks, New York Times bestselling author of People of the Book

Esme is born into a world of words. Motherless and irrepressibly curious, she spends her childhood in the Scriptorium, a garden shed in Oxford where her father and a team of dedicated lexicographers are collecting words for the very first Oxford English Dictionary. Young Esme's place is beneath the sorting table, unseen and unheard. One day a slip of paper containing the word bondmaid flutters beneath the table. She rescues the slip, and when she learns that the word means "slave girl," she begins to collect other words that have been discarded or neglected by the dictionary men.

As she grows up, Esme realizes that words and meanings relating to women's and common folks' experiences often go unrecorded. And so she begins in earnest to search out words for her own dictionary: the Dictionary of Lost Words. To do so she must leave the sheltered world of the university and venture out to meet the people whose words will fill those pages.

Set during the height of the women's suffrage movement and with the Great War looming, The Dictionary of Lost Words reveals a lost narrative, hidden between the lines of a history written by men. Inspired by actual events, author Pip Williams has delved into the archives of the Oxford English Dictionary to tell this highly original story. The Dictionary of Lost Words is a delightful, lyrical, and deeply thought-provoking celebration of words and the power of language to shape the world.
Praise For The Dictionary of Lost Words: A Novel…
"Inspired by a wisp of fact—a single word accidentally omitted from the Oxford English Dictionary—Pip Williams has spun a marvelous fiction about the power of language to elevate or repress. This is a novel that brings to light not only lost words but the lost stories of women's lives. It is at once timely and timeless."—Geraldine Brooks, New York Times bestselling author of People of the Book

"In the annals of lexicography, no more imaginative, delightful, charming, and clever book has yet been written. And if by writing it Pip Williams has gently rapped my knuckles for wrongly supposing that only white English men led the effort to corral and codify our language, then I happily accept the scolding. Her wonderfully constructed story has helped entirely change my mind."—Simon Winchester, author of The Professor and the Madman: A Tale of Murder, Insanity, and the Making of the Oxford English Dictionary

"What a compelling, fresh look at historical women! In Pip Williams's lyrically written novel, The Dictionary of Lost Words, readers explore the creation of the so-called definitive Oxford English Dictionary. This marvelous exploration into the ways in which spoken and written language impact us is a delight and an education."—Marie Benedict, New York Times bestselling author of The Mystery of Mrs. Christie

"This charming, inventive, and utterly irresistible novel is the story we all need right now. Words have never mattered more, as Pip Williams illuminates in her unforgettable debut."—Susan Wiggs, New York Times bestselling author of The Lost and Found Bookshop

"What a novel of words, their adventure, and their capacity to define and, above all, challenge the world. There will not be this year a more original novel published. I just know it."—Thomas Keneally, author of Schindler's List

"A lexicographer's dream of a novel, this is a lovely book to get lost in, an imaginative love letter to dictionaries. Esme's unusual, word-saturated coming-of-age during the quest for women's rights will entrance language-loving, socially conscious YAs."—Booklist

"Williams turns history as we know it on its head in this delightful debut, spotlighting those women and their contributions, using the awe-inspiring power of words themselves to illuminate them."—Newsweek

"In Williams's exuberant, meticulously researched debut, the daughter of a lexicographer devotes her life to an alternative dictionary…Williams's feminist take on language will move readers."—Publishers Weekly

"The Dictionary of Lost Words is an enchanting story about love, loss, and the power of language, and what gets recorded and what gets forgotten. Set at a time when women's voices were clamoring more than ever to be heard, it moved me greatly to think how history is skewed by those who hold power—and how important it is that novels like this redress that balance."—Elizabeth Macneal, international bestselling author of The Doll Factory
Ballantine Books, 9780593160190, 400pp.
Publication Date: April 6, 2021
About the Author
Pip Williams was born in London, grew up in Sydney, and now lives in the Adelaide Hills of South Australia with her family and an assortment of animals. She has spent most of her working life as a social researcher, studying what keeps us well and what helps us thrive, and she is the author of One Italian Summer, a memoir of her family's travels in search of the good life, which was published in Australia to wide acclaim. Based on her original research in the Oxford English Dictionary archives, The Dictionary of Lost Words is her first novel.