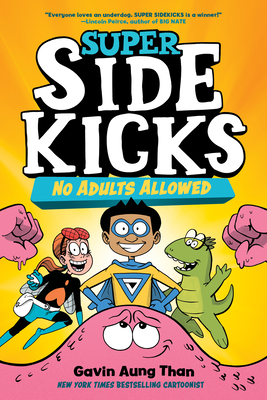 Super Sidekicks #1
No Adults Allowed
Hardcover

* Individual store prices may vary.
Other Editions of This Title:
Paperback (11/17/2020)
Library Binding (11/17/2020)
Description
"Everyone loves an underdog. Super Sidekicks is a WINNER!" --Lincoln Peirce, New York Times bestselling author of the BIG NATE series

Can the SIDEKICKS start their own SUPER team?! New York Times bestselling cartoonist Gavin Aung Than delivers caped-crusaders, dinosaurs, and goo in this hilarious new graphic novel series, perfect for fans of CAPTAIN UNDERPANTS and HILO!

Superheroes have it soooo easy. They don't have to clean their secret headquarters, wash alien bloodstains out of their costumes, or walk Super Mutt. NO! They leave that for their sidekicks, while they get all the credit.

Well, Junior Justice, aka J.J., has had ENOUGH! He thinks it's time the sidekicks made a team of their own. Dinomite and Flygirl are ready to join the team, but first they have to prove to the adult superheroes that they're more than just sidekicks. And once the evil Dr Enok discovers his favorite pet Goo has left him, the world might need saving sooner rather than later. . . .

Kick it up a notch in Super Sidekicks #2: Ocean's Revenge. Coming in 2021!
Praise For Super Sidekicks #1: No Adults Allowed…
People are SUPER into the SIDEKICKS!

"Super Sidekicks delivers action, a super side-splitting good time, and proof that heroes can come from anywhere!" —Andrew McDonald and Ben Wood, creators of the Real Pigeons series

"This entertaining series opener charms with bright, full-color illustrations and loads of humor. Easy-to-follow panels and action sequences keep the pages turning, and the setting of sunny Sydney, Australia, is a refreshing departure from Gotham-like locales. . . . Armed with humor and heart, these underdogs are ready to step into the spotlight." —Kirkus Reviews

"A fun read for fans of adventure and superhero graphic novels. . . . A promising start to a new series that embraces friendship, action, and teamwork." —School Library Journal

"A graphic novel sure to engage young, adventure-loving readers." —Herald Sun (Melbourne)

"Filled with crazy comic-book fun and adventure. The series is perfect for any young reader who loves a good baddie." —West Australian

"Goo is my favorite character because he's really funny. . . . I can't wait to read the next one!" —Jack, age 8

"These are great books! Even if you aren't a fan of superhero stuff." —Charlie, age 9 

"These books are the funniest thing ever!" —Brady, age 6
Random House Graphic, 9780593175057, 144pp.
Publication Date: November 17, 2020
About the Author
GAVIN AUNG THAN is a freelance cartoonist based in Perth, Australia. His webcomic Zen Pencils, a cartoon blog which adapts inspirational quotes into comic stories, has been featured by The Washington Post, The Huffington Post, Slate, Buzzfeed, Gawker and Brain Pickings, and was named one of the top 100 websites of 2013 by PC Mag. Zen Pencils has also been collected into New York Times bestselling books. His first series for children, Super Sidekicks, grew out of Gavin's long-time obsession with superheroes. Visit aungthan.com and follow @zenpencils to find out more about Gavin and his work.