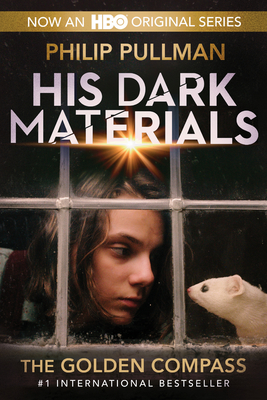 His Dark Materials
The Golden Compass (HBO Tie-In Edition)
Paperback

* Individual store prices may vary.
Other Editions of This Title:
Digital Audiobook (9/22/2003)
Paperback (5/22/2001)
Hardcover (4/16/1996)
Hardcover (6/22/2021)
Paperback (9/10/2002)
CD-Audio (9/28/2004)
Description
The extraordinary #1 New York Times bestseller hailed as one of the best books of all time, is now the basis for an HBO original series, starring Dafne Keen, Ruth Wilson, James McAvoy, and Lin-Manuel Miranda.

An Entertainment Weekly "All-Time Greatest Novel"
A Newsweek "Top 100 Book of All Time"

Philip Pullman takes readers to a world where humans have animal familiars and where parallel universes are within reach.

A war is brewing in Lyra's world--a battle between those who would keep people in ignorance and those who are willing to fight for true freedom. Lyra is thrust into the middle of the conflict when her uncle Asriel comes to Oxford, fomenting rebellion, and when her best friend, Roger, suddenly disappears.

Lyra learns that Roger was kidnapped by a shadowy organization that steals children and, it is rumored, experiments on them. To find him, she will travel to the cold, far North, where armored bears and witch clans rule . . . and where her uncle Asriel is attempting to build a bridge to a parallel world.

What Lyra doesn't know, mustn't know, is that her actions will have consequences not just in her world, but in all the worlds beyond.

A masterwork of storytelling and suspense, Philip Pullman's award-winning The Golden Compass is the first in the His Dark Materials series, which continues with The Subtle Knife and The Amber Spyglass.

Don't miss Philip Pullman's epic new trilogy set in the world of His Dark Materials!
** THE BOOK OF DUST **
La Belle Sauvage
The Secret Commonwealth
Praise For His Dark Materials: The Golden Compass (HBO Tie-In Edition)…
"Extraordinary storytelling at its very best." —The Detroit Free Press 
 
"Superb . . . all-stops-out thrilling." —The Washington Post
 
"Very grand indeed." —The New York Times
 
"Powerful […] a fantasy adventure that sparkles with childlike wonder." —The Boston Sunday Globe
 
"Marvelous […]  the writing is elegant and challenging." —The New Yorker
 
"Arguably the best juvenile fantasy novel of the past twenty years […]  If [The Subtle Knife] is as good as The Golden Compass, we'll be two thirds of the way to the completion of a modern fantasy classic." 
—The Washington Post Book World
 
"Pullman is quite possibly a genius…using the lineaments of fantasy to tell the truth about the universal experience of growing up."  —Newsweek

"Masterful storytelling […]  with a cast of instantly beguiling characters." —The Dallas Morning News
 
"The most magnificent fantasy series since Lord of the Rings."  —The Oregonian

"Pullman has created the last great fantasy masterpiece of the twentieth century.  An astounding achievement."  —The Cincinnati Enquirer

"Once in a lifetime a children's author emerges who is so extraordinary that the imagination of generations is altered. Lewis Carroll, E. Nesbit, C.S. Lewis, and Tolkien were all of this cast. So, too, is Philip Pullman, whose Dark Materials trilogy will be devoured by anyone between eight and eighty. The most ambitious work since The Lord of the Rings, it is as intellectually thrilling as it is magnificently written." — New Statesman
 
"Thrillingly paced and exotic […] breathtaking." — Columbus Dispatch

"[…] a rare few have minds capacious enough to engage in vast cosmos-making, imagining realms and inventing universes. I am thinking of Dante and Milton and Blake. We may now add Philip Pullman." 
—Parents Choice (online)
 
"The Golden Compass is one of the best fantasy/adventure stories that I have read in years. This is a book no one should miss." —Terry Brooks, author of The Sword of Shannara

"As always, Pullman is a master at combining impeccable characterizations and seamless plotting, maintaining a crackling pace to create scene upon scene of almost unbearable tension.  This glittering gem will leave readers of all ages eagerly awaiting the next installment of Lyra's adventures." 
—Publishers Weekly, Starred Review
 
"This first fantastic installment of the His Dark Materials trilogy propels readers along with horror and high adventure, a shattering tale that begins with a promise and delivers an entire universe." – Kirkus Reviews, Starred Review
 
"This first fantastic installment propels readers along with horror and high adventure […] A shattering tale that begins with a promise and delivers an entire universe." —Kirkus Reviews, Starred
 
"The characters of Lord Asriel, Mrs. Coutler, and Iorek Byrnison and the cold and beautiful Northern setting are captivating; the constantly twisting plot and escalating suspense are riveting; and Lyra and Pantalaimon are among the gutsiest and wiliest of adventurers. Touching, exciting, and mysterious by turns, this is a splendid work." —The Horn Book Magazine, Starred 
 
"Glorious. And what an ending — simply operatic." —School Library Journal, Top 100 Children's Novels (#28)
 
"This is a captivating fantasy, filled with excitement, suspense, and unusual characters." —School Library Journal
 
"A totally involving, intricately plotted fantasy that will leave readers clamoring for the sequels." 
—Booklist, Starred review
 
"Glorious. . . . The Golden Compass is one of those lyrical suspensions like Alice in Wonderland and The Lord of the Ringsthat crosses all age lines and intertwines mythologies and legends with seamless beauty." —BookPage
Knopf Books for Young Readers, 9780593178553, 432pp.
Publication Date: October 1, 2019
About the Author
PHILIP PULLMAN is one of the most acclaimed writers working today. He is best known for the His Dark Materials trilogy, which has been named one of the top 100 books of all time by Newsweek and one of the all-time greatest novels by Entertainment Weekly. Pullman was knighted for his services to literature in the 2019 New Year Honours.

The Book of Dust, Pullman's eagerly anticipated return to the world of His Dark Materials, will also be a book in three parts. It began with La Belle Sauvage and continues with The Secret Commonwealth.

Philip Pullman is the author of many other beloved novels. For younger readers: I Was a Rat!, Count Karlstein, Two Crafty Criminals!, Spring-Heeled Jack, and The Scarecrow and His Servant. For older readers: the Sally Lockhart quartet (The Ruby in the Smoke, The Shadow in the North, The Tiger in the Well, and The Tin Princess), The White Mercedes, and The Broken Bridge. He has written a magnificent collection, Fairy Tales from the Brothers Grimm, and his essays and lectures on writing and storytelling have been gathered in a volume called Dæmon Voices: On Stories and Storytelling.

Philip Pullman lives in Oxford, England.