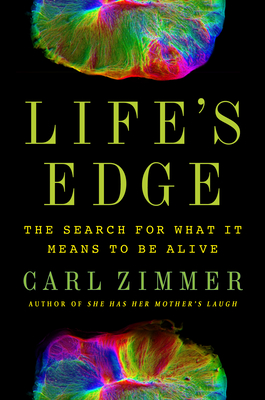 Life's Edge
The Search for What It Means to Be Alive
Hardcover

* Individual store prices may vary.
Other Editions of This Title:
Digital Audiobook (3/8/2021)
Paperback (3/8/2022)
Description
FINALIST FOR THE PEN/E.O. WILSON LITERARY SCIENCE WRITING AWARD***A NEW YORK TIMES NOTABLE BOOK OF 2021***A SCIENCE NEWS FAVORITE BOOK OF 2021***A SMITHSONIAN TOP TEN SCIENCE BOOK OF 2021

"Stories that both dazzle and edify… This book is not just about life, but about discovery itself." —Siddhartha Mukherjee, New York Times Book Review

We all assume we know what life is, but the more scientists learn about the living world—from protocells to brains, from zygotes to pandemic viruses—the harder they find it is to locate life's edge.
 
Carl Zimmer investigates one of the biggest questions of all: What is life? The answer seems obvious until you try to seriously answer it. Is the apple sitting on your kitchen counter alive, or is only the apple tree it came from deserving of the word? If we can't answer that question here on earth, how will we know when and if we discover alien life on other worlds? The question hangs over some of society's most charged conflicts—whether a fertilized egg is a living person, for example, and when we ought to declare a person legally dead.
 
Life's Edge is an utterly fascinating investigation that no one but one of the most celebrated science writers of our generation could craft. Zimmer journeys through the strange experiments that have attempted to re-create life. Literally hundreds of definitions of what that should look like now exist, but none has yet emerged as an obvious winner. Lists of what living things have in common do not add up to a theory of life. It's never clear why some items on the list are essential and others not. Coronaviruses have altered the course of history, and yet many scientists maintain they are not alive. Chemists are creating droplets that can swarm, sense their environment, and multiply. Have they made life in the lab?
 
Whether he is handling pythons in Alabama or searching for hibernating bats in the Adirondacks, Zimmer revels in astounding examples of life at its most bizarre. He tries his own hand at evolving life in a test tube with unnerving results. Charting the obsession with Dr. Frankenstein's monster and how the world briefly believed radium was the source of all life, Zimmer leads us all the way into the labs and minds of researchers engineering life from scratch.
Praise For Life's Edge: The Search for What It Means to Be Alive…
"Stories that both dazzle and edify… particularly brilliant in telling the story of DNA… Zimmer is an astute, engaging writer—inserting the atmospheric anecdote where applicable, drawing out a scientific story and bringing laboratory experiments to life. This book is not just about life, but about discovery itself. It is about error and hubris, but also about wonder and the reach of science."
—Siddhartha Mukherjee, New York Times Book Review

"[Zimmer] embraces the question of what it means to be alive explicitly and with the enthusiasm of an accomplished and successful storyteller. Zimmer has crafted an eminently readable tale, told through the stories and personal anecdotes of the scientists who have devoted their research to defining the essence of life."
—Issues in Science and Technology

"The pleasures of Life's Edge derive from its willingness to sit with the ambiguities it introduces, instead of pretending to conclusively transform the senseless into the sensible."
—The Washington Post

"A fascinating and well-written mapping of the edges of biology, which will have broad appeal to nonscientists."
—Library Journal (starred review)

"Diligently tackles the true definition of life... Zimmer invites us to observe, ponder, and celebrate life's exquisite diversity, nuances, and ultimate unity."
—Booklist (starred review)

"A master science writer explores the definition of life... An ingenious case that the answers to life's secrets are on the horizon."
—Kirkus Reviews

"From the struggle to define when life begins and ends to the hunt for how life got started, [Life's Edge] offers an engaging, in-depth look at some of biology's toughest questions."
—Science News

"Carl Zimmer shows what a great suspense novel science can be. Life's Edge is a timely exploration in an age when modern Dr. Frankensteins are hard at work, but Carl's artful, vivid, irresistible writing transcends the moment in these twisting chapters of intellectual revelation. Prepare to be enthralled."
—Jennifer Doudna, Nobel Laureate, co-author of A Crack in Creation
 
"Profound, lyrical, and fascinating, Life's Edge will give you a newfound appreciation for life itself. It is the work of a master science writer at the height of his skills—a welcome gift at a time when life seems more precious than ever."
—Ed Yong, author of I Contain Multitudes


Previously garnered praise for Carl Zimmer:

"One of the best science writers we have today."
—Rebecca Skloot, author of The Immortal Life of Henrietta Lacks
 
"No one unravels the mysteries of science as brilliantly and compellingly."
—David Grann, author of Killers of the Flower Moon
 
"Nobody writes about science better."
—Neil Shubin, author of Your Inner Fish
 
"Carl Zimmer makes the complex science of heredity read like a novel."
—Elizabeth Kolbert, author of The Sixth Extinction
Dutton, 9780593182710, 368pp.
Publication Date: March 9, 2021
About the Author
Carl Zimmer writes the Matter column for The New York Times and has frequently contributed to The Atlantic, National Geographic, Time, and Scientific American. He has won the American Association for the Advancement of Science's Science Journalism Award three times, among a host of other awards and fellowships. He teaches science writing at Yale, has been a guest on NPR's RadioLab, Science Friday, and Fresh Air, and maintains an international speaking schedule. He is the author of thirteen books about science, including She Has Her Mother's Laugh.