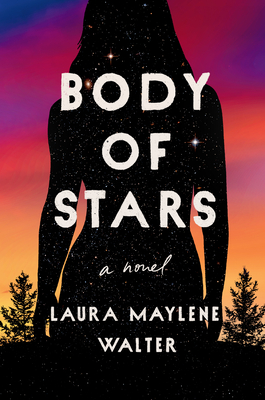 Body of Stars
A Novel
Hardcover

* Individual store prices may vary.
Other Editions of This Title:
Digital Audiobook (3/15/2021)
Description
BODY OF STARS has recently appeared on most anticipated lists from The Millions, The Rumpus, and i09!

From debut novelist Laura Maylene Walter, a bold and dazzling exploration of fate and female agency in a world very similar to our own—except that the markings on women's bodies reveal the future

Perfect for fans of Leni Zumas's Red Clocks and Naomi Alderman's The Power, Body of Stars is a unique and timely exploration of girlhood, womanhood, and toxic masculinity. A piercing indictment of rape culture, it is an inventive and urgent read about what happens when women are objectified and stripped of choice—and what happens when they fight back.

Celeste Morton has eagerly awaited her passage to adulthood. Like every girl, she was born with a set of childhood markings—the freckles, moles, and birthmarks on her body that foretell her future and that of those around her—and with puberty will come a new set of predictions that will solidify her fate. The possibilities are tantalizing enough to outweigh the worry that the future she dreams of won't be the one she's fated to have and the fear of her "changeling period": the time when women are nearly irresistible to men and the risk of abduction is rife.

Celeste's beloved brother, Miles, is equally anticipating her transition to adulthood. As a skilled interpreter of the future, a field that typically excludes men, Miles considers Celeste his practice ground—and the only clue to what his own future will bring. But when Celeste changes, she learns a devastating secret about Miles's fate: a secret that could destroy her family, a secret she will do anything to keep. Yet Celeste isn't the only one keeping secrets, and when the lies of brother and sister collide, it leads to a tragedy that will irrevocably change Celeste's fate, set her on a path to fight against the inherent misogyny of fortune-telling, and urge her to create a future that is truly her own.
Praise For Body of Stars: A Novel…
Praise for Body of Stars

"An incredibly strong debut that hits a number of sweet spots—feminist literature, dystopian/speculative fiction, and young adult literature. It's well worth your time."—New York Journal of Books

"The book's fantastical premise is just distanced enough from reality to make Celeste's story a tantalizing escape, and yet close enough that its implications are convincing. The characters are down-to-earth, average people, and both men and women face real gender challenges and work together to overcome them. The book's palpable anger at injustice is met with love—a fierce, familial and able challenger. This is an exciting debut…"—BookPage

"A story of devastation, rebuilding, grief, and hope — along with incisive social commentary on rape culture and misogyny."—Book Riot

"Body of Stars is set in a vividly imagined alternate reality that feels eerily familiar."—Southern Review of Books

"A tender rebuke to the idea that biology is destiny, Body of Stars explores the boundaries of family, identity, and predestination. Through the lens of a complex coming-of-age story, Laura Maylene Walter asks us to consider how we can make the future matter when it seems like we already know its outlines, and what the difference is between the destiny of an individual and the fate of a society."—Adrienne Celt, author of Invitation to a Bonfire 

"What a gift Laura Maylene Walter has given us in Body of Stars. Through the lens of dystopia, this incandescent debut novel holds a critical mirror up to our world's limitations on gender and the violence of those restraints, while it also forges a bold vision for agency, self-determination and freedom. Through and through, this is a powerful and luminous book."—Anne Valente, award-winning author of The Desert Sky Before Us

"In Body of Stars, Laura Maylene Walter has created the kind of alternate reality that feels wonderfully, thrillingly strange, until you realize it's all too familiar. This tantalizing, powerful debut bewitched me from page one and left me unable to see our world—not to mention our collective psyche—in quite the same way again."—Anna Solomon, award-winning author of The Book of V.

"Rapturously written and wildly original, Laura Maylene Walter's debut novel maps the dreams and nightmares of girlhood. Like the best dystopian fiction, Body of Stars is both an allegory of our own world and a door that opens to a better one. Our lives may be written on our bodies, but our futures are not."—Emily Schultz, author of The Blondes and Little Threats 

"In Laura Maylene Walter's Body of Stars, women's bodies are their destinies, resulting in a cruel, predatory world for young girls. Yet siblings Celeste and Miles show strength and courage against the malevolent forces surrounding them. Walter writes with tenderness, empathy and beauty. An unusual, bewitching tale."—Bina Shah, author of Before She Sleeps 

"Laura Maylene Walter's Body of Stars will be enjoyed as a novel that employs the fantastic to inventively explore both the victimization and the power of women in a world very much like our own, but its central pleasure and achievement may be its depiction of a complicated and extraordinarily moving sibling relationship. In Walter's generous and capable hands, Miles and Celeste remind us that love often means damage, and that the true test of love is not avoiding that damage, but repairing it when we've caused it."—Karen Shepard, author of Kiss Me Someone

"Body of Stars sparks with tenderness and beauty, and Walter's writing on the female body is genuine art.  A thought-provoking exploration of fate and forced binaries, this is a book that lingers."—Erika Swyler, author of Light from Other Stars and The Book of Speculation

"Part allegory, part warning, and part celebration of the female body, this is a thrilling and flawlessly crafted debut about the potential women have to hold magic, make magic, and change the course of history with the underestimated weapons of intelligence and love."—Courtney Maum author of Touch and Costalegre
Dutton, 9780593183052, 368pp.
Publication Date: March 16, 2021
About the Author
Laura Maylene Walter is a writer and editor in Cleveland. Her writing has appeared in Poets & Writers, Kenyon Review, The Sun, Ninth Letter, The Masters Review, and many other publications. She has been a Tin House Scholar, a recipient of the Ohioana Library Association's Walter Rumsey Marvin Grant, and a writer‑in‑residence at Yaddo, the Chautauqua Institution, and Art Omi: Writers. Body of Stars is her debut novel.