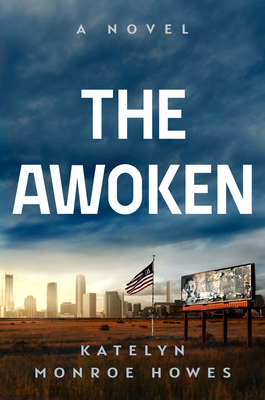 The Awoken
A Novel
Hardcover

* Individual store prices may vary.
Description
"The Awoken is a phenomenal story—filled with action, romance, plot twists, and a few big juicy reveals!" —Issa Rae

A cinematic, speculative debut about a woman who undergoes cryogenic preservation at the time of her death and wakes up a century later in a world where her very life is a crime.

When Alabine Rivers, a politically active young woman with a bright career and romance ahead of her, finds out the devastating news that she has terminal cancer, the only thing that gives her solace is the possibility of a second life through the emerging field of cryogenics. 
 
A century later, scientists have indeed discovered how to bring back the dead from preservation, but humanity has been locked in a philosophical battle over the ethics of this new Godlike power, a battle that has turned violent: those who are resurrected, the Awoken, have been declared illegal and are to be shot on sight. 
 
This is the world Alabine is brought into by the Resurrectionists, an underground militia fighting for the rights of the Awoken. Finding herself in a completely unfamiliar world, and one where she is an outsider for the first time in her life, Alabine must figure out how to survive and determine her place in this new world, all the while being haunted by lucid memories of her previous life and the man she loved. 
 
The Awoken is a gripping, action-packed story full of plot twists and high emotion. It's a look at prejudice, complicity, the fears that tear us apart, and the hope that can bring us together.
Praise For The Awoken: A Novel…
"This action-packed speculative novel will have you reading long into the night."
—Book Riot

"Howes thoughtfully extrapolates from current events to create a chilling, all-too-plausible future. Vividly sketched, deeply sympathetic characters and high-stakes, adrenaline-fueled plotting propel the tale to a cathartic close. Intelligent, action-packed, and emotionally charged."
—Kirkus

"Documentary filmmaker Howes' debut novel treats readers to a reflective, futuristic adventure story that's full of twists and turns while also offering thoughtful commentary on issues that are all too real in our here and now: medical ethics, equity and inclusion, and personal freedom."
—Booklist

"A propulsive drive straight into the dark heart of American dystopia, with a flickering hope as our guide. I could not put down this book—Howes' killer storytelling wouldn't let me."
—David Yoon, New York Times bestselling author of Version Zero and City of Orange

"The Awoken is a phenomenal story—filled with action, romance, plot twists, and a few big juicy reveals! It is a heart-pounding tale that helps people not only process what is happening in the world around them, but also to understand how they can actively play their part to create a more accepting future. I can't wait for readers to discover Alabine."
—Issa Rae

Dutton, 9780593185285, 416pp.
Publication Date: August 9, 2022
About the Author
This is the debut novel from Katelyn Monroe Howes, an LA-based, award-winning writer and Emmy-nominated documentarian. An Atlanta native and alum of NYU, Katelyn cofounded 1/27 Pictures, a documentary production company. Her work often tackles systemic inequities and combats uninformed bias as she strives to tell stories that upend the status quo.