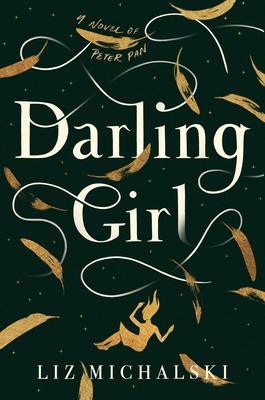 Darling Girl
A Novel of Peter Pan
Hardcover

* Individual store prices may vary.
Other Editions of This Title:
Digital Audiobook (5/2/2022)
Description
In this beautiful, grounded, and darkly magical modern-day reimagining of J. M. Barrie's classic, to save her daughter's life one woman must take on the infamous Peter Pan—who is not the innocent adventurer the fairy tales make him out to be . . .

Life is looking up for Holly Darling, granddaughter of Wendy—yes, that Wendy. She's running a successful skincare company; her son, Jack, is happy and healthy; and the tragedy of her past is well behind her . . . until she gets a call that her daughter, Eden, who has been in a coma for nearly a decade, has gone missing from the estate where she's been long tucked away. And, worst of all, Holly knows who must be responsible: Peter Pan, who is not only very real, but more dangerous than anyone could imagine.
 
Eden's disappearance is a disaster for more reasons than one. She has a rare condition that causes her to age rapidly—ironic, considering her father is the boy who will never grow up—which also makes her blood incredibly valuable. It's a secret that Holly is desperate to protect, especially from Eden's half-brother, Jack, who knows nothing about his sister or the crucial role she plays in his life. Holly has no one to turn to—her mother is the only other person in the world who knows that Peter is more than a story, but she refuses to accept that he is not the hero she's always imagined. Desperate, Holly enlists the help of Christopher Cooke, a notorious ex-soldier, in the hopes of rescuing Eden before it's too late . . . or she may lose both her children.

Darling Girl brings all the magic of the classic Peter Pan story to the present, while also exploring the dark underpinnings of fairy tales, grief, aging, sacrifice, motherhood, and just how far we will go to protect those we love.
Praise For Darling Girl: A Novel of Peter Pan…
Praise for Darling Girl
"A compelling and richly imagined twist on an old story, Liz Michalski's Darling Girl captured me on page one and hasn't released me yet. An emotionally gripping demonstration that a mother's love, when tested, can become a force of nature. I will never look at Neverland and its inhabitants the same way again."
—Brunonia Barry, New York Times bestselling author of The Lace Reader

"A dark and elegant look at a story we all know well. Liz Michalski takes Peter Pan where all the old stories go, where magic is never without a cost, and pixie dust might be more powerful than you imagine.  Fantastic!"
—Barbara O'Neal, When We Believed in Mermaids

"A captivating question quivers at the center of the engrossing novel, Darling Girl: What if Peter Pan isn't just a story? While meeting the Peter Pan you never knew, reading Darling Girl is like falling under the enchanting spell of Liz Michalski prose. As with all true magic, there must be both the seductive darkness and the illuminating light: Michalski masterfully gives us both. Darling Girl introduces us to the Darling family decades away from Wendy and Peter, descendants who are grappling with secrets that protect a family mythology and a boy who will never grow up. With a young girl and her fiercely protective mother at the center of a spellbinding story, Darling Girl is powerful and captivating. Neverland and the reader will never be the same again." 
—Patti Callahan, New York Times bestselling author

"A dark and dazzling tale. Liz Michalski has used her own magic wand to shed light on the lengths we go to in order to preserve the myth of beauty, the myth of youth, and even the myth of fairytales themselves."
—Sarah Addison Allen, New York Times bestselling author

"Darling Girl is a richly written story of what it means to live in the wake of a fairy tale, and the strength and courage it takes to step out of that shadow and find your own story. Full of heartache, sacrifice, and bravery, this is a book that will linger in a reader's thoughts."
—Kat Howard, Alex Award-winning author of An Unkindness of Magicians

"A gritty retelling of Peter Pan that incorporates a dark, disturbed Peter Pan into the lives of the Darling family's descendants in search of immortality. Skincare magnate Holly Darling's world is rocked when her comatose daughter goes missing, and things get even worse when she realizes there's only one person who had a motive to steal her daughter – the shadow of a man she once knew. This is the perfect story for readers looking for the darker side of fairy tales."
—Beth Seufer Buss, Bookmarks

"Darling Girl is a dark, unsettling tale of motherhood, fairy tales, pain and trauma, and how far one will go to save their family. This book pays delicious homage to the classic you know and love, while twisting it into something incredibly dark and deeply moving. Make sure you've got some faith, trust, and pixie dust, because Darling Girl is an awfully big adventure."
—Ryan Clark, Gibson's Bookstore

"Michalski's writing moves light as a specter between moments of pain and action, keeping readers breathless in an enchanted race to find out who will receive the true gift: ordinary mortal existence."
—Washington Post

"Michalski's well-constructed second novel extends the world of Peter Pan into a fascinating contemporary drama which dives deeply into themes of aging, generational trauma, and the things parents are willing to do for—or to—their children...This dark, magical tale is sure to win fans"
—Publishers Weekly

"This addictive tale about a mother's desperation and grief, ethical dilemmas, and the price of agelessness offers the emotional heft of Jodi Picoult's issue-driven fiction, sprinkled with a dash of pixie dust. Readers will be (dare we say it?) hooked."
—Booklist

"Lots of twists and turns and shocking reveals (including Tinkerbell) highlight this outstanding second novel from [Michalski]."
—Red Carpet Crash
Dutton, 9780593185636, 352pp.
Publication Date: May 3, 2022
About the Author
Liz Michalski is the author of Evenfall and a contributor to Writer Unboxed and Author in Progress. A former reporter and editor, Liz lives with her family in Massachusetts, where she loves reading fairy tales and, sometimes, writing them. Darling Girl is her second novel.