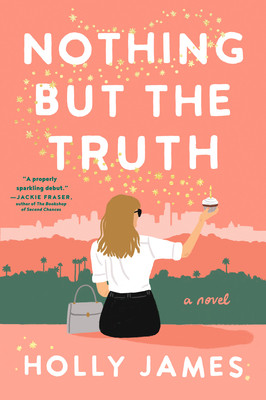 Nothing But the Truth
A Novel
Paperback

* Individual store prices may vary.
Other Editions of This Title:
Digital Audiobook (7/11/2022)
Description
"The balm for the soul that I needed. We women don't need to smile more or look pretty or conform to expectations…we just need to read this, buy a copy for our best friends, and toast to the truth."—Jodi Picoult, New York Times bestselling author of Wish You Were Here

In this sparkling, page-turning debut, Lucy Green learns that when you make a wish, you don't always get what you want…but you might just get exactly what you need.

It's the eve of Hollywood publicist Lucy Green's thirtieth birthday, a day she hopes will bring the promotion she deserves and a proposal from her boyfriend. But he stands her up for a date, not for the first time, leaving Lucy alone at the bar—or at least, alone with the handsome bartender on the other side of the counter—so she makes a rueful wish over her cocktail for a perfect birthday. But when Lucy's wish is granted in the most unexpected way, things go terribly awry, as things often do when wishes come true….
 
When Lucy wakes up on her big day, she can't seem to force herself to go through her rigorous fitness and beauty routines—things she usually tells herself she likes. She has no desire to eat only a spoonful of yogurt for breakfast and she simply can't bear to put on the uncomfortable shapewear needed for the power outfit she had planned for work. 
 
Then Lucy arrives at the office, and she realizes that not only can she no longer lie to herself, she can't lie to anyone else, either. Not her clients, not her boyfriend, not her creep of a boss. Now that she can't hide how she feels, Lucy must confront all the injustices—small and large—she's faced on a daily basis at work, in her relationship, and in every other aspect of her life...and the truth is going to come out in a big way.
 
This sharp, bighearted, and magical novel tackles all the lies women are encouraged to tell just to get by in today's world—in life, in love, and in the workplace—and the liberation that can come from telling nothing but the truth.
Praise For Nothing But the Truth: A Novel…
Praise for Nothing But The Truth
"I picked up this novel on a week when I was made painfully aware of the gender roles women are forced into by others, and it was the balm for the soul that I needed. We women don't need to smile more or look pretty or conform to expectations…we just need to read this, buy a copy for our best friends, and toast to the truth."
—Jodi Picoult, New York Times bestselling author of Wish You Were Here

"Nothing But The Truth is such an enjoyable escape. I love the sparky writing and the 'Day of Truth' concept is brilliantly done. This is a properly sparkling debut and frankly if it makes even one reader decide they should wear whatever shoes and knickers are most comfortable, Holly should probably get a prize."
—Jackie Fraser, author of The Bookshop of Second Chances
 
"I was immediately hooked into the fun and pacy world of LA's publicists to the stars as well as enjoying the more serious themes that were weaved effortlessly through the story. Hollywood, hot bartenders and a touch of magic—this brilliant novel literally has it all!"
—Lorraine Brown, author of The Paris Connection

"In Holly James's Nothing But the Truth, a magical twist—publicist Lucy Green wakes up on her thirtieth birthday unable to tell a lie—turns out to be the spark that sets fire to a woman's life, launching an urgent journey of self-reflection, self-empowerment, and workplace revolution. At once charmingly effervescent and seriously introspective, James skillfully balances a call to arms with a story of romantic love and personal awakening. Readers will fall head over heels for Lucy and for James, a fresh, sharp new voice in women's fiction."
—Ashley Winstead, author of Fool Me Once and In My Dreams I Hold a Knife

"James' debut is a delightful, frothy, feminist take on classic chick-lit themes and characters, featuring a charming lead whose hang-ups will resonate with readers. Ideal for fans of Camille Perri or Katie Heaney, or any reader in search of a beach read with lots of heart and a little bit of edge."
—Booklist (starred)

"James' ability to dive right into the drama from the get-go makes this a nonstop fun ride.... A beach read with a morality lesson."
—Kirkus

"Bright and breezy...Like the mysterious lavender-colored cocktail that the man Lucy calls "Hot Bartender" whips up on the night before her birthday, Nothing But the Truth is sweet, fizzy and refreshing. But true to the spirit of the drink, the book also packs a punch."
—The San Diego Union-Tribune

"19 Great Books to Cuddle Up and Read This Fall... Nothing But the Truth...is one of the great books this season because it explores just that: the truth."
—Daily Mom

"Snappy, sharp and current, Nothing But The Truth explores the ongoing patriarchal oppressions that pervade all aspect of life and unpacks the potential ramifications of demanding a fairer, safer and equitable way of living.... From start to finish, this was a fire-cracker – relevant, comical and undeniably entertaining and definitely recommended for those who like some politics in their romance."
—Harlequin Junkie

"A perfect beach read filled with strong women and well-written characters." 
—Red Carpet Crash
Dutton, 9780593186503, 304pp.
Publication Date: July 12, 2022
About the Author
Holly James holds a PhD in psychology and has worked in both academia and the tech industry. She loves telling stories with big hearts and a touch of magic. She currently lives in Southern California with her husband and dog.