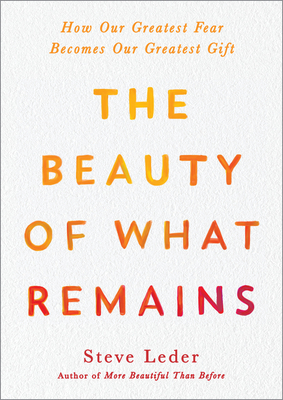 The Beauty of What Remains
How Our Greatest Fear Becomes Our Greatest Gift
Hardcover

* Individual store prices may vary.
Other Editions of This Title:
Digital Audiobook (1/4/2021)
Paperback (1/3/2023)
Description
The national bestseller

From the author of the bestselling More Beautiful Than Before comes an inspiring book about loss based on his most popular sermon.

As the senior rabbi of one of the largest synagogues in the world, Steve Leder has learned over and over again the many ways death teaches us how to live and love more deeply by showing us not only what is gone but also the beauty of what remains.

This inspiring and comforting book takes us on a journey through the experience of loss that is fundamental to everyone. Yet even after having sat beside thousands of deathbeds, Steve Leder the rabbi was not fully prepared for the loss of his own father. It was only then that Steve Leder the son truly learned how loss makes life beautiful by giving it meaning and touching us with love that we had not felt before.

Enriched by Rabbi Leder's irreverence, vulnerability, and wicked sense of humor, this heartfelt narrative is filled with laughter and tears, the wisdom of millennia and modernity, and, most of all, an unfolding of the profound and simple truth that in loss we gain more than we ever imagined.
Praise For The Beauty of What Remains: How Our Greatest Fear Becomes Our Greatest Gift…
"The wisdom Steve Leder shares in this moving book is an essential part of living a beautiful and meaningful life.  Read it and feel inspired."—Maria Shriver

"With The Beauty of What Remains, Rabbi Leder has given us a profoundly thoughtful book that captures the same wisdom and wit that his congregation has experienced from him for over three decades. Give this book to a friend."—Aaron Sorkin
 
"Rabbi Leder has a way of making us all feel better…even when tackling the difficult subject of death. I was underlining and dog earring from the start. Life lessons on each page."—Hoda Kotb
 
"Rabbi Steve Leder's wise and kind voice gently guides through his life with his father as well as the lives of so many others he has helped. His personal history makes him and his work so accessible and satisfying. This warm and insightful book teaches us how to remember what really matters in loss and in life."–David Kessler, Author of Finding Meaning: The Sixth Stage of Grief
 
"Rabbi Steve Leder writes about grief and pain in The Beauty of What Remains—but also about the joy and love we can find in the most unexpected places. This gorgeous book will provide comfort to many."—Jenna Bush Hager
 
"I've changed my will because of this book. I don't necessarily mean the will with instructions for the disposition of my earthly possessions. I mean the will composed not by a lawyer but by my life, the legacy of the love, the values, the virtues that make life worth living. A life lived like that can create beauty even in the valley of the shadow of death. I cried, I laughed and my heart sang, now death where is your sting? Thank you Rabbi Leder for sharing your will with us."–The Most Rev. Michael B. Curry, Author of Love is the Way
 
"Steve Leder's words are a balm to the soul. The Beauty of What Remains encourages us to confront our feelings about death head-on, and reminds us not to fear the end of life on Earth, but to embrace what it can teach us while we're here. Steve's own stories and experiences are written in that exquisite way that makes it feel as if you're speaking to a good friend. This book is a must-read."–Mallika Chopra, Author of Living With Intent: My Somewhat Messy Journey to Purpose, Peace and Joy
 
"Through numerous recollections of conversing with the dying, Rabbi Steve Leder takes the reader on a transformational journey providing insights and caring support in releasing all fear of death to really living a meaningful life. I highly recommend this book, particularly for those who are grieving the loss of a loved one."–Anita Moorjani, New York Times bestselling author of Dying To Be Me and What If This Is Heaven
 
"An exquisite book on the deepest truth we will all face. I wholeheartedly recommend."–Roshi Joan Jiko Halifax

"An insightful and intimate look at the end of life."–Kirkus
Avery, 9780593187555, 240pp.
Publication Date: January 5, 2021
About the Author
Steve Leder is the senior rabbi of Wilshire Boulevard Temple in Los Angeles. After receiving his degree in writing and graduating cum laude from Northwestern University, and spending time studying at Trinity College, Oxford University, Leder received a master's degree in Hebrew letters in 1986 and rabbinical ordination in 1987 from Hebrew Union College. He is the author of three books: The Extraordinary Nature of Ordinary Things, More Money Than God: Living a Rich Life Without Losing Your Soul, and the bestseller More Beautiful Than Before: How Suffering Transforms Us.