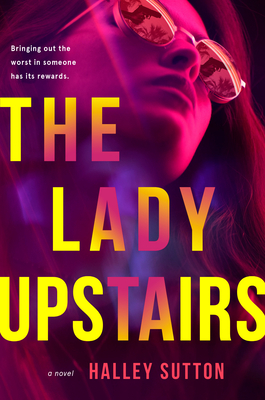 The Lady Upstairs
Paperback

* Individual store prices may vary.
Other Editions of This Title:
Digital Audiobook (11/16/2020)
Description
"A racy and hard-to-put-down piece of neo-noir."--Washington Post

A modern-day noir featuring a twisty cat-and-mouse chase, this dark debut thriller tells the story of a woman who makes a living taking down terrible men...then finds herself in over her head and with blood on her hands. The only way out? Pull off one final con.

Jo's job is blackmailing the most lecherous men in Los Angeles--handsy Hollywood producers, adulterous actors, corrupt cops. Sure, she likes the money she's making, which comes in handy for the debt she is paying off, but it's also a chance to take back power for the women of the city. Eager to prove herself to her coworker Lou and their enigmatic boss, known only as the Lady Upstairs, Jo takes on bigger and riskier jobs.

When one of her targets is murdered, both the Lady Upstairs and the LAPD have Jo in their sights. Desperate to escape the consequences of her failed job, she decides to take on just one more sting--bringing down a rising political star. It's her biggest con yet--and she will do it behind the Lady's back, freeing both herself and Lou. But Jo soon learns that Lou and the Lady have secrets of their own, and that no woman is safe when there is a life-changing payout on the line.

A delicious debut thriller crackling with wit and an unforgettable feminist voice, The Lady Upstairs is a chilling and endlessly surprising take on female revenge.
Praise For The Lady Upstairs…
"[A] sizzling debut. . . Sutton's assured and moody prose often channels the best classic LA noir, but this deliciously tawdry and twisty tale is entirely her own. Readers who savor crime stories featuring complex, unapologetic women will be hooked. A scorching, knockout noir from an author to watch."--Kirkus Reviews (starred review) 

One of PopSugar's "Most Exciting Books of Fall 2020"
One of CrimeReads "Best Psychological Thrillers of 2020"

"Halley Sutton's The Lady Upstairs feels like an instant classic. The noir tale of a woman who delivers her own brand of vigilante justice to the most disgusting men in Los Angeles is full of shocking twists and turns that will leave you gasping — and turning the pages."--Popsugar

"The con game, coupled with blackmail, receives an intriguing update in The Lady Upstairs, as Halley Sutton skillfully melds a feminist noir approach with a contemporary femme fatale in her debut…The suspenseful Lady Upstairs grows darker--and richer--by the page as betrayals mount….Sutton's sharp prose and keen eye for noir situations elevate The Lady Upstairs."--Shelf Awareness

"Come for the atmosphere; stay for the clever twists."--CrimeReads

"Crackling with wit and style, The Lady Upstairs is as noir as they come. It's compulsively, irresistibly readable — and it'll take you places you'll never guess. Think you know how it all turns out? You don't."--BookTrib

"Like all the best noirs, this is a story that will cling like cigarette smoke long after you put it down."--Criminal Element

"Gritty and devious, this debut thriller burrows into the idea of the revenge fantasy, and plot twists come so quickly that readers will be left breathless. A vicious, noir-soaked look at one way women choose to seize power in this world."--Booklist

"Sutton's stylish, edgy prose and strong female characters will delight fans of American noir. Hopefully, Jo will be back soon."--Publishers Weekly

"Halley Sutton's propulsive, delectable noir is one of the most thrilling debuts I can remember. With a pair of utterly captivating femmes fatales at its dark and twisty heart, The Lady Upstairs is sharp, sly, and crackling with erotic tension. I didn't just read this one—I devoured it."--Elizabeth Little, author of Dear Daughter 

"Sharp, sexy, and unrelentingly devious, The Lady Upstairs is a page-turner that will leave you breathless. Set in darkened bars and hotel rooms across Los Angeles and starring the feminist antihero of our dreams, this is a debut that is not to be missed."--Kathleen Barber, author of Truth Be Told and Follow Me

"Taking its place in the tradition of noir, with all of noir's cynicism, its jaundiced views of modern capitalism, and its inherent pessimism toward human relationships, The Lady Upstairs is masterful. Sutton's biting language has its own grim, hard rhythm."--Alfred Hitchcock Magazine

"The Lady Upstairs is seductive, and as sharp as a knife sliding between your ribs. Feminist noir that should scare a few awful men into better behavior. Loved it."--Lori Rader-Day, author of The Lucky One

"Halley Sutton's The Lady Upstairs is a haunting, unforgettable debut that sizzles with menace and charm. This dark noir is loaded with mesmerizing characterization and a taut, always-moving plot that left me thirsty for more. Packed with well-crafted twists and a hypnotic voice, Sutton evokes the work of authors like Alafair Burke and Megan Abbott while adding her own unique verve and fire. I loved this book." --Alex Segura, acclaimed author of Blackout and Miami Midnight

"Sultry, captivating, and electric with tension, The Lady Upstairs delivers a plot that must be devoured, in language that must be savored. With sharp, magnetic prose, Halley Sutton dives into the darkness of women's lives, illuminating how venom and vulnerability are often two sides of the same coin. Empowering and terrifying, this timely noir will keep you in its grip from its arresting first lines to its exquisite final chapter."  --Megan Collins, author of The Winter Sister 

"I couldn't put The Lady Upstairs down. Halley Sutton's debut crackles with the unmistakable voice of its heroine, a cynical, wisecracking femme fatale straight out of a Raymond Chandler novel, who becomes enmeshed in a twisty tale of greed, betrayal, and vengeance. As dark as Megan Abbott and as voice-y as Lisa Lutz, this astoundingly self-assured debut ranks its author alongside the best in her genre. The Lady Upstairs is L.A. noir at its finest."—Amy Gentry, author of Good as Gone and Last Woman Standing
 
"Savvy, seductive, twisted—noir at its best. Shrewd women enact vengeance to fill their empty pocketbooks and hollow souls. Sutton's timely plot will chill and resonate beyond the page." –Vicki Hendricks, author of Miami Purity

"This diamond-blade feminist noir is near impossible to put down. Jo, the new queen of unlikeable female protagonists, exploits the wrongdoings of Los Angeles' sleaziest men in power while frantic to get out from underneath a mountain of debt to a woman--the Lady Upstairs--who threatens to crush her. A stunning new voice in LA Noir, Halley Sutton has set the bar high. I can't wait to see what she comes up with next."--Wendy Heard, author of Hunting Annabelle

"If either Thelma or Louise opted not to drive off that cliff, and instead took up residence in LA and began systematically righting some big wrongs, you'd have Halley Sutton's con-woman Jo: the ass-kicking anti-hero our world desperately needs. The Lady Upstairs is a stunning debut, noir as hell, filled with complex and daunting characters, and just a real good time." --Tod Goldberg author of Gangsterland and Gangster Nation

"Sharp as a stiletto and twice as sexy, The Lady Upstairs is the smart, sultry noir we need right now. Sutton's feminist femme fatale heroine will seduce and intoxicate you, and you'll love every second of it."--Layne Fargo, author of Temper

"An astonishing and brilliant debut. A twisty, perfectly plotted, feminist crime noir that juxtaposes the glittering LA social scene with its gritty underbelly, this thriller sizzles with tension. Sutton is a sensational writer, with one of the most intriguing protagonists I've ever come across. She is an author everyone will be talking about." --Samantha M. Bailey, author of Woman on the Edge
G.P. Putnam's Sons, 9780593187739, 320pp.
Publication Date: November 17, 2020
About the Author
Halley Sutton is a writer and editor who lives in Los Angeles. She is a Pitch Wars mentor and holds a bachelor's degree in creative writing from the University of California Santa Cruz, and a master's degree in writing from Otis College of Art and Design. The Lady Upstairs is her debut novel.
or
Not Currently Available for Direct Purchase