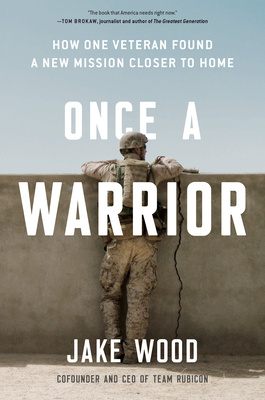 Once a Warrior
How One Veteran Found a New Mission Closer to Home
Hardcover

* Individual store prices may vary.
Other Editions of This Title:
Digital Audiobook (11/9/2020)
Description
"The book that America needs right now."
--Tom Brokaw, journalist and author of The Greatest Generation

"Jake Wood offers one of the most soaring definitions of service I've ever seen."
--Maria Shriver, award-winning journalist and author of I've Been Thinking

From Marine sniper Jake Wood, a riveting memoir of leading over 100,000 veterans to a life of renewed service, volunteering to battle, hurricanes, tornados, wildfires, pandemics, and civil wars, and inspiring onlookers as their unique military training saved lives and rebuilt our country.

When Jake Wood arrived in the States after two grueling tours in Iraq and Afghanistan, he watched his unit lose more men to suicide than to enemy hands overseas. Reeling, Jake looked for a way to direct their restlessness towards a new mission--and put their formidable skills to good use. When an earthquake struck Haiti in 2010, Jake had his answer. He convinced several fellow veterans to join him on a ragtag mission to provide desperately needed aid. Despite the high stakes, they were able to untangle complex problems quickly and keep calm under pressure.

In this raw, adrenaline-filled narrative, Jake recounts, how, over the past 10 years, he's built the disaster response organization Team Rubicon, and seen the work provide a lifeline back to purpose for the heroes among us. Not only do these intrepid volunteers race against the clock to aid communities after Hurricane Sandy, Hurricane Harvey, COVID-19, and hundreds of other disasters; they also fight for something just as important--each other.

Once a Warrior provides a soaring look at what our veterans are capable of--and what might become of America's next greatest generation.
Praise For Once a Warrior: How One Veteran Found a New Mission Closer to Home…
Praise for Once a Warrior:

"Once A Warrior is the book that America needs right now. Jake Wood's life-changing experience is a reminder of the greatness of the American spirit and how, now more than ever, we need to activate that spirit for the common good."
—Tom Brokaw, journalist and author of The Greatest Generation

"One veteran's call to action can change the world. A must-read for anyone who wants to better understand the struggles and opportunities that our warriors experience upon returning from combat."
—Marcus Luttrell, author of Lone Survivor

"Once you taste the joy and fulfillment that comes from service, you'll want to continue to serve, and Jake Wood proves it. Once A Warrior will inspire you to want to be a better human being." 
—Simon Sinek, optimist and author of Start with Why, Leaders Eat Last, and The Infinite Game
 
"An inspiring, true story of combat, courage, and commitment. Jake Wood did what warriors must, and came away from the experience a builder; building Team Rubicon, rebuilding lives, and creating hope."
—General Stanley McChrystal, author of Team of Teams

"Anyone who wants to better understand the veteran experience—or anyone who has a pulse—should read this gut-wrenching, paradigm-shifting book. Jake Wood offers one of the most soaring definitions of service I've ever seen."
—Maria Shriver, award-winning journalist and author of I've Been Thinking

 "Once a Warrior is a book full of wisdom learned the bloody hard way. Taking us from Iraq to Afghanistan, to the truly incredible organization he built in the wake of his service, this is a roadmap for engaged, serious citizenship of the most inspiring kind."
—Phil Klay, author of Redeployment

"Ever notice that the best business books aren't business books? This is one of those books."
—Chris Sacca, investor, self-made billionaire, and frequent co-host of Shark Tank
 
"This book will forever have a place in my heart. This beautifully written book is not just for veterans—it's for all of us."
—Martha Raddatz, author of The Long Road Home

"This journey of repair from disaster deserves to be our nation's bestseller. This riveting tale reminds us of our shared humanity. It combines grit, dedication, suffering, adventure, grief, love, resurrection, and succor for those most in need."
—Bing West, author of No True Glory and co-author with General Jim Mattis of Call Sign Chaos

"This life-changing book is a tonic against the apathy and lack of information that prevents us from seeing some of the most vulnerable communities among us. It will forever change the way you see and talk to veterans, watch the news, donate, and volunteer. By the final page, you'll be flooded with hope."
—Scott Harrison, author of Thirst
 
"Part searing combat memoir, part meditation on grief and loss, and part rollicking entrepreneurial success story, Once a Warrior is the hit of hope I needed for 2020."
—Nathaniel Fick, author of One Bullet Away
 
"This book is an adventure story. I couldn't put it down. For anyone seeking meaning, and especially for veterans trying to fill the hole created upon leaving active service, Once a Warrior offers a superb example of how a small group of veterans created their own tools and made meaning happen."
—Karl Marlantes, author of Matterhorn
 
"Jake Wood is a hero, even though he hates when you say it. He served valiantly in Iraq and Afghanistan—and even more valiantly at home, when he organized thousands of post-9/11 veterans to create Team Rubicon, the inspiring and wildly effective disaster relief organization. And he can write! This is a book for this moment, filled with hope and optimism about our country's future."
—Joe Klein, author of Charlie Mike
 
"This is a raw, heartfelt, and inspiring book about an incredible journey from patriot to warrior to humanitarian. Jake Wood has enough experience to know how hard the world is and enough wisdom to know that hard isn't the same as impossible."
—David Finkel, Pulitzer Prize winner and author of Thank You for Your Service
 
"Going to war is the easy part. The tough part is coming home. Jake Wood has written an important, necessary book about finding your way there."
—Elliot Ackerman, author of Places and Names
Sentinel, 9780593189351, 320pp.
Publication Date: November 10, 2020
About the Author
Jake Wood is the co-founder and CEO of Team Rubicon, a disaster relief organization with over 125,000 volunteers. Wood had previously spent four years in the Marine Corps, serving in Iraq and Afghanistan as a scout-sniper. Since founding Team Rubicon in 2010, Jake has built the organization into one of the United States' most celebrated non-profits. He is a sought-after speaker on issues of leadership, culture, and innovation. This is his second book.