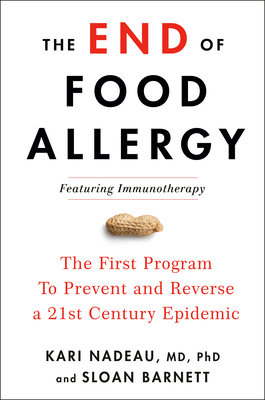 The End of Food Allergy
The First Program To Prevent and Reverse a 21st Century Epidemic
Hardcover

* Individual store prices may vary.
Description
A life-changing, research-based program that will end food allergies in children and adults forever.

The problem of food allergy is exploding around us. But this book offers the first glimpse of hope with a powerful message: You can work with your family and your doctor to eliminate your food allergy forever.

The trailblazing research of Dr. Kari Nadeau at Stanford University reveals that food allergy is not a life sentence, because the immune system can be retrained. Food allergies--from mild hives to life-threatening airway constriction--can be disrupted, slowed, and stopped. The key is a strategy called immunotherapy (IT)--the controlled, gradual reintroduction of an allergen into the body. With innovations that include state-of-the-art therapies targeting specific components of the immune system, Dr. Nadeau and her team have increased the speed and effectiveness of this treatment to a matter of months.

New York Times bestselling author Sloan Barnett, the mother of two children with food allergies, provides a lay perspective that helps make Dr. Nadeau's research accessible for everyone. Together, they walk readers through every aspect of food allergy, including how to find the right treatment and how to manage the ongoing fear of allergens that haunts so many sufferers, to give us a clear, supportive plan to combat a major national and global health issue.
Praise For The End of Food Allergy: The First Program To Prevent and Reverse a 21st Century Epidemic…
"Our daughter's world changed dramatically after Dr. Nadeau successfully treated her life-threatening food allergy. If you suffer from food allergy, or have a loved one who does, this book is a must-read!"–Nancy and Steve Carell
 
"Kari Nadeau is a true pioneer: she has steered the allergy world out of the dark ages and into the light of scientific cures.  For anyone who has suffered from food allergies or lived in fear of them, this book is a ray of hope.  It's an illuminating read on why our own immune systems sometimes hold us hostage after we eat—and how we can stop it from ever happening again."–Adam Grant, New York Times bestselling author of ORIGINALS and GIVE AND TAKE, and host of the chart-topping TED podcast WorkLife
 
"This extraordinary book shows us what we once thought impossible:  there is a way to end anaphylaxis due to a food allergies. These types of allergies can suddenly kill.  Dr. Kari Nadeau's groundbreaking work in immunotherapy changes the game and gives  patients and their families the latest science.  This book is a beacon of hope for anyone with an anaphylaxis type of food allergy"!–Terry Wahls, MD, author of The Wahls Protocol
 
"This book is brilliant in every sense of the word. Its thorough approach explains state-of-the-art treatment and creates a new standard for understanding by embracing and unraveling complexity, rather than avoiding it. The End of Food Allergy is a model for how doctors, patients and families should anticipate, confront, respond to and recover from adverse health situations."–Paul S. Auerbach, MD, MS

"Dr. Kari Nadeau, and the information contained in this book, saved our daughter's life and changed our family forever. We are eternally grateful."–J. K. Simmons and Michelle Schumacher

"Dr. Nadeau's allergy therapy changed our daughter's life. She has more freedom, flexibility and is now a full-fledged foodie thanks to this program. Our family can confidently explore food and restaurants without the fear of an allergy attack. Dr. Nadeau is a brilliant innovator and a remarkable person. This book is a must-read and we are thrilled she's sharing her research with the rest of the world."–Tracy Pollan and Michael J. Fox
Avery, 9780593189511, 352pp.
Publication Date: September 29, 2020
About the Author
Kari Nadeau, MD, PhD, is the director of the Sean N. Parker Center for Allergy and Asthma Research at Stanford University and is one of the world's leading experts on food allergy. Dr. Nadeau holds the Naddisy Foundation professorship in medicine and pediatrics at Stanford University and as well as both an MD and PhD from Harvard Medical School. She is a member of Stanford's Maternal and Child Health Research Institute and the Stanford Institute of Immunity, Transplantation and Infection. Her work has been featured in major broadcast and print media around the world.

Sloan Barnett is a lawyer, journalist, and the New York Times bestselling author of Green Goes with Everything: Simple Steps to a Healthier Life and a Cleaner Planet. Barnett chairs the California Pacific Medical Center Foundation Board and is a member of the Leadership Council of the Harvard School of Public Health. She is also a member of the board of her alma mater, the New York University School of Law. Barnett lives with her husband and three children in San Francisco. Her children have had their allergies reversed through Dr. Nadeau's program.