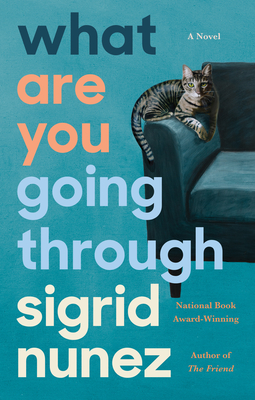 What Are You Going Through
A Novel
Hardcover

* Individual store prices may vary.
Other Editions of This Title:
Digital Audiobook (9/7/2020)
Paperback (9/7/2021)
Paperback, Large Print (9/22/2020)
Paperback, Korean (8/19/2021)
Description
NAMED A BEST BOOK OF 2020 BY NPR, PEOPLE, AND O, THE OPRAH MAGAZINE

A NEW YORK TIMES CRITICS' TOP BOOK OF 2020

NATIONAL BESTSELLER

"As good as The Friend, if not better." —The New York Times
 
"Impossible to put down . . . leavened with wit and tenderness." —People
 
"I was dazed by the novel's grace." —The New Yorker

The New York Times–bestselling, National Book Award–winning author of The Friend brings her singular voice to a story about the meaning of life and death, and the value of companionship

A woman describes a series of encounters she has with various people in the ordinary course of her life: an ex she runs into by chance at a public forum, an Airbnb owner unsure how to interact with her guests, a stranger who seeks help comforting his elderly mother, a friend of her youth now hospitalized with terminal cancer. In each of these people the woman finds a common need: the urge to talk about themselves and to have an audience to their experiences. The narrator orchestrates this chorus of voices for the most part as a passive listener, until one of them makes an extraordinary request, drawing her into an intense and transformative experience of her own.

In What Are You Going Through, Nunez brings wisdom, humor, and insight to a novel about human connection and the changing nature of relationships in our times. A surprising story about empathy and the unusual ways one person can help another through hardship, her book offers a moving and provocative portrait of the way we live now.
Praise For What Are You Going Through: A Novel…
Praise for What Are You Going Through: 

"It takes something more than intelligence to be able to write intelligently. . . . Whatever it is, Sigrid Nunez has it. When I open one of her novels, I almost always know immediately: This is where I want to be . . . [What Are You Going Through is] as good as The Friend, if not better." —The New York Times
 
"Emotionally intense and impossible to put down, this intimate novel about a woman asked to help a terminally ill friend end her life is leavened with wit and tenderness." —People

"[A] short, satisfying meditation on life, connection, and more . . . a book as luminous as it is deep . . . as beautifully told as they come." —The Seattle Times
 
"Powerful . . . The narrator, and in turn the reader, are transformed." —The Boston Globe
 
"Cultivating care for others is the crowning achievement of the novel. . . . offering a touching, poignant illustration of what it means to have empathy for the lives around you. It is especially apt, given how the book is published during a time of collective mourning." —USA Today

"Reading Sigrid Nunez's absorbing new novel is somewhat akin to having a long conversation with someone who is telling you something very important, but is telling it in a very quiet voice. You have to really pay attention. Be assured, however, that the experience will be worth it. You will emerge calmer, meditative, more thoughtful, as if you have benefited from an excellent literary massage of sorts." —The New York Times Book Review

"One's moved by the scope and pith of this novel's ambition, as it addresses our biggest questions by naming the particular. . . . But most striking may be how Nunez's narrator transfigures, through deepening compassion, from a wry, circumspect observer into someone raked raw with hapless love for her vanishing friend. . . . It's the here-and-now of What Are You Going Through that spears us, its chorale-like testimonies, their preemptive requiem." —The Washington Post 
 
"I was dazed by the novel's grace: its creation of a narrative consciousness that, by emptying and extending itself to others, insured that its vitality would never dwindle, never dim. . . . Radiant with meaning." —The New Yorker
 
"Sigrid Nunez is on a roll. She's tapped into a smart, wry voice which feels right for our times, as do her concerns with friendship, empathy, loss, and loneliness. . . . The marvel of this novel is that it encompasses so much sadness yet is not grim. . . . Nunez has written another deeply humane reminder of the great solace of both companionship and literature." —NPR

"There is no better chronicler of empathy. . . . This book is profound, devastating, and uplifting all at once." —Refinery29
  
"A master class in empathy and humanity . . . Told with humor and insight, What Are You Going Through is a deep look at how relationships change through hardship, and what it truly means to be there through struggles big and small."—Shondaland

"Nunez is unparalleled when it comes to emotional fluency, tapping into the immediacy of grief, love, and exhaustion, and translating it—sparely, powerfully—on the page. . . . profound exploration of empathy . . . It's painful but beautiful, too, and it will stick with you for a long time." —BuzzFeed, "21 Best New Books this Fall"
 
"Nunez crafts an aching look into the ways people can support one another through crisis."—Time, "Best Books of Fall"

"Richly interiorized . . . With both compassion and joy, Nunez contemplates how we survive life's certain suffering, and don't, with words and one another." —Booklist (starred review)
 
"Short, sharp, and quietly brutal . . . spare and elegant and immediate . . . [What Are You Going Through] is concerned with the biggest possible questions and confronts them so bluntly it is sometimes jarring: How should we live in the face of so much suffering? Dryly funny and deeply tender." —Kirkus Reviews (starred review)
 
"Sigrid Nunez orchestrates a beautiful chorus of humanness here, and the novel asks a question we might all be thinking in these distant times: What does it mean to really be there for someone in times of hardship?" —Lit Hub
 
"Much as in Rachel Cusk's recent work, the narrator is a conduit and sounding board for the stories of others. . . . Deeply empathetic without being sentimental, this novel explores women's lives, their choices, and how they support one another. . . . Highly recommended for readers who favor emotional resonance over escapism during difficult times." —Library Journal (starred review)
Riverhead Books, 9780593191415, 224pp.
Publication Date: September 8, 2020
About the Author
Sigrid Nunez is the author of the novels Salvation City, The Last of Her Kind, A Feather on the Breath of God, For Rouenna, and the National Book Award-winning The Friend, among others. She is also the author of Sempre Susan: A Memoir of Susan Sontag. She has been the recipient of several awards, including a Whiting Award, the Rome Prize in Literature, and a Berlin Prize Fellowship. Nunez lives in New York City.