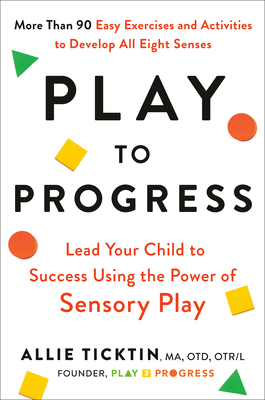 Play to Progress
Lead Your Child to Success Using the Power of Sensory Play
Hardcover

* Individual store prices may vary.
Other Editions of This Title:
Digital Audiobook (7/5/2021)
Paperback (7/5/2022)
Description
A game-changing book on child development--and the importance of physical play--for this digital and screen age.

For children to develop to their fullest potential, their sensory system—which, in addition to the big five of sight, hearing, taste, touch, and smell, includes movement and balance (vestibular), body awareness (proprioception), and internal perception (interoception)—needs to be stimulated from the time they are born. Their senses flourish when they explore their environment by touching new textures, including their food, running, jumping, climbing, and splashing outside.
 
As an occupational therapist with a specialty in sensory integration, Allie Ticktin has seen an increase in cases of children who struggle to sit in circle time or at their desk upright and who are delayed in walking, talking, and playing by themselves and with their peers. In the recent past, kids spent their days playing outside and naturally engaging their sensory system and building key developmental skills. But with increasing time pressures for both kids and parents, children are spending more time in front of screens and less time exploring and interacting with their environment.
 
The good news is that boosting your child's sensory development doesn't take enormous amounts of time or supplies, or any special skills. Here, Ticktin discusses the eight sensory systems and how a child uses them, and offers easy, fun activities—as well as advice on setting up a play area—that will encourage their development so that your little one will be better able to respond to their emotions, build friendships, communicate their needs, and thrive in school. That's the power of sensory play.
Praise For Play to Progress: Lead Your Child to Success Using the Power of Sensory Play…
"Ticktin offers in her excellent debut dozens of suggestions to help parents maximize their child's development through games.... Full of fun, this guide is worth a look for parents of young children."—Publishers Weekly (starred review)

"An important book that helps parents understand the profound impact of play. Allie's background in sensory integration and early childhood development makes her uniquely qualified to guide parents on how to engage their children's senses to explore the world through play. In an age when screens are eclipsing play, this meaningful book comes at just the right time."—Robin Berman, M.D., Associate Professor of Psychiatry at UCLA and author of Permission to Parent

"An important read for every parent, teacher, or anyone caring for children, Play to Progress provides an essential lens through which to understand children's needs and behaviors that most parents and professionals don't know about. In a world where children don't get enough play, movement, or autonomy, now, more than ever, we need to intentionally tend to the sensory needs of children. Allie Ticktin brilliantly walks readers through what we need to know and how to apply that knowledge in meaningful, fun, and practical ways."—Tina Payne Bryson, LCSW, Ph.D., New York Times bestselling co-author of The Whole-Brain Child and No-Drama Discipline, and author of The Bottom Line for Baby

"To wean them from screens and engage them in three-dimensional, hands-on, body-on fun, these imaginative sensory-motor ideas are just what today's kids need. The activities will help them develop a sense of self, feel comfortable in their bodies, and grow to become confident, competent, 'in-sync' children."—Carol Stock Kranowitz, M.A., author of The Out-of-Sync Child Has Fun, co-author of Growing an In-Sync Child

"Allie Ticktin is a visionary. She helped my wife and me become better parents. Her book will help you understand your child on a deeper level. The wealth of knowledge that she shares is practical, easy to do at home, and really fun. Play to Progress is the resources that every parent needs."—Stephen Chbosky, #1 New York Times bestselling author of The Perks of Being a Wallflower and Imaginary Friend

"Perhaps wishes do come true. For so many years in my family counseling practice and parenting workshops I have longed to put a book like this in the hands of parents—and now it's finally here. There is deep child development wisdom in these pages. Allie has found a beautiful way to open up our parental instinct to connect and be playful with our children. What could be better than having gentle fun with your child while at the same time building the foundations of cognitive, social, and emotional balance and success as they grow."—Kim John Payne, M.ED, author of Simplicity Parenting, The Soul of Discipline and Being At Your Best When Your Kids Are At Their Worst

"This book is an absolute gem! Dr. Allie Ticktin has given parents and teachers a game-changing road map to empower children through open-ended sensory play. With compassion and skill, Allie walks you though the eight senses using insightful explanations of each. But more importantly, she offers a series of practical activities to engage your rigid, anxious, or distracted child. These tools allow you to meet your child where they are while creating play experiences that develop their individual sensory system. By helping your child better connect with their senses, they begin to engage more comfortably with the world around them—what a gift!"—Carolyn Dalgliesh, professional organizer and author of The Sensory Child Gets Organized

"Sensory play is a hugely overlooked foundation of healthy child development—physically, cognitively, emotionally, and socially. Play to Progress makes the neuroscience of sensory integration accessible to everyone, and is filled with creative and fun ideas for sensory 'nutrition' that helps kids feel and function at their best—and often sleep better, too. This book is an invaluable resource for parents, teachers, and anyone spending time with children."—Jennifer Waldburger, MSW, cofounder of Sleepy Planet Parenting, author of The Sleepeasy Solution

"Every parent should read this book. Most parents don't have a clue how to deal with the digital age that has created so many challenges. In Play to Progress, you will find many 'what-tos' and 'how-tos', but even more important is to know 'why to.' Learn how to teach your children to play in ways that engage all of their senses (in ways that came naturally when they used their imagination before fancy toys and digital screens) to reduce challenges and help them be the best they can be. And you can have fun, too."—Jane Nelsen, Ed.D., author and co-author of the Positive Discipline series and certification programs

"Play to Progress presents plenty of fun, easy-to-perform activities that can strengthen parents' bond with their child and aid in their sensory development. Dr. Ticktin goes beyond merely presenting the exercises and delves into the "why" behind sensory play and how it helps strengthen childrens' bodies and minds. In an age when kids are increasingly getting their sensory stimulation from screens instead of personal interactions, Play to Progress is a welcome reminder that there are many other ways to engage children's senses, and it can be a true pleasure for parents to share in those experiences."—Shaun Gallagher, author of Experimenting with Babies and Experimenting with Kids

"I was lucky to meet Dr. Allie when my boys were just toddlers, and she quickly became my go‑ to resource for all things child development. I value her emphasis on good old‑ fashioned sensory development in an era when screens have become an all‑ too‑ tempting parenting crutch. Allie always offers simple solutions for engaging my children's senses without devices. I'm so grateful that, with this book, parents everywhere will be able to benefit from Allie's wisdom."—Candace Nelson, founder of Sprinkles Cupcakes and Pizzana
TarcherPerigee, 9780593191927, 272pp.
Publication Date: July 6, 2021
About the Author
Dr. Allie Ticktin is an occupational therapist with a specialty in sensory integration, and the founder of Play 2 Progress. Allie's life work is to empower children and families through play, and she hopes that one day quality open-ended play will be considered as important as learning the ABCs.
or
Not Currently Available for Direct Purchase