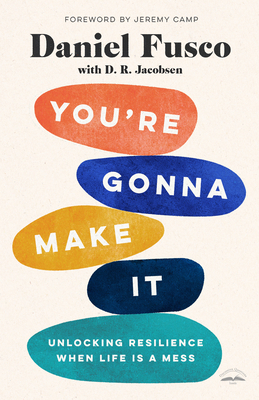 You're Gonna Make It
Unlocking Resilience When Life Is a Mess
Paperback

* Individual store prices may vary.
Other Editions of This Title:
Digital Audiobook (9/12/2022)
Description
Discover the grit you need to persevere through life's hard times—with the resilience, honesty, and unshakeable joy of Jesus—with the popular pastor and host of Hillsong Channel's Real with Daniel Fusco and Jesus Is Real Radio

"You're Gonna Make It will give you the kind of resilience that doesn't just help you survive hardship, but helps you bounce back even stronger."—Levi Lusko, lead pastor of Fresh Life Church and bestselling author

Most of us are just trying to get through the next twenty-four hours . . . let alone being ready to deal with the stress, anxiety, and suffering that arise when least expected. 

But it's possible to move from fear and worry to the positive anticipation life should hold. See, there's a way to survive the maddening chaos of this world, but it is only found in Jesus.

Pastor and author Daniel Fusco discovered this the hard way. He's experienced his share of loss, including the death of loved ones. Through diving into the Bible and deep times of prayer and reflection, Daniel has found a new closeness to Jesus and uncovered a way of resilience, perseverance, and grit. 

Jesus never promised a life of ease. He promised to be with us through everything. God can create good from all things, leading us into His promise of abundant life. We can persevere in hope. Right here. Right now.

You can persevere in God's promise. Because you're gonna make it.
Praise For You're Gonna Make It: Unlocking Resilience When Life Is a Mess…
"A good plan almost never survives the blow of the enemy. We need more than a plan; we need a strategy—and the resilience—to keep going when our plan capsizes. Strategy is exactly what you will find in the pages of this book. Daniel will hand you the tools to perseverewhen life hits so hard you want to quit. You're Gonna Make It will give you the kind of resilience that doesn't just help you survive hardship but also helps you bounce back even stronger."—Levi Lusko, lead pastor of Fresh Life Church and bestselling author

"In a time when hope seems to be in relatively short supply, Daniel encourages us to lean into the hope we have in Jesus, despite our circumstances, and reminds us that God is still in control. Jesus will get us through whatever we are facing today."—Greg Laurie, senior pastor of Harvest Church and evangelist for Harvest Crusades

"Daniel Fusco has written another timely and practical book that can lift a person from the deepest low to a thrilling triumph. He teaches us a hope that puts the grit in perseverance!"—Bishop Dale C. Bronner, DMin, founder and senior pastor of Word of Faith Family Worship Cathedral and author of Power Principles

"Overthinking is one of the biggest causes of unhappiness. My beloved friend Daniel Fusco expertly guides us, in a thoroughly biblical way, in what it looks like to break free from our 'what-if' mental prisons. You're Gonna Make It is a compelling read, spilling over with gospel truths. This book gives so much hope for true, God-honoring change."—Rashawn Copeland, founder of Blessed Media and author of No Turning Back

"This incredible book leads us on a journey of trusting God in chaotic seasons. Daniel's insights and experiences are perfectly woven through the threads of this book. If you desire to unlock the resilience inside you and learn about God's path for your life, You're Gonna Make It will not disappoint!"—Tim Timberlake, bestselling author of The Power of 1440 and senior pastor of Celebration Church

"You're Gonna Make It is a ray of light. Daniel unveils the secret to finding hope in the midst of life's uncertainties. If you're wondering what it takes to become resilient for times like these, read this book!"—Carey and Toni Nieuwhof, podcasters, speakers, bestselling author (Carey) of At Your Best, author (Toni) of Before You Split

"Daniel Fusco, as only he can, brings a timely message in You're Gonna Make It. It will encourage and challenge you in the most life-giving way. All of us have experienced the mess of life. The gift of resilience is the key to not just surviving but also thriving through it all."—Banning Liebscher, Jesus Culture founder and pastor
WaterBrook, 9780593192689, 224pp.
Publication Date: September 13, 2022
About the Author
Daniel Fusco is an author, a church planter, and the lead pastor of Crossroads Community Church in Vancouver, Washington. His radio program, Jesus Is Real Radio, is broadcast across the country, and his TV show, Real with Daniel Fusco, airs across the globe. He also hosts the popular Crazy Happy with Daniel Fusco podcast. His numerous articles have appeared on CBN, PreachingToday, and in Relevant. Daniel and his wife, Lynn, have three children and reside in southwest Washington.