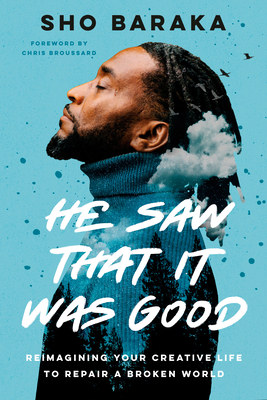 He Saw That It Was Good
Reimagining Your Creative Life to Repair a Broken World
Hardcover

* Individual store prices may vary.
Description
A deep exploration of the intersection of faith, creativity, and justice from acclaimed hip-hop artist and creative polymath Sho Baraka
 
"Sho has the courage to say what many are thinking and the candor to say what many are not. His words have positively influenced me for years—now this book gives the world that influence."—Lecrae

You were created to help bring truth and beauty into this broken world. God made you with an imagination and a yearning for justice. No matter your calling or vocation, you can help shape a better world around you through your creativity. 

But that doesn't mean it will be easy. We are surrounded by toxic stories and bad cultural thinking. We're held back by incomplete theology. 

But does it have to be like that? Is frustration the end of the story?

In the face of confusion and injustice, we can lose sight of our true narrative—the one that started in a garden and wants to make our real lives better today. 

In He Saw That It Was Good, activist and recording artist Sho Baraka wrestles deeply and honestly with these questions, gives you permission to do the same, and shows a hard-earned path to creative change. With Sho, you'll engage with art, justice, and history. Learn from the powerful principles of historic movements, explore why it's important to cultivate your creative calling (no matter what you do!), and discover a fresh look at how the gospel can transform how you see God, your neighbor, your work, and your world. 

You'll return to your biggest and truest story. Your life (and your world) need never be the same.
Praise For He Saw That It Was Good: Reimagining Your Creative Life to Repair a Broken World…
"Amisho has the courage to say what many are thinking and the candor to say what many are not. His words have positively influenced me for years—now this book gives the world that influence."—Lecrae, artist

"I love my grandson so much. He is wise, sharp, and charming. I know his book will change many lives."—Lillie Pruitt, Sho's ninety-five-year-old grandmother, who has lived through the Jim Crow era, the Great Depression, the civil rights movement, and the Kobe and Shaq breakup

"This book is about the centrality of story for our identity and its power to transform vocation, art, and the church's witness. It is a deep well of resources, inspired reflections on vocation and art making, and wisdom for cultural engagement. It is a gift to the church."—Tish Harrison Warren, Anglican priest and author of Liturgy of the Ordinary and Prayer in the Night

"Sho Baraka is one of the most forward-thinking individuals I know, with the unique leadership quality to bring others up to his level. Engaging with his dynamic perspective in this book, we all get to level up, realizing something we never could on our own: that he saw it was good!"—Tedashii, artist, author, actor, activist, and more

"Sho is one of the most strikingly original Christian thinkers of his generation. Ours is a time for courageous Christ-centered creativity. Sho rarely tells us what we want or expect to hear but speaks with artful poetry, fierce insight, and gracious justice about the issues of our era. I hang on his every word."—Timothy Dalrymple, PhD, president and CEO of Christianity Today

"Sho Baraka is the kind of cultural leader W. E. B. Du Bois and Frederick Douglass wanted for future generations: talented, thoughtful, critical, passionate, and gifted with a scholarly mind. That he is penning his thoughts to paper is a reverb of grace that should resound far and wide."—Dr. Charlie Dates, senior pastor of Progressive Baptist Church, Chicago

"Sho has not written a book for only creatives. He has written a book that will help all of us think intentionally about how the work we do (whatever it is) can be leveraged to fulfill God's purposes. He Saw That It Was Good is the wonderful mix of history, theology, art, and cultural analysis that we need in this moment. I highly recommend it."—Esau McCaulley, PhD, assistant professor of New Testament at Wheaton College

"Throughout my ministry, I have leaned on many people. But when it comes to being both culturally relevant and doctrinally sound, I know no better man than my brother Sho."—Dhati Lewis, lead pastor of Blueprint Church and vice president of Send Network

"I have been a fan of Sho Baraka's since first listening to his Talented 10th album. As a Du Bois scholar, I was intrigued by an artist with the breadth and depth to wrestle with race, politics, religion, and faith in a musical and deeply meaningful way. This book captures the unique tapestry of his richly textured life."—Brian L. Johnson, PhD, president of Warner Pacific University (former president of Tuskegee University)
WaterBrook, 9780593193044, 224pp.
Publication Date: May 18, 2021
About the Author
Sho Baraka is a globally recognized recording artist, performer, culture curator, activist, and writer. Sho's work combines his artistic platform with his academic history to contribute a unique perspective, elevating the contemporary conversation on faith, art, and culture. An alumnus of Tuskegee University and the University of North Texas, Sho is a cofounder of Forth District and the AND Campaign, and he has served as an adjunct professor at Wake Forest School of Divinity. He was also an original member of influential hip-hop consortium 116 Clique, recording with Reach Records. Sho lives in Atlanta with his wife Patreece and their three children.