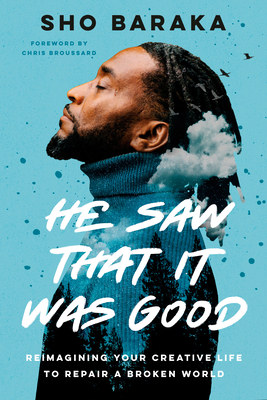 He Saw That It Was Good (Hardcover)
Reimagining Your Creative Life to Repair a Broken World
WaterBrook, 9780593193044, 208pp.
Publication Date: May 4, 2021
* Individual store prices may vary.
Description
We were made to create. But our troubled world doesn't make it easy. Few people understand this better than acclaimed hip-hop artist and creative polymath Sho Baraka. With unforgettable prose and crisp storytelling, Sho will inspire you to speak truth, chase beauty, and live out the deep satisfaction of your life's true work.

Through inspiring analysis of the Black artistic experience, storytelling, poetry, and an honest, incisive view of Christian faith, Sho Baraka reveals how discovering your destined place in God's creative story impassions our gospel, helps you take a stand for a more just and beautiful world.

Sho believes that God's work is a grand narrative of creation and redemption. And he invites you to join that work by leading the world to more--more creativity, truth, beauty, life, and wholeness. Since we often experience challenges in that work, through everything from systemic social injustice to personal hangups, Sho empowers you to experience resistance as an opportunity for creative and social breakthrough.

This book is an invitation to see those challenges in your life as an opportunity to learn something profound about God, yourself, and your specific work in the world.

What if, just like in the Bible's creation story, God was waiting to proclaim "good" over what he is making in us--and even what he is making through us?
About the Author
Sho Baraka is a globally-recognized recording artist, performer, culture curator, activist, and writer. His work has ranged from leading seminars about race relations in South Africa to establishing artist hubs in Indonesia. Sho's work combines his artistic platform with his academic pursuits to contribute a unique perspective, elevating the contemporary conversation on faith, art, and culture.

An alumnus of Tuskegee University and the University of North Texas, Sho is a co-founder of Forth District and The And Campaign, and has served as an Adjunct Professor at Wake Forest University. He also was an original member of influential hip-hop consortium 116 Clique and record label, Reach Records.

Sho lives in Atlanta, GA with Patreece, his wife of 17 years, and their three children.