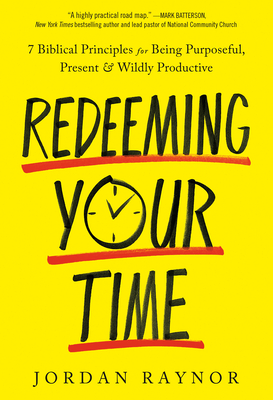 Redeeming Your Time
7 Biblical Principles for Being Purposeful, Present, and Wildly Productive
Hardcover

* Individual store prices may vary.
Description
Manage your time the way Jesus managed his with a biblical antidote to swamped to-do lists and hurried schedules.

"A highly practical road map."—Mark Batterson, New York Times bestselling author and lead pastor of National Community Church

Despite the overwhelming amount of resources for time management and work-life balance, the ability to cultivate the efficiency and equilibrium needed to manage all our worthy pursuits can often feel frustratingly out of reach. The reason for our struggle is that productivity and time-management systems focus on individual habits rather than more meaningful and lasting lifestyle changes. But as it turns out, there is a better way to reach our full potential.

We don't need just another approach to changing our habits. What we need is an operating system that takes into account the full scope of our lives. In these pages, bestselling author Jordan Raynor presents this system, using seven powerful time- management principles drawn from the example of how Jesus lived:
 
1. Start with the Word: Find meaningful connection with the author of time daily.
2. Let Your Yes Be Yes: Accept only the commitments you can fulfill.
3. Dissent from the Kingdom of Noise: Create room for silence, stillness, and reflection.
4. Prioritize Your Yeses: Confidently maintain your commitments.
5. Accept Your "Unipresence": Focus on one important thing at a time.
6. Embrace Productive Rest: Live the God-designed rhythms of rest which are productive for our goals and souls.
7. Eliminate All Hurry: Embrace productive busyness while ruthlessly eliminating hurry from our lives.

With these principles, you'll see how Jesus managed his time on earth and how he responded to human constraints much like the ones you face today. More than that, you'll discover corresponding practices that will help you embrace the best, most Christlike version of yourself possible: purposeful, present, and wildly productive.
Praise For Redeeming Your Time: 7 Biblical Principles for Being Purposeful, Present, and Wildly Productive…
"Jordan Raynor's paradigm of purpose, presence, and productivity is excellent. But learning it from Jesus? That's the magic."—John Mark Comer, bestselling author of The Ruthless Elimination of Hurry

"Mixing the theological and the tactical, Jordan Raynor offers a deeply original and practical take on time management, busyness, and the human urge toward living meaningfully."—Cal Newport, New York Times bestselling author of Deep Work

"If wisdom had weight, this book would weigh a thousand pounds."—Jon Acuff, New York Times bestselling author of Soundtracks

"What can we learn about time management from the life of Christ? It turns out, quite a lot! I'm so grateful Jordan has written this book."—Janeen Uzzell, COO of Wikipedia

"Jordan is your guide to a better way, giving you a highly practical road map to 'redeeming the time, because the days are evil' (Ephesians 5:16)."—Mark Batterson, New York Times bestselling author of The Circle Maker
 
". . . an outstanding guidebook to help you steward your time . . . "—Dee Ann Turner, former vice president of talent and sustainability at Chick-fil-A
 
"Balance is not something you just achieve. It must be designed. In Redeeming Your Time, Jordan shows you how."—Emily Ley, bestselling author of A Simplified Life

"Jordan Raynor is the master chief of productivity."—John Brandon, Forbes columnist and author of The 7-Minute Productivity Solution

"Part of our response to the gospel is to manage our time wisely so we can serve others with excellence. This book will show you how."—Horst Schulze, cofounder of the Ritz-Carlton and author of Excellence Wins
 
"I have read countless books on time management, yet none have left me transformed the way Jordan's God-given insight in Redeeming Your Time has."—Bob Lotich, author of Simple Money, Rich Life
 
"Jordan Raynor has . . . a track record that demonstrates his approach works."—Carey Nieuwhof, author of At Your Best
 
"The only productivity book you will ever need to read. If you want to flourish, you don't want to miss this book!"—Daniel Fusco, pastor of Crossroads Community Church and author of Crazy Happy

"This book is . . . equipping us to make every moment count."—Nona Jones, head of faith-based partnerships for Facebook

"Jordan has connected the best ideas on time management into one cohesive, gospel-centered approach."—Matt Perman, bestselling author of What's Best Next

". . . powerful and hard to put down!"—Jefferson Bethke, New York Times bestselling author of Take Back Your Family

"As Christ followers, we need to approach time management and productivity through a theological and worshipful lens. Jordan serves us well by leading the way."—Ruth Chou Simons, bestselling author of Beholding and Becoming and GraceLaced
WaterBrook, 9780593193075, 256pp.
Publication Date: October 19, 2021
About the Author
Jordan Raynor is a serial entrepreneur and national bestselling author who has helped millions of Christians around the world connect the gospel to their work through his podcast, devotionals, and books Called to Create and Master of One. He also serves as the executive chairman of Threshold 360, a venture-backed tech start-up that has built the world's largest library of 360-degree virtual experiences of hotels, restaurants, and attractions. A highly sought-after speaker on the topic of faith and work, he has spoken at Harvard University, SXSW, and many other events around the world. Jordan has been selected as a Google fellow twice, and he served in the White House under President George W. Bush. A sixth-generation Floridian, he lives in Tampa with his wife and their three daughters.