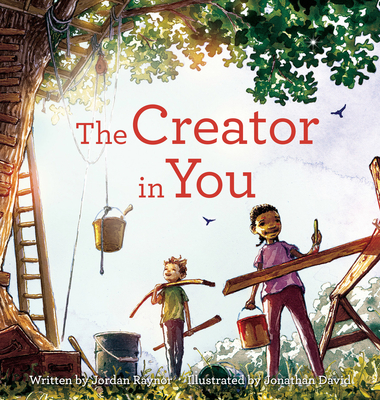 The Creator in You
Hardcover

* Individual store prices may vary.
Other Editions of This Title:
Digital Audiobook (4/18/2022)
Description
With engaging rhyme and stunning illustrations, this picture book sparks readers' imaginations with the big idea that God created human beings to make, model, and work like Him.

The Creator in You is a book that children, graduates, and even many adults will treasure for a lifetime. This fresh perspective on the creation account from the Bible's first book, Genesis, helps readers see that "the sixth day" wasn't the end of creation—it was "just the beginning."

"Before His day off, God had one more to-do. On His sixth day creating, God chose to make you." God made kids to create like he does—by filling the world with sand castles and s'mores today, and businesses and books tomorrow. Through inspiring illustrations and text, readers of all ages will feel connected to God's story of creation in a deeply personal way, inspiring them to view their current and future work with purpose, enthusiasm, and joy.
Praise For The Creator in You…
"We love the message of The Creator in You. Regardless of how your family interprets the 'days' of Genesis 1, your kids will walk away with an appreciation for how God's creativity connects to their own. We can't wait to read this with our grandchildren!"—Timothy & Kathy Keller, bestselling authors of The Meaning of Marriage

"The poetry and marvelous illustrations of The Creator in You totally captivated my heart. What a great book to open the eyes, hearts, and minds of children to the wonders of our great Creator God!"—Joni Eareckson Tada, Founder and CEO of Joni and Friends

"Wow! I LOVE LOVE LOVE this book and the illustrations! This absolutely would have been the kind of book I'd have picked up when my kids were younger. The illustrations are gorgeous and the message even better!"—Candace Cameron Bure, actress, producer, New York Times bestselling author

"As an artist, I love Jordan's encouragement to kids to 'create with their hands' and paint with their 'very own brush!' The Creator in You will help you point your children to deep truths about who God is and who they are—what a gift for them to see themselves as the imago Dei of our Creator God!"—Ruth Chou Simons, mom to 6 boys, Wall Street Journal bestselling author, and founder of gracelaceddotcom

"Beautiful! The Creator in You will help your kids view everything from artwork to homework to their future careers with purpose, enthusiasm, and joy."—Mark Batterson, New York Times best-selling author of The Circle Maker and lead pastor of National Community Church

"I love what Jordan has created with The Creator in You."—Matthew West, singer/songwriter

"In his gorgeous new picture book, Jordan Raynor reminds us that we were all created to create. Whenever we write a story, paint a picture, or build with blocks, we are reflecting the very heart of God."—JJ Heller, singer/songwriter

"This gorgeous book reminds us that creativity is not a fringe thing. It is of infinite worth because it comes from the Creator God. I can't wait to read this book to my kids!"—Jessica Honegger, founder of Noonday Collection and author of Imperfect Courage

"I love this positive message about the privilege of work as we follow in God's example. I'm hopeful many children, including my own, will gain an early vision for how their work can honor God and serve their neighbors."—Collin Hansen, host of the Gospelbound podcast and editor-in-chief of The Gospel Coalition

"With fascinating illustrations and a message that is both engaging and profound, this book will be a great addition to any family bookshelf or church library."—Carl Laferton, bestselling author of The Garden, the Curtain, and the Cross and The God Contest

"Simply delightful! This is a book I'll be reading with my kids over and over again."—Asheritah Ciuciu, author, speaker, and founder of One Thing Alone Ministries
WaterBrook, 9780593193136, 40pp.
Publication Date: April 19, 2022
About the Author
Bestselling author Jordan Raynor helps Christians respond to the radical, biblical truth that their work matters for eternity. He does this through his books (The Creator in You, Redeeming Your Time, Master of One, and Called to Create), podcast (Mere Christians), and weekly devotional (The Word Before Work)—content that has served millions of Christ-followers in every country on earth. In addition to his writing, Jordan serves as the executive chairman of Threshold 360, a venture-backed tech startup which he previously ran as CEO following a string of successful ventures of his own. Jordan has twice been selected as a Google Fellow and served in the White House under President George W. Bush. A sixth-generation Floridian, Jordan lives in Tampa with his wife and their three young daughters.

Jonathan David writes and illustrates stories for children. Growing up, he was never far from a pencil or paint brush. He worked as a portrait artist directly out of high school. And before turning his creativity toward books, he worked as a graphic designer. He lives in North Carolina with his wife and two kids.