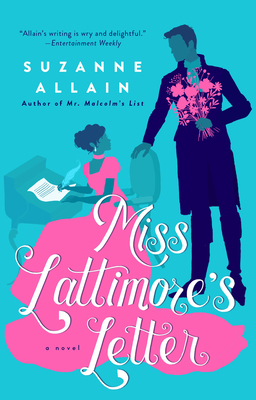 Miss Lattimore's Letter
Paperback

* Individual store prices may vary.
Other Editions of This Title:
Digital Audiobook (8/9/2021)
Description
The woman who never made a match of her own is making matches for everyone else in this hilarious Regency era comedy of manners.
 
Sophronia Lattimore had her romantic dreams destroyed years ago and is resigned to her role as chaperone for her cousin. Still, she cannot sit idly by when she becomes aware that a gentleman is about to propose to the wrong woman. She sends him an anonymous letter that is soon the talk of the town, particularly when her advice proves to be correct. Her identity is discovered and Sophie, formerly a wallflower, becomes sought after for her "expert" matchmaking skills.
 
One person who seeks her out is the eligible and attractive Sir Edmund Winslow.  As Sophie assists Sir Edmund in his pursuit of a wife, she wishes she could recommend herself as his bride. However, she vows to remain uninvolved while aiding him in his search (especially since the gentleman surely does not return her affections).
 
But when her long-lost love and Sir Edmund both seem to be interested in courting her, Sophie can't figure out if she's headed for another broken heart­­ or for the altar. How can she be expected to help other people sort out their romantic lives when her own is such a disaster?
Praise For Miss Lattimore's Letter…
"Get ready to read well past bedtime with Allain's classic Regency romance and its shrewd, funny heroine, who turns her talent for matchmaking into a match of her own."
—Library Journal (Starred Review)

"Realistically varied motivations and small social deceptions build a sense of intrigue, and tender interactions generate a deeper sense of connectedness and hope… every reader will finish the book with a satisfied smile."
—Booklist

"This is an insightful novel of manners... Jane Austen's influence is readily apparent in language usage, character conduct, and, most importantly, the subtle wit and irony that provide so much entertainment."
—Historical Novel Society

"Miss Lattimore's Letter is an entertaining romp through historical London, with plenty of romance, humor, and banter that make this a worthwhile read."
—Romance Junkies

"This book is sheer perfection. An adorable, hysterical comedy of manners."
—The Romance Dish

"Suzanne Allain delivers a fresh, spirited take on the classic Regency romp. Mr. Malcolm's List is a delightful tale that perfectly illustrates the enduring appeal of the Regency romance.  It's all here—the fast, witty banter, the elegant ballrooms, the quirky characters, the charming, strong-willed heroine and the dashing hero who has a thing or two to learn about love."
—Amanda Quick, New York Times bestselling author

"A merry romp! Mr. Malcolm's List is packed with action as one tangled romantic misunderstanding follows fast upon another's heels—to hilarious effect."
—Mary Balogh, New York Times bestselling author

"This witty Austen-esque romp…is a sparkling twist on the Regency-era ballroom scenes and misunderstandings that litter historical romance…. Allain's writing is wry and delightful, borrowing skillfully from Austen's distinctive use of free indirect speech. The book is bursting with witty asides and droll commentary, a tongue-in-cheek discourse designed to have us both laughing with and at the cast of characters. Allain nails the style she's paying tribute to and the novel is an imminently readable diversion…. It's an amuse-bouche of a story that delights and tantalizes."
—Entertainment Weekly, on Mr. Malcolm's List

 "Suzanne Allain is a fresh new voice in historical romance. Mr. Malcolm's List is a charming, light-hearted confection, with humor, sparkling banter and gently simmering romantic tension; in other words, classic Regency romance."
—Anne Gracie, National Bestselling Author

"Allain's characters are witty and appealing, and the sizzle between Jeremy and Selina is convincing. This effervescent love story is a charmer."
—Publishers Weekly, on Mr. Malcolm's List

"With a feature film already in the works, building on a script also written by Allain (Incognito), this captivating Regency is sure to be oft-requested and relished by fans of the period."
—Library Journal, on Mr. Malcolm's List

"Hilarious and fast-paced, Mr. Malcolm's List is a bright and refreshing Regency romp."
—Shelf Awareness

"A cheeky look at the different expectations placed on men versus women during the Regency Era, revealing the limitations society accords individuals in terms of their family connections and personal wealth and education. Both general fiction readers and romance fans looking for a story that will transport them to another time and place, seeking new fictional friends, or hoping to watch characters grow more self-aware and compassionate will revel in this smart love story."
—Booklist (Starred Review), on Mr. Malcolm's List

"It was witty, hilarious, and contained a cast of upbeat, brooding, and feisty characters that all graced the page with subtle pride and prejudice undertones. I loved it!"
—The Nerd Daily, on Mr. Malcolm's List
Berkley, 9780593197424, 272pp.
Publication Date: August 10, 2021
About the Author
Suzanne Allain is a screenwriter who lived in New York and Beijing before returning to her hometown of Tallahassee, Florida, where she lives with her husband. She makes frequent visits to Los Angeles for work, but one of her most memorable trips was to London to see her script Mr. Malcolm's List: Overture being filmed.