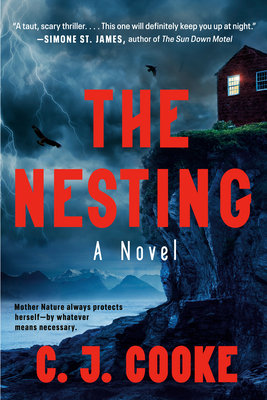 The Nesting
Paperback

* Individual store prices may vary.
Description
The woods are creeping in on a nanny and two young girls in this chilling modern Gothic thriller.

Architect Tom Faraday is determined to finish the high-concept, environmentally friendly home he's building in Norway—in the same place where he lost his wife, Aurelia, to suicide. It was their dream house, and he wants to honor her with it.

Lexi Ellis takes a job as his nanny and immediately falls in love with his two young daughters, especially Gaia. But something feels off in the isolated house nestled in the forest along the fjord. Lexi sees mysterious muddy footprints inside the home. Aurelia's diary appears in Lexi's room one day. And Gaia keeps telling her about seeing the terrifying Sad Lady. . . .

Soon Lexi suspects that Aurelia didn't kill herself and that they are all in danger from something far more sinister lurking around them.
Praise For The Nesting…
Praise for The Nesting

"[A] hypnotic psychological thriller….Readers will keep guessing what's really going on right up to the surprise ending. Rebecca fans won't want to miss this one."—Publishers Weekly (starred review)

"A taut, scary thriller that winds the suspense so tightly you can barely breathe. I was rooting for the heroine all the way to the terrifying conclusion. This one will definitely keep you up at night."—Simone St. James, New York Times bestselling author of The Sun Down Motel
 
"An original and haunting thriller, filled with secrets, ghosts, and Norse folk tales. The Nesting is an evocative and chilling tale that will keep you guessing, and is best read with the lights on."—Alice Feeney, New York Times bestselling author of Sometimes I Lie  
 
"A gorgeous, atmospheric book that chilled me to the bone. The perfect escape book into the deep woods of Norway, where nothing is as it seems. C. J. Cooke just became one of my favorite authors."—Samantha Downing, USA Today bestselling author of My Lovely Wife
 
"The modern and the Gothic collide in The Nesting."—PopSugar

"[A] nail-biting, Gothic suspense novel."--OK! Magazine


"Norwegian fjords and folktales are beautifully evoked in this vivid and compelling novel."—Rosamund Lupton, New York Times bestselling author of Sister
 
"A thrilling blend of lore and suspense, The Nesting is a gripping, deliciously tense page-turner that will give you chills."—Rachel Harrison, author of The Return
 
"Nordic folklore, snowy landscapes, and an ever-turning screw of tension--a fun, Gothic treat."—Kirsty Logan, author of The Gracekeepers

"The Nesting is at once a taut psychological thriller, an eerie Nordic fable, and a thoughtful meditation on stewardship––not only of children, but of friendship, of truth, and of the natural world we take for granted at our peril. Ms. Cooke tells her story with a spare, elegant prose that betrays a poet's ear, and also a poet's discipline. The language is beautiful, but effortlessly so, pushing the story forward in two deftly handled timelines. The characters are heartbreakingly three-dimensional....[A] quick read with a long echo."—Christopher Buehlman, author of Those Across the River
 
"Chilling, totally engrossing and full of intrigue. The pages just whizzed by."—Katherine May, author of Wintering 
Berkley, 9780593197660, 368pp.
Publication Date: September 29, 2020
About the Author
C. J. Cooke is an award-winning poet and novelist published in twenty-three languages. She teaches creative writing at the University of Glasgow, where she also researches the impact of motherhood on women's writing and creative writing interventions for mental health.