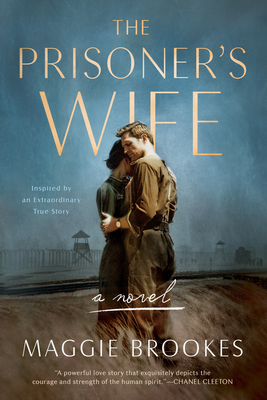 The Prisoner's Wife
Paperback

* Individual store prices may vary.
Other Editions of This Title:
Digital Audiobook (5/25/2020)
Library Binding, Large Print (11/1/2020)
Description
Inspired by the true story of a daring deception that plunges a courageous young woman deep into the horrors of a Nazi POW camp to be with the man she loves.

In the dead of night, a Czech farm girl and a British soldier travel through the countryside. Izabela and prisoner of war Bill have secretly married and are on the run, with Izzy dressed as a man. The young husband and wife evade capture for as long as possible—until they are cornered by Nazi soldiers with tracking dogs.

Izzy's disguise works. The couple are assumed to be escaped British soldiers and transported to a POW camp. However, their ordeal has just begun, as they face appalling living conditions and the constant fear of Izzy's exposure. But in the midst of danger and deprivation comes hope, for the young couple are befriended by a small group of fellow prisoners. These men become their new family, willing to jeopardize their lives to save Izzy from being discovered and shot.

The Prisoner's Wife tells of an incredible risk, and of how our deepest bonds are tested in desperate times. Bill and Izzy's story is one of love and survival against the darkest odds.
Praise For The Prisoner's Wife…
"A powerful love story that exquisitely depicts the courage and strength of the human spirit in the face of the tremendous cost of war."--Chanel Cleeton, New York Times bestselling author of The Last Train to Key West, on The Prisoner's Wife
 
More praise for The Prisoner's Wife

"A powerful page-turner."--Marie Benedict, New York Times bestselling author of Lady Clementine
 
"You will be spellbound by this stellar debut."--Susan Meissner, Bestselling author of The Last Year of the War
 
"Perhaps the most unique World War II story I've ever read…A complete winner."--Sarah-Jane Stratford, Author of Red Letter Days

"Avid readers of stories about the Holocaust should be prepared to be awestruck by this portrayal of a seldom-shared aspect of the war…The Prisoner's Wife is tale of epic proportions. It does not shrink from the cruelty of war which, in this telling, is offset only by the strength of love."--The Jewish Voice and Opinion

"A heady mix of young passion, love, courage and hope in a dark world. I so hope that Bill and Izabella get away but this has captured me."--Giles Kristian, author of Lancelot

"Based on the experiences of real people and real events, The Prisoner's Wife seamlessly and skilfully breathes intense, fully realised life into the stark scenes it describes...I was by turns moved, outraged and humbled."--Deborah Kay Davies, author of True Things About Me

"An engrossing, harrowing and heart-warming novel that reveals humanity at its best and worst."--Ann Morgan, author of Reading The World

"An absorbing and engaging tale of wartime bravery and endurance. I loved it!"--Rachel Hore, author of Last Letter Home and The Memory Garden

"A story of danger, fear, determination and the redemptive power of love in war-torn Europe. Maggie Brooke's extensive research and novelist's sensitivity have succeeded in bringing a previously hidden story into the light."--Juliet Gardiner, author of Wartime; Britain 1939 to 1945 and The Blitz; The British Under Attack.

"Heart wrenching and heart-warming in equal measure…an unputdownable novel"--Ben Kane, author of The Eagles of Rome series

'When a debut is praised by the likes of Jojo Moyes, you know it's worth reading…You won't be able to put down this tender and heartbreaking read."--Judith Allnat, author of The Poet's Wife and The Silk Factory

"A gripping debut novel...I feel enriched to have read it."--Gill Paul, author of The Lost Daughter and The Secret Wife

"Tremendous ... this is much more than a love story; it's about the instinct for survival, the value of friends, and the power of hope even in the midst of terror."--Georgina Clarke, author of Death and the Harlot

"This is a remarkable story…. Most of all, The Prisoner's Wife is a story of endurance."--San Diego Jewish World


"This heartrending tale of hope reaches through the pages, reminding readers that with love and friendship even the darkest and most unbearable nights will eventually end. While The Prisoner's Wife is a love story, it is also a narrative about humanity's intrepid drive to survive, even when it seems that all hope is lost."--Hearst Connecticut Media
Berkley, 9780593197752, 400pp.
Publication Date: May 26, 2020
About the Author
Maggie Brookes is a British ex-journalist and BBC television producer turned poet and novelist. She is an advisory fellow for the Royal Literary Fund and also an Associate Professor at Middlesex University, London, England, where she has taught creative writing since 1990. She lives in London and Whitstable, Kent and is married, with two grown-up daughters. She has published five poetry collections in the UK under her married name of Maggie Butt.
or
Not Currently Available for Direct Purchase