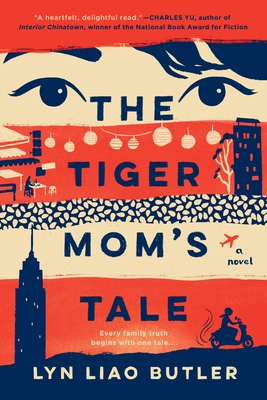 The Tiger Mom's Tale
Paperback

* Individual store prices may vary.
Other Editions of This Title:
Digital Audiobook (7/5/2021)
Description
"The Tiger Mom's Tale is a heartfelt, delightful read. Lyn Liao Butler's story of Taiwanese and American identity had me turning pages and laughing (and drooling over the delicious descriptions of food)."—Charles Yu, author of Interior Chinatown, winner of the 2020 National Book Award

Named one of best summer reads by Parade and PopSugar!

When an American woman inherits the wealth of her Taiwanese family, she travels to confront them about their betrayals of the past in this stunning debut by Lyn Liao Butler.

Lexa Thomas has never quite fit in. Having grown up in a family of blondes while more closely resembling Constance Wu, she's neither white enough nor Asian enough. Visiting her father in Taiwan as a child, Lexa thought she'd finally found a place where she belonged. But that was years ago, and even there, some never truly considered her to be a part of the family.

When her estranged father dies unexpectedly, leaving the fate of his Taiwanese family in Lexa's hands, she is faced with the choice to return to Taiwan and claim her place in her heritage . . . or leave her Taiwanese family to lose their home for good. Armed with the advice of two half-sisters (one American and the other Taiwanese, who can't stand each other), a mother who has reevaluated her sexuality, a man whose kisses make her walk into walls, and her self-deprecating humor, Lexa finds the courage to leave the comfort of New York City to finally confront the person who drove her away all those decades ago.

With fond memories of eating through food markets in Taiwan and forming a bond with a sister she never knew she had, Lexa unravels the truth of that last fateful summer and realizes she must stand up for herself and open her heart to forgiveness, or allow the repercussions of her family's choices to forever dictate the path of her life
Praise For The Tiger Mom's Tale…
"The Tiger Mom's Tale is a heartfelt, delightful read. Lyn Liao Butler's story of Taiwanese and American identity had me turning pages and laughing (and drooling over the delicious descriptions of food)."—Charles Yu, author of Interior Chinatown, winner of the 2020 National Book Award

"Unembellished and forthright, The Tiger Mom's Tale is a touching story that illuminates intricacies of race, ethnicity, traditions and stereotypes...Filled with potential book club discussion topics and perfect for fans of YA novels by Jenny Han, The Tiger Mom's Tale will unleash timely dialogue about identity, family secrets and cultural divides."—BookPage

"Sharp and humorous, The Tiger Mom's Tale is a scenic, debut novel with a cast of complicated characters sure to bring laughter and discussion to your next book club. I can't wait to read what Lyn Liao Butler writes next!"—Tif Marcelo, USA Today Bestselling author of The Key to Happily Ever After

"An absolutely absorbing story…The Tiger Mom's Tale grabbed me from page one and never let me go. I highly recommend this book to fiction readers, especially those who like plucky, get-back-up-again female leads, stories set in New York City, and those with settings on less familiar terrain."—Fresh Fiction

"The Tiger Mom's Tale is a breathtaking debut from a compelling new voice in women's fiction. With captivating characters and vivid descriptions of mouth-watering meals, Lyn Liao Butler whisks us from the bright lights of New York City to the bustle of Taichung. A story of belonging, betrayal, and the bonds between family that can never be broken, The Tiger Mom's Tale is a deeply emotional and satisfying read."—Kristin Rockaway, author of She's Faking It

"The Tiger Mom's Tale has it all—family drama, scorching love, vivid transcontinental settings, and culinary scenes that made me drool. A charming, engrossing debut from Lyn Liao Butler."—Kimmery Martin, author of The Antidote for Everything

"With a keen eye for detail and a lush appreciation for the joys and comforts of food, Lyn Liao Butler delves into the complicated bonds of family, the endurance of sisterhood, and the fundamental yearning to connect with our heritage."—Allie Larkin, internationally bestselling author of Swimming for Sunlight

"This is a story of complex family relationships, standing up for oneself, and the power of forgiveness."—Bookriot

"Butler's riveting debut follows a half-white personal trainer who reconnects with her Taiwanese family after her biological father's death...Butler weaves in convincing descriptions of Lexa's navigating of the dating scene and the fetishizing of Asian women, and depicts a fascinatingly complex antagonist in Pin-Yen, who by the end must contend with the effect of her past actions. Butler breathes zesty new life into women's fiction."—Publishers Weekly, starred review

"Filled with mouthwatering descriptions of food, a messy family, and a bit of mystery, this is a heartwarming story of one woman's search for her place in the world."—Bust.com
Berkley, 9780593198728, 352pp.
Publication Date: July 6, 2021
About the Author
Lyn Liao Butler was born in Taiwan and moved to the States when she was seven. Before becoming an author, she was a professional ballet and modern dancer, and is still a personal trainer, fitness instructor, and yoga instructor. She is an avid animal lover and fosters dogs as well as volunteers with rescues.
 
When she is not torturing clients or talking to imaginary characters, Lyn enjoys spending time with her FDNY husband, their son (the happiest little boy in the world), their three stubborn dachshunds, sewing for her Etsy shop, and trying crazy yoga poses on a stand-up paddleboard. So far, she has not fallen into the water yet.