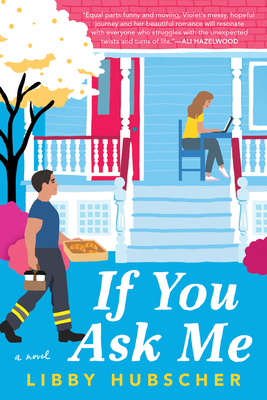 If You Ask Me
Paperback

* Individual store prices may vary.
Other Editions of This Title:
Digital Audiobook (3/7/2022)
Description
When an advice columnist's picture-perfect life implodes, she opts to go rogue in this hilarious, heartwarming romance from the author of Meet Me in Paradise.

Violet Covington pens Dear Sweetie, the most popular advice column in the state of North Carolina. She has an answer for how to politely handle any difficult situation…until she discovers her husband, Sam, has been cheating on her. Furious and out of sensible solutions, Violet leaves her filter at the door and turns to her column to air her own frustrations. The new, brutally honest Dear Sweetie goes viral, sending more shock waves through Violet's life. When she burns Sam's belongings in a front-yard, late-night bonfire, a smoking-hot firefighter named Dez shows up to douse the flames, and an unexpected fling quickly shows potential to become something longer lasting.

A lot of people want to see the old polished Violet return—including her boss, who finds her unpredictability hard to manage, and Sam, who's begging for another chance. But Dez appreciates Violet just the way she is—in fact, he can't get enough of her. The right answers don't come easily when Violet finds herself at her own personal crossroads. But maybe, by getting real, Violet can write her own happy ending.
Praise For If You Ask Me…
"I gasped, I ground my teeth, and I cheered along with Violet as she gathered the smashed pieces of her life and used them to build something better than before."—Jesse Q. Sutanto, author of Dial A for Aunties
 
"Full of southern charm and self-discovery. Libby Hubscher brings a light touch to heavy emotions in this witty novel about starting over in life and in love."—Virginia Kantra, author of Beth & Amy
 
"A funny, feminist, feel-good novel about making mistakes, asking for advice, and writing your own happy ending. I laughed and I cried—this novel is an absolute joy!"—Freya Sampson, author of The Last Chance Library

"Brimming with hilarious moments and heartwarming characters, this rom-com stars Violet Covington, the writer of an advice column called Dear Sweetie."—Women's World

"This is a fun romance novel that deals with serious issues, such as infidelity, bad relationships, and more and still keeps a hopeful tone of optimism as the readers follow Violet from her lows to highs."—Parkersburg News and Sentinel

"If You Ask Me is a breezy, insightful, and often laugh-out-loud funny story of a woman learning to confront life's messes, both the ones she inherits and the ones she chooses to make."—Shelf Awareness

"Another well-written rom-com with characters you root for and want to be happy. If you're a fan of the genre you will like this one."—Red Carpet Crash

"Hubscher alternates hilarity with probing explorations of healing and self-acceptance. It's an uplifting, insightful treat."—Publishers Weekly

Praise for Meet Me in Paradise

"Meet Me in Paradise is such a compelling read! By turns heartwarming and heartbreaking, Libby Hubscher truly takes us on a journey as Marin learns to find happiness on her own terms. Her adventures are brought so vividly to life that I want to start a #ProjectParadise of my own!"—Jen DeLuca, author of Well Played

"Meet Me In Paradise is a stunning tale of love, loss, and the capacity for wonder. Marin's adventure will touch anyone who has ever felt adrift in a sea of responsibility and decided to swim toward the shore. Hubscher expertly crafts a delicious blend of humor, whimsy, and raw emotion that left me laughing, crying, and unable to put it down."—Denise Williams, author of How to Fail at Flirting

"Both a romantic escape and an ode to sisterhood, Meet Me in Paradise made me swoon, laugh, and then sneaked up on me and made me cry. Marin and Sadie are the beating heart of this story—I adored them in all their wild, wonderful messiness. A radiantly hopeful book."—Rachel Lynn Solomon, author of The Ex Talk

"Fun beach read + heartfelt sister bonds + self-discovery journey + slow burning romance = 100% pure pleasure!" —Priscilla Oliveras, USA Today Bestseller

"Meet Me in Paradise will sweep you off your feet. Marin's leap into the unknown is full of love, romance and adventure, and I felt like I was right there with her on the pristine beaches of Saba as she climbs mountains, dives for pearls, and learns how to open herself up to the possibilities of love."—Sonya Lalli, author of Serena Singh Flips the Script

"Hubscher's debut novel is the perfect book for anyone longing for family, travel, and romance. Prepare for some tears mixed with the happy-ever-afters."—Library Journal

"A poignant, emotionally authentic story of sisterly bonds and unexpected love...This is sure to tug at readers' heartstrings."—Publishers Weekly (starred)

"Debuting author Hubscher gently weaves in the more somber story lines, so readers aren't blindsided yet will still feel the full emotional impact. The romance blooms beautifully, and while there are several complex and endearing secondary characters, this is primarily Marin's story told mostly through her own captivating narrative. Tissues should be on hand."—Booklist

"Not simply a breezy romantic comedy, Meet Me in Paradise captures the duality of life's highs and lows. This romantic comedy offers tropical vacation mishaps, a burgeoning romance and an undercurrent of heartbreak."—Shelf Awareness
Berkley, 9780593199442, 368pp.
Publication Date: March 8, 2022
About the Author
Libby Hubscher is an author and scientist. She studied biology at Bowdoin College in Brunswick, Maine, and holds a doctor of philosophy degree in molecular toxicology from North Carolina State University. Her work has appeared online and in textbooks, scientific journals, and literary journals. Her short story "The Unwelcome Guest" was long-listed for the Wigleaf Top 50 in 2018. She lives in North Carolina with her husband, two young children, and a menagerie of pets.