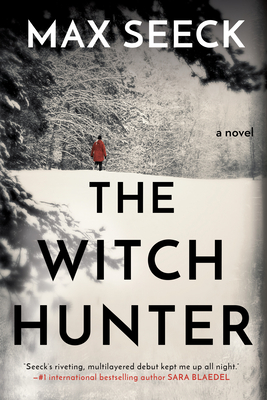 The Witch Hunter
Paperback

* Individual store prices may vary.
Description
AN INSTANT NEW YORK TIMES BESTSELLER

A shocking murder in an affluent Helsinki suburb has ties to witchcraft and the occult in this thrilling U.S. debut from Finnish author Max Seeck.

A bestselling author's wife has been found dead in a gorgeous black evening gown, sitting at the head of an empty dining table. Her most chilling feature—her face is frozen in a ghastly smile.

At first it seems as though a deranged psychopath is reenacting the gruesome murders from the Witch Hunt trilogy, bestsellers written by the victim's husband. But investigator Jessica Niemi soon realizes she's not looking for a single killer but rather for dozens of believers in a sinister form of witchcraft who know her every move and are always one step ahead.

As the bodies start piling up, Jessica knows they won't stop until they get what they want. And when her dark past comes to light, Jessica finds herself battling her own demons while desperately trying to catch a coven of killers before they claim their next victim.
Praise For The Witch Hunter…
"The Witch Hunter, translated with icy precision by Kristian London, is written in short, sharp, present-tense chapters, a technique which adds to its relentless tension. Flashbacks to earlier episodes in Jessica's life suggest that the strangeness currently unfolding is tied to her personal history. Discovering the how and why of it brings a resolution as bleak as anything Poe might have conjured."--Wall Street Journal

"The Witch Hunter, Finnish novelist Max Seeck's pulse-quickening English-language debut, is a genre twofer: it gives crime-novel enthusiasts a satisfying puzzle to logic out, and it offers fans of supernatural tales a look at the world of, as one character puts it, 'amulets, rabbit feet, you name it… a police procedural with paranormal activity at its black heart."--Shelf Awareness

"[A] rich, intensely suspenseful thriller. Seeck's debut is dark and intricate—the moments of revelation are as vividly cinematic and impactful every time. Seeck has an uncanny ability to unspool reveals at just the right pace to get the reader's heart pounding as they make the connection at the same moment as the detective on page. His expertise with pacing, his careful plotting, and his choice to use short, quick chapters all combine to create a vivid, robust thriller."--Booklist STARRED REVIEW
 
"One twist follows another, baffling the police and readers alike. Seeck imbues this riveting procedural with a deliciously creepy undertone. Readers will be excited to see what Seeck does next."--Publisher's Weekly STARRED REVIEW
 
"Seeck's riveting, multi-layered debut, blending masterful police procedural with a chilling exploration of the occult, kept me up all night, devouring it in one amazing gulp, and checking under the bed."—Sara Blaedel #1 International Bestselling Author
 
"The Witch Hunter is everything I wish for in a thriller: exceptional story, exceptional characters, exceptional writing, and shocking twists—exceptional everything.  I loved this book, and you will too."—Chris Mooney, author of Blood World
 
"One of the best books I have read. Ever. Absolutely thrilling, well-written, and oh-so-hard to put down."—Emelie Schepp, author of Slowly We Die
Berkley, 9780593199664, 400pp.
Publication Date: October 27, 2020
About the Author
Max Seeck devotes his time to writing professionally. An avid reader of Nordic noir for personal pleasure, he listens to film scores as he writes. His accolades include the Finnish Whodunit Society's Debut Thriller of the Year Award 2016. Max Seeck has a background in sales and marketing and loves to promote his works, and is fluent in English and German.