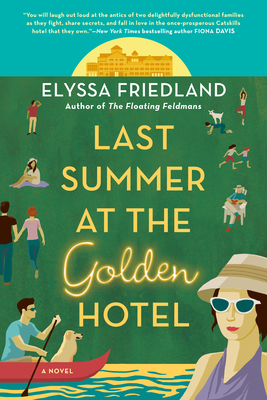 Last Summer at the Golden Hotel
Paperback

* Individual store prices may vary.
Other Editions of This Title:
Digital Audiobook (5/17/2021)
Library Binding, Large Print (7/7/2021)
Description
A Good Morning America Buzz Pick
A Can't-Miss Beach Read For Summer 2021 from The Skimm
A Best Beach Read of 2021 from Bustle
A Best Summer Read of 2021 from PopSugar

A family reunion for the ages when two clans convene for the summer at their beloved getaway in the Catskills—perfect for fans of Dirty Dancing and The Marvelous Mrs. Maisel—from the acclaimed author of The Floating Feldmans.

In its heyday, The Golden Hotel was the crown jewel of the hotter-than-hot Catskills vacation scene. For more than sixty years, the Goldman and Weingold families – best friends and business partners – have presided over this glamorous resort which served as a second home for well-heeled guests and celebrities. But the Catskills are not what they used to be – and neither is the relationship between the Goldmans and the Weingolds. As the facilities and management begin to fall apart, a tempting offer to sell forces the two families together again to make a heart-wrenching decision. Can they save their beloved Golden or is it too late?

Long-buried secrets emerge, new dramas and financial scandal erupt, and everyone from the traditional grandparents to the millennial grandchildren wants a say in the hotel's future. Business and pleasure clash in this fast-paced, hilarious, nostalgia-filled story, where the hotel owners rediscover the magic of a bygone era of nonstop fun even as they grapple with what may be their last resort.
Praise For Last Summer at the Golden Hotel…
"Two families agonize over whether to sell their once-successful Catskills resort. Last Summer at the Golden Hotel promises snark, sass, and sunshine-filled fun."—Bustle

"Friedland brings two families full circle over the fate of a storied hotel they've owned together for three generations...Old tensions and new romances arise as they decide if the nostalgia and storied legacy of the hotel can save it, or if they're having their last summer at the Golden...Episodes of intergenerational disconnect contrasted with unshakeable family bonds make Last Summer at the Golden Hotel a great choice for fans of Schitt's Creek and feel-good family dramedies."—Shelf Awareness

"You will laugh out loud at the antics of two delightfully dysfunctional families as they fight, share secrets, and fall in love in the once-prosperous Catskills hotel that they own. Once again, Friedland brilliantly wields her rapier wit – if Dorothy Parker and Joan Rivers wrote a book, this would be it!"–Fiona Davis, New York Times bestselling author of The Lions of Fifth Avenue, on Last Summer at the Golden Hotel

"In The Last Summer at the Golden Hotel, Elyssa Friedland creates a broad cast of characters who are at once touching and hilarious. Their fears, their secrets, and their dreams come together in a moving story that balances nostalgia for the past and hope for the future. A perfect book for a family book club."--Jill Santopolo, New York Times Bestselling Author of The Light We Lost
 
"Long known for her humor and wit, Elyssa Friedland has penned a charmer of a novel in Last Summer at the Golden Hotel, a story about two families who own a resort in the Catskills, which was a crown jewel in its heyday but is now in decline.  Fans of Mrs. Maisel and Dirty Dancing will revel in the nostalgia of a bygone era and the richness of this intergenerational tale, which manages to be smart, funny, honest and poignant all at the same time."—Pam Jenoff, New York Times bestselling author of The Woman with the Blue Star

"Chock full of charm and wit, Elyssa Friedland's Last Summer at the Golden Hotel is the only family drama you need this year! Set in a ramshackle Catskills hotel and featuring a vibrant cast of characters, it's a laugh out loud funny novel with a heart of gold."–Karma Brown, international bestselling author of Recipe for a Perfect Wife

"Prepare to laugh. Take a trip to the Catskills with Last Summer at the Golden Hotel and bask in the hilarity and chaos that make Elyssa Friedland the queen of the family drama."–Jane L. Rosen, author of Eliza Starts a Rumor

"Written with Friedland's signature wit and sharp dialogue, Last Summer at the Golden Hotel is an incisive novel that touches on family legacies, nostalgia, and multigenerational dynamics. Readers not content with armchair immersion will want to book their Catskill getaway immediately."--Booklist

"The vanished history of the Catskills is evoked with love and plenty of schmaltz. A high-spirited party of a book. BYOB: Bring your own borscht."--Kirkus

"Friedland brings laughs and nuance to the family foibles, and demonstrates a wide range in her convincing narration from the many points of view. Breezy and charming, this is great fun."--Publishers Weekly

Praise for The Floating Feldmans

"When Annette Feldman decides to celebrate her 70th birthday with a family cruise, drama--and hilarity--ensue."--People

"Family reunions can rock the boat. This one does it on a cruise ship. When the Feldmans hit the high seas for their matriarch's 70th, a lot of drama and laughs come out in tight quarters. Think: This is Where I Leave You meets The Family Stone."--The Skimm

"The Floating Feldmans is a story about an estranged family's wild vacation. This book is so dramatic, that it might actually make your fam feel normal...even if you're losing your mind on day five of your own trip."--Cosmopolitan

"The Floating Feldmans is a hilarious romp on the sea that is perfect for your poolside reading this summer!"--Catherine McKenzie, bestselling author of I'll Never Tell and Spin

"Friedland uses multiple perspectives, witty dialogue, and complex characters that are incredibly relatable to deliver a funny, astute look at the family dynamic and the relationships shared within."--Booklist

"The Floating Feldmans is a fast, funny, surprisingly heartwarming ride on the high seas."--Shelf Awareness

"Friedland creates vivid characters with distinct voices, from the outwardly critical matriarch to the insecure teenager. A fun look at family drama on the open seas."--Kirkus

"Uproariously funny, yet heartfelt and true, The Floating Feldmans will have each reader seeing her own family fun and foibles in the choppy waters, laughing and crying at the same time to the very last wonderful page."--Pam Jenoff, New York Times bestselling author of The Lost Girls of Paris

"An intelligent, insightful, touching novel about the secrets we keep and the family that loves us anyway."--Abbi Waxman, author of I Was Told it Would Get Easier

"Elyssa Friedland's premise is perfect. Take three generations of an estranged family, put them on a boat--a forced cruise to celebrate the matriarch's 70th birthday--and let the dysfunction fly. A pleasure to read."--Laurie Gelman, author of Class Mom

"Such a smart, honest look at the modern American family. Elyssa Friedland has written a book that feels both up-to-the-minute contemporary and, somehow, absolutely timeless."--Matthew Norman, author of We're All Damaged and Domestic Violets

"All aboard! The Floating Feldmans is for everyone whose ever thought their family is absolutely crazy ... but loves them anyway. Sibling rivalries and skeletons in the closet all come to a head in this fun, quirky family saga."--Georgia Clark, author of The Bucket List

"The Floating Feldmans was a blast; funny, moving, and immensely readable. Friedland's all-you-can-eat buffet of quirky characters walk right off the page and into your heart."--Jonathan Evison, author of This is Your Life Harriet Chance!

"Take a big dysfunctional family, reunite them for the first time in 10 years on a Caribbean cruise ship they can't escape, and add endless buffets, blindfolded pie-eating contests, and impromptu conga lines on the sundeck. What could possibly go wrong? Both cruising fans and skeptics alike will get a laugh out of this story of a family trying to stay afloat."--National Geographic

"Friedland's well-executed and smartly structured novel features chapters from each character's point of view. The simple but clever premise lets the author explore the complicated tensions of family relationships in a compressed and directed way...there is dry humor and a certain sweetness as well."--Library Journal
Berkley, 9780593199725, 384pp.
Publication Date: May 18, 2021
About the Author
Elyssa Friedland is the acclaimed author of Last Summer at the Golden Hotel, The Floating Feldmans, The Intermission and Love and Miss Communication. Elyssa is a graduate of Yale University and Columbia Law School and currently teaches novel writing at Yale. She lives with her husband and three children in New York City, the best place on earth.