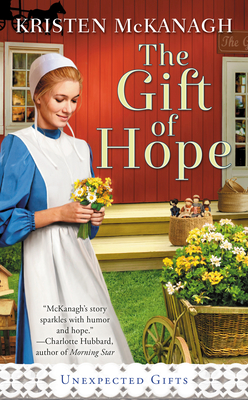 The Gift of Hope (Unexpected Gifts #1) (Mass Market)
Berkley, 9780593199862, 320pp.
Publication Date: May 11, 2021
* Individual store prices may vary.
Description
A cheerful giver is twice blessed in this first novel in an Amish series by Kristen McKanagh.

Hope Beiler needs Aaron Kanagy's help. She is determined to give her sister a beautiful new bed frame as a wedding present, and Aaron is the best carpenter around. Unfortunately, she can't move past something he said when they were younger...and there's unexplained animosity between their fathers that makes interacting difficult.

Aaron wishes he could spend more time honing his woodworking craft, but his parents need help running their gift shop. When Hope approaches him with a solution that will allow them both to achieve their goals, he accepts. As they work together, Aaron finds himself captivated by Hope and an idea forms....

Unfortunately, Hope's already wounded pride means she doesn't give him the answer he expects. At the same time, her father discovers what they've been doing and forbids Hope from seeing the Kanagys anymore. As secrets from the past come to light, will Gotte be able to teach two strong-willed souls--and their families--that pride comes before every fall, but hope helps us rise again?
About the Author
Sweet contemporary and Amish romance author Kristen McKanagh grew up consuming books and exploring the world through her writing. She attempted to find a practical career by earning a degree in English Rhetoric (Technical Writing) and an MBA. However, she swiftly discovered that writing without imagination is not nearly as fun as writing with it. Kristen also writes award-winning steamy contemporary romance as Kadie Scott, and award-winning paranormal and YA fantasy romance as Abigail Owen. No matter the genre, she loves to write happily-ever-afters that shine with home, heart, and humor. Kristen currently resides in Austin, Texas, with her own personal hero husband and their two children, who are growing up way too fast.