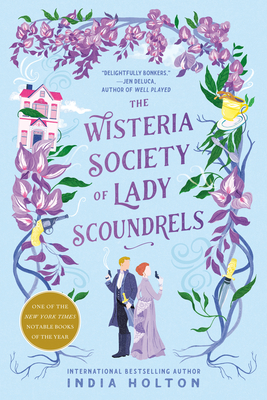 The Wisteria Society of Lady Scoundrels
Paperback

* Individual store prices may vary.
Description
A prim and proper lady thief must save her aunt from a crazed pirate and his dangerously charming henchman in this fantastical historical romance.

Cecilia Bassingwaite is the ideal Victorian lady. She's also a thief. Like the other members of the Wisteria Society crime sorority, she flies around England drinking tea, blackmailing friends, and acquiring treasure by interesting means. Sure, she has a dark and traumatic past and an overbearing aunt, but all things considered, it's a pleasant existence. Until the men show up.

Ned Lightbourne is a sometimes assassin who is smitten with Cecilia from the moment they meet. Unfortunately, that happens to be while he's under direct orders to kill her. His employer, Captain Morvath, who possesses a gothic abbey bristling with cannons and an unbridled hate for the world, intends to rid England of all its presumptuous women, starting with the Wisteria Society. Ned has plans of his own. But both men have made one grave mistake. Never underestimate a woman.

When Morvath imperils the Wisteria Society, Cecilia is forced to team up with her handsome would-be assassin to save the women who raised her--hopefully proving, once and for all, that she's as much of a scoundrel as the rest of them.
Praise For The Wisteria Society of Lady Scoundrels…
"The Wisteria Society of Lady Scoundrels is easily the most delightfully bonkers historical fantasy romance of 2021!  Featuring lady pirates in flying houses and gentleman assassins with far too many names, I enjoyed every absorbing moment. I will never look at a cup of tea (with tea before milk, under pain of death) the same way again!"—Jen DeLuca, author of Well Played

"The most charming, clever, and laugh-out-loud funny book I've read all year—it is impossible to read The Wisteria Society of Lady Scoundrels and not fall in love with its lady pirates, flying houses, and swoon-worthy romance. India Holton's utterly delightful debut is pure joy from start to finish."—Martha Waters, author of To Have and to Hoax

"India's debut is charming, clever, action-packed, with masterful bantering-while-dueling choreography: it reminds me of The Princess Bride, except swoonier and more fantastical. It's an instant beloved favorite."—Sarah Hogle, author of You Deserve Each Other

"The Wisteria Society of Lady Scoundrels is magnificent in every sense. India Holton's writing is gorgeous and lyrical, her dialogue clever and witty, and her characters loveable and unforgettable. The story contains so many enthralling elements—lady scoundrels and spells, pirates and explosions, romance and flying-house thievery!"—Raquel Vasquez Gilliland, author of Sia Martinez and the Moonlit Beginning of Everything
Berkley, 9780593200162, 336pp.
Publication Date: June 15, 2021
About the Author
India Holton lives in New Zealand, where she's enjoyed the typical Kiwi lifestyle of wandering around forests, living barefoot on islands, and messing about in boats. Now she lives in a cottage near the sea, writing books about unconventional women and charming rogues, and drinking far too much tea.