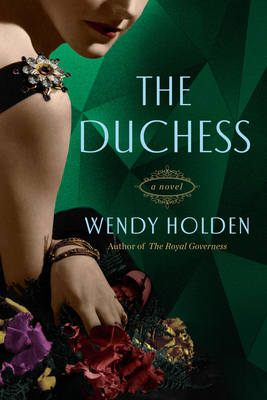 The Duchess
A Novel of Wallis Simpson
Paperback

* Individual store prices may vary.
Other Editions of This Title:
Digital Audiobook (9/27/2021)
Description
It was a love so strong, a king renounced his kingdom—all for that woman. Or was she just an escape route for a monarch who never wanted to rule? Bestselling author Wendy Holden takes an intimate look at one of the most notorious scandals of the 20th century.
 
1928. A middle-aged foreigner comes to London with average looks, no money and no connections. Wallis's first months in the city are lonely, dull and depressing. With no friends of her own she follows the glamorous set in magazines and goes to watch society weddings. Her stuffy husband Ernest's idea of fun, meanwhile, is touring historic monuments.

When an unexpected encounter leads to a house party with the Prince of Wales, Wallis's star begins to rise. Her secret weapon is her American pep and honesty. For the prince she is a breath of fresh air. As her friendship with him grows, their relationship deepens into love. Wallis is plunged into a world of unimaginable luxury and privilege, enjoying weekends together at his private palace on the grounds of Windsor Castle.
 
Wallis knows the fun and excitement can't last. The prince will have to marry and she will return to Ernest. The sudden death of George V seems to make this inevitable; the Prince of Wales is now King Edward VIII. When, to her shock and amazement, he refuses to give her up--or recognize that they are facing impossible odds--her fairy tale becomes a nightmare. The royal family close ranks to shut her out and Ernest gives an ultimatum.
 
Wallis finds herself trapped when Edward insists on abdicating his throne. She can't escape the overwhelming public outrage and villainized, she becomes the woman everyone blames—the face of the most dramatic royal scandal of the twentieth century.
Praise For The Duchess: A Novel of Wallis Simpson…
"One of the delights of historical fiction is the what-if factor, and Holden poses a whopper: What if Edward never really wanted to be king and pursued Wallis, whom he knew he couldn't marry as monarch, to avoid the throne We'll never know, but fans of biographical fiction and British royalty will thoroughly enjoy this sparkling tale of love and loss."—Booklist

"A beautifully woven and exquisitely detailed story of strong upstairs/downstairs women whose lives entwine during some of the most significant periods of modern British history. . . a novel that will stand the test of time. I loved it."—Heather Morris, New York Times bestselling author of The Tattooist of Auschwitz, on The Royal Governess

"An intimate view of the royal family at a time of great uncertainty and change, The Royal Governess is a beautifully written and richly detailed piece of historical fiction. Marion Crawford's dedication to her charges, as well as her passion for education and reform, shines through the pages. Through her eyes, the reader is transported back in time and thoroughly immersed in the lives of the British royal family. A delightful read!"—Chanel Cleeton, New York Times bestselling author of The Last Train to Key West, on The Royal Governess

"Wendy Holden absolutely delivers in this perfect blend of story and history. The Royal Governess is a fabulous read for not only devotees of period fiction and the British Royals, but anyone with a hunger for a well-crafted tale. Lovers of The Crown will adore this!"—Susan Meissner, bestselling author of The Last Year of the War on The Royal Governess

"A moving, gorgeously written page-turner. We peek behind the Windsors' swagged silk curtains--the insider details are a total delight--but the story's beating heart belongs to the devoted royal governess, Crawfie. Holden takes the reader on a glittering, unforgettable journey."—Eve Chase, author of The Daughters of Foxcote Manor on The Royal Governess

"This is a warm and often witty work of biographical historical fiction that deftly weaves fact with imagination into an engaging tale of life behind the palace walls. Fans of the genre and of the British royals will find it absolutely delightful."—Booklist on The Royal Governess

"Spirited, virtually clockwork enjoyment, humanizing the Windsor world through the death of two kings, the ordeal of an abdication and the very real dangers of a world war."—The Washington Post on The Royal Governess

"This captivating page-turner whisks readers back in time to Buckingham Palace in 1933…A majestic story that delves into the incredible life of Queen Elizabeth II before she took her place on the throne."—Woman's World on The Royal Governess
Berkley, 9780593200353, 432pp.
Publication Date: September 28, 2021
About the Author
Wendy Holden is a British novelist of comedies of manners. She's authored ten Sunday Times top ten bestsellers and has sold over three million copies worldwide.