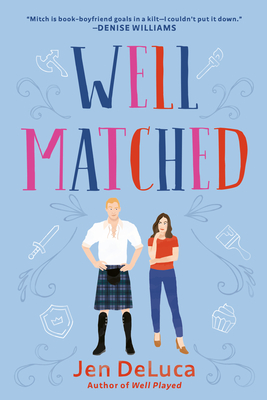 Well Matched
Paperback

* Individual store prices may vary.
Other Editions of This Title:
Digital Audiobook (10/18/2021)
Library Binding, Large Print (3/9/2022)
Description
A pretend relationship gives two friends more than they bargained for in a Renaissance Faire rom com filled with flower crowns, kilts, corsets, and sword fights.

Single mother April Parker has lived in Willow Creek for twelve years with a wall around her heart. On the verge of being an empty nester, she's decided to move on from her quaint little town, and asks her friend Mitch for his help with some home improvement projects to get her house ready to sell. 

Mitch Malone is known for being the life of every party, but mostly for the attire he wears to the local Renaissance Faire—a kilt (and not much else) that shows off his muscled form to perfection. While he agrees to help April, he needs a favor too: she'll pretend to be his girlfriend at an upcoming family dinner, so that he can avoid the lectures about settling down and having a more "serious" career than high school coach and gym teacher. April reluctantly agrees, but when dinner turns into a weekend trip, it becomes hard to tell what's real and what's been just for show. But when the weekend ends, so must their fake relationship. 

As summer begins, Faire returns to Willow Creek, and April volunteers for the first time. When Mitch's family shows up unexpectedly, April pretends to be Mitch's girlfriend again...and it doesn't feel so fake anymore. Despite their obvious connection, April insists they've just been putting on an act. But when there's the chance for something real, she has to decide whether to change her plans—and open her heart—for the kilt-wearing hunk who might just be the love of her life.
Praise For Well Matched…
"A great comfort read. Warm, sweet, and hopeful, Well Matched is about daring to come out of your shell and building the life you always wanted."--Helen Hoang, USA TODAY bestselling author of The Heart Principle

"This series is one of my ultimate comfort reads. I knew I'd adore April and Mitch together, but I didn't realize how deeply obsessed with them I'd be. Well Matched is for anyone whose life hasn't gone according to plan, and about all the joys that come with veering off course. Warm and witty, sweet and sexy—this tender hug of a book is Jen DeLuca at her best."--Rachel Lynn Solomon, national bestselling author of The Ex Talk

"Jen Deluca writes with exceptional warmth. Well Matched is cozy, sweet, and brimming with charm. It's such a joy to go back to the faire with Mitch and April!"--Rosie Danan, national bestselling author of The Intimacy Experiment

"Well Matched is completely charming and delightfully touching. DeLuca delivers a love story that leaves you feeling as warm and fuzzy as you are hot and bothered. April's vulnerability and humor are endearing and Mitch is book boyfriend goals in a kilt--I couldn't put it down."--Denise Williams, author of How to Fail at Flirting

"With well-drawn characters and laugh-out-loud scenes, Well Matched is a perfect opposites-attract romance."--Shelf Awareness

"This sexy, witty, fast-paced romantic comedy has surprising emotional depth."--Library Journal

"DeLuca's enchanting tale of unsought love developing over home improvement tasks and making family members happy, cheerfully set against the charming backdrop of a Renaissance fair, is a joy to read."--Booklist

Additional Praise for Jen DeLuca

"Stacey finds her greatest joy at the Faire, looking forward to its return each year. In DeLuca's hands, we'd have to agree – there's endless tales and excitement to be found in this world, still one of the freshest, most engaging concepts in romance a year after she introduced us to it. A hearty huzzah for Well Played."--Entertainment Weekly, on Well Played

"What a delight! This is enemies to lovers at its absolute finest, folks. DeLuca proves to be a master of creating characters you believe in and a storyline to keep you totally engrossed. Well Met is a hilarious, swoony, and captivating romance--hands down our new favorite feel-good novel of the year."--New York Times bestselling author Christina Lauren, on Well Met

"Well Met will especially appeal to readers who like bookstores, Renaissance fair shenanigans and nerdy English teachers wearing vests. DeLuca will have readers laughing all the way to the turkey leg vendor."--Shelf Awareness, on Well Met

"Full of wit, hilarious banter, and swoon-worthy moments."--Woman's World, on Well Met

"Jen Deluca's Well Met is a way cute small-town romance."--NPR, on Well Met

"Jen DeLuca had me laughing out loud from the opening line. Well Met is fresh, fun, and the story I never knew I needed. I so wish I could grab a corset and live the wench life with Emily!"--Alexa Martin, author of Fumbled, on Well Met

"The descriptions of him in his pirate gear...are likely to induce a thirst so wide and so deep you could sail a ship across it."--Entertainment Weekly, on Well Met
Berkley, 9780593200445, 336pp.
Publication Date: October 19, 2021
About the Author
Jen DeLuca was born and raised near Richmond, Virginia, but now lives in Arizona with her husband and a houseful of rescue pets. She loves latte-flavored lattes, Hokies football, and the Oxford comma. Her novels, Well Met, Well Played, and Well Matched, were inspired by her time volunteering as a pub wench with her local Renaissance Faire.