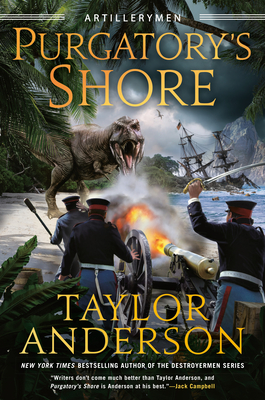 Purgatory's Shore (Artillerymen #1)
Hardcover

* Individual store prices may vary.
Other Editions of This Title:
Digital Audiobook (9/20/2021)
Description
On their way to fight in the Mexican-American War, a group of American soldiers are swept away to a strange and deadly alternate Earth in this thrilling new adventure set in the world of the New York Times bestselling Destroyermen series.

The United States, 1847. A disparate group of young American soldiers are bound to join General Winfield Scott's campaign against Santa Anna at Veracruz during the Mexican-American War. They never arrive.

Or rather . . . they arrive somewhere else.

The untried, idealistic soldiers are mostly replacements, really; a handful of infantry, artillery, dragoons, and a few mounted riflemen with no unified command. And they've been shipwrecked on a terrible, different Earth full of monsters and unimaginable enemies.

Major Lewis Cayce, late of the 3rd US "Flying" Artillery, must unite these men to face their fears and myriad threats, armed with little more than flintlock muskets, a few pieces of artillery, and a worldview that spiritually and culturally rebels against virtually everything they encounter. It will take extraordinary leadership and a cadre of equally extraordinary men and women to mold frightened troops into an effective force, make friends with other peoples the evil Holy Dominion would eradicate, and reshape their "manifest destiny" into a cause they can all believe in and fight for.

For only together will they have any hope of survival.
Praise For Purgatory's Shore (Artillerymen #1)…
"Writers don't come much better than Taylor Anderson, and Purgatory's Shore is Anderson at his best."—New York Times bestselling author Jack Campbell

"Anderson masterfully digs into detailed military strategy and battle action while forcing his characters to reconsider the racial biases and religious dogma of the mid-19th century. This is a must read for fans of Harry Turtledove and other alternate-history authors."—Booklist

"The writing is first-rate and the clash of technologies is a terrific example of science fiction's ability to ask, "what if." Highly Recommended."—Amazing Stories

"Anderson deftly switches his military and social focus to an earlier milieu of muskets and slavery, adding new layers to the history of this alternate Earth while providing longtime fans with plenty of recognizable touches. This is a promising series starter."—Publishers Weekly

Praise for Taylor Anderson and the Destroyermen series

"I cannot recommend [these books] too highly."--New York Times bestselling author David Weber

"Taylor Anderson...[has] steamed to the forefront of alternative history."--National bestselling author E. E. Knight

"The fact that Anderson has a gift for complex plot and dialogue and a fabulous sense of humor makes reading his work a fun and guilt-free pleasure."--North County Times (CA)

"If you like a fun tale set in a well-developed world, pick up the Destroyermen series and kick back and enjoy."--SFRevu
Ace, 9780593200711, 496pp.
Publication Date: September 21, 2021
About the Author
Taylor Anderson is the New York Times bestselling author of the Destroyermen novels. A gunmaker and forensic ballistic archaeologist, Taylor has been a technical and dialogue consultant for movies and documentaries and is an award-winning member of the National Historical Honor Society and of the United States Field Artillery Association.