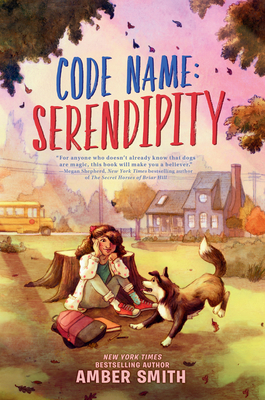 Code Name
Serendipity
Hardcover

* Individual store prices may vary.
Other Editions of This Title:
Digital Audiobook (1/3/2022)
Description
Fans of Katherine Applegate, Holly Goldberg Sloan, and Lynda Mullaly Hunt will love New York Times bestselling author Amber Smith's heartwarming middle grade debut about family, friendship, and the magic connection between a girl and her dog.

Eleven-year-old Sadie's school year is off to an awful start. Her best (and only) friend has moved away, her older brother is a jerk (as always), and her beloved Gramps is having more and more trouble keeping his memories straight. But when she comes across a stray dog, she discovers something wonderful and magical—she and the dog, Dewey, are able to communicate telepathically. Sadie knows that Dewey is destined to be her friend.

Dewey is quickly captured and sent to a shelter. And Sadie's moms say Dewey is dangerous, a bite risk, and that Sadie, whose mind is always wandering with a larger than life imagination, needs to prove she's more responsible before she can adopt any pets. But Sadie is running out of time—Dewey lets Sadie know that her days at the shelter are numbered.

The only solution: break Dewey out of doggie jail.

In this reaffirming, magical, and uplifting story of friendship, family, and believing in yourself, New York Times bestselling author Amber Smith assures readers: it's okay to think big and act with your whole heart.
Praise For Code Name: Serendipity…
"A touching tale of dogged determination and the magic in unexpected connections." —Booklist
 
"A warm, appealing novel about a girl who learns that even though it might seem like everything is going wrong, a bad day—or year—can always change for the better." — Bookpage
 
"Smith creates three-dimensional characters and a warm family dynamic, sensitively portraying learning differences and a beloved grandparent with dementia, and exploring difficult feelings without offering easy answers. Sadie's struggles with friendship and being taken seriously ring true, as do her sympathetic voice and heartfelt love of dogs." – Publishers Weekly
 
"A thoughtful exploration of interpersonal relationships and what it means to do right by others and ourselves. A quiet winner for animal lovers and fans of realistic fiction." — Kirkus Reviews
 
"Charming and touching." –School Library Journal

"Tender-hearted and triumphant, this uplifting story shows the many kinds of ways to be lost and found. I couldn't put it down." — Gillian McDunn, acclaimed author of Caterpillar Summer and The Queen Bee and Me
 
"For anyone who doesn't already know that dogs are magic, this book will make you a believer. Amber Smith crafts a heartwarming story that will have you cheering for the power of a bond between a girl and her dog. Simply perfect." —Megan Shepherd, NYT bestselling author of The Secret Horses of Briar Hill
 
"Smith hews closely to the perspective of her eleven-year-old protagonist, tenderly portraying her challenges—the shame of having an IEP, possibly losing a friend to a move, and witnessing her grandfather struggle with dementia—as well as her solutions: rescuing and hiding a dog. Code Name: Serendipity is a heartwarming story about the friendships found in unexpected places, family relationships deepened by trials, and animals who 'speak' to us." —Jenn Bishop, author of The Distance to Home and Where We Used to Roam
 
"Smith's debut MG novel is a gentle and generous look at how change, even when it's uncomfortable or painful, can lead to good if we let it. With a sweet dog, a mischievous grandpa, and a new friend, our heroine learns to balance following the rules versus following her heart, and that honesty really is the best policy when it comes to the people we love." —Rebecca Petruck, author of Steering Toward Normal and Boy Bites Bug
Razorbill, 9780593204917, 304pp.
Publication Date: January 4, 2022
About the Author
Amber Smith is the author of the young adult novels Something Like Gravity, The Last to Let Go, and The Way I Used to Be, which was a New York Times bestseller. This is her first novel for middle grade readers. She grew up in Buffalo, New York, and now lives in Charlotte, North Carolina, with her wife and their ever-growing family of rescued dogs and cats.