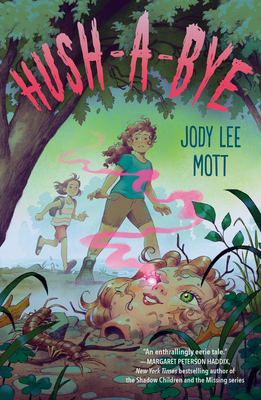 Hush-a-Bye
Paperback

* Individual store prices may vary.
Other Editions of This Title:
Hardcover (8/24/2021)
Description
A delightfully creepy story perfect for the middle school set! Hush-a-Bye is an old, broken doll found by Lucy and her sister in the woods. It seems to possess extraordinary powers, but will it use them for good or evil?

Like most kids with younger siblings, Lucy loves her sister Antonia, but is all too frequently annoyed with her as well. The two spend most of their time together since their mother works so hard, but without friends Lucy can't help but feel lonely anyway. She's always tried to ignore the bullying and teasing at school about her family being poor--it's always best to keep her head down and do nothing.

When the girls find an old, muddy doll head in the river, Antonia claims it as her newest treasure. At night Lucy hears her talking to Hush-a-Bye--and does she hear the doll talking back? Soon, Hush-a-Bye seems to be protecting Antonia by making bad things happen to others, and it isn't long before Lucy asks for its help against her tormentors, too. Slowly Hush-a-Bye's influence forms a wedge between the sisters, and Antonia's dependence on it becomes frightening. The doll has a mind of its own, and soon it will have Antonia's as well. Can Lucy solve the mystery of Hush-a-Bye to stop its evil plans?
Praise For Hush-a-Bye…
★ "Mott's deft prose and well-written characters will keep readers engaged from start to frightening finish. This is the perfect read for people who love the chill of terror running down their backs."
—School Library Journal (starred review)

"An enthrallingly eerie tale. Part revenge wish-fulfillment, part mystery, Hush-a-Bye will keep readers both on the edge of their seats… and casting glances over their shoulders, just in case."
—Margaret Peterson Haddix, NYT bestselling author of The Shadow Children and The Missing series

"Blending themes of family and belonging, Jody Mott crafts a thrillingly scary read from the first page to the last. Hush-a-Bye unearths our deepest fears about innocence and childhood, good and evil, and challenges our perceptions of all of them."  
—Lesa Cline-Ransome, author of the Scott O'Dell Award for Historical Fiction winner Finding Langston

"This book hooked me in the first sentence, and it never let me go! Jam-packed with action and suspense, this fast-paced, creepy tale will keep you turning pages well past bedtime. An absolute must-read for any scary story fans!"
—Kat Shepherd, author of the Babysitting Nightmares series

"Mott weaves a deliciously chilling tale of facing foes both human and supernatural. Readers will love scaring themselves silly right up through the spooky, satisfying final scenes."
—Christina Uss, author of The Adventures of a Girl Called Bicycle and The Colossus of Roads

"Creepy dolls are a horror staple, and Hush-a-bye fits right in. A winning combination of sisterhood, school, and a spooky doll."
—Kirkus Reviews
Viking Books for Young Readers, 9780593206799, 240pp.
Publication Date: August 23, 2022
About the Author
Jody Lee Mott is a former elementary and middle school teacher, and an avid reader of children's books who finally decided to write down the stories bouncing around his brain. He is also the creator and host of the children's book podcast Dream Gardens, which is on Stitcher, Spotify, and wherever podcasts are found. He lives several stone throws from the Susquehanna River in Apalachin, New York with his wife, children and one very large greyhound. Hush-a-Bye is his first novel. Find him at jodyleemott.com.