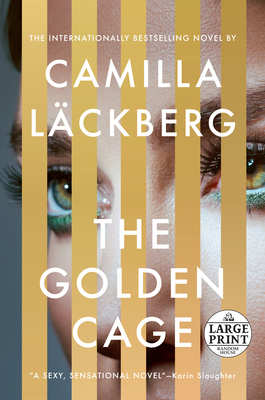 The Golden Cage
A novel
Paperback

* Individual store prices may vary.
Other Editions of This Title:
Hardcover (7/7/2020)
Description
"A sexy, deliciously dark journey."
-- Los Angeles Times

A CrimeReads Most Anticipated Book of 2020

An exhilarating new novel from a global superstar--a sexy, over-the-top psychological thriller that tells the story of the scorned wife of a billionaire and her delicious plot to get her revenge and bring him to his knees.

Faye has loved Jack since they were students at business school. Jack, the perpetual golden boy, grew up wealthy, unlike Faye, who has worked hard to bury a dark past. When Jack needs help launching a new company, Faye leaves school to support him, waitressing by day and working as his strategist by night. With the business soaring, Faye and Jack have a baby, and Faye finds herself at home, caring for their daughter, wealthier than she ever imagined, but more and more removed from the excitement of the business world. And none of the perks of wealth make up for the fact that Jack has begun to treat her coldly, undermining her intelligence and forgetting all she sacrificed for his success. When Faye discovers that he's having an affair, the polished façade of their life cracks wide open. Faye is alone, emotionally shattered, and financially devastated--but hell hath no fury like a woman with a violent past bent on vengeance. Jack is about to get exactly what he deserves--and so much more. In this splashy, electrifying story of sex, betrayal, and secrets, a woman's revenge is a brutal but beautiful thing.
Praise For The Golden Cage: A novel…
A Parade Best Book of the Summer
An O Magazine Best Book of the Summer
A Glamour Best Book of 2020
A PopSugar Most Anticipated Book of the Year

"The Golden Cage is a fast-paced psychological thriller about betrayal, sex, money, and a scorned wife's revenge à la Gone Girl."
— Dana Vogel, Buzzfeed

"The doyenne of Swedish crime fiction serves up a propulsive tale of a scorned woman who seeks to crush the husband who betrayed her and gets back at him by surreptitiously stealing his multimillion-dollar company out from under him. There's enough haute couture, Cava, and hot sex to sate a devotee of romance fiction, but the real satisfaction comes in watching our heroine reclaim her fierceness."
— O Magazine

"At long last, the thriller genre is serving up a novel that truly deserves to be mentioned alongside Gone Girl. Camilla Läckberg's The Golden Cage is a riveting story of female revenge that centers on Faye, the wife of a billionaire who brings her husband to his knees after she discovers his infidelity."
— PopSugar

"A fabulous, frothy novel."
— New York Post

"A heart-pumping tale of twisty revenge. This sexy psychological thriller is Big Little Lies meets Gone Girl meets The Girl With the Dragon Tattoo."
— PopSugar

"An extremely satisfying thriller from the ever-compelling Camilla Läckberg, The Golden Cage begins with an anxious housewife trapped in a loveless marriage that she's determined to hold together, and soon evolves into one of the most twisted and triumphant revenge thrillers I've ever come across."
— Molly Odintz, CrimeReads

"Written by European superstar Läckberg, this is a twisty tale set squarely inside the world of the very rich and very fabulous... Get that preorder on."
— Glamour

"Comparisons to Gone Girl and Lisbeth Salander will undoubtedly be drawn, and the cunning revenge plot does justify those parallels, but there are satisfying themes of redemption, loyalty, and power here that push the story beyond vengeance. A darkly glamorous and utterly absorbing departure."
— Booklist

"Läckberg outdoes herself with this delectable tale of revenge... Sexy... exquisite... scorching... The poignant insights into women's capacity for self-sacrifice, multidimensional characterizations, and celebration of female ingenuity will resonate with many. Läckberg reinforces her position as the thriller queen of Scandinavia."
— Publishers Weekly, starred

"This is Big Little Lies meets Gone Girl with some 9 to 5 tossed in for good measure... A deliciously inventive thriller brimming with sex, secrets, and scandal." 
— Kirkus

"The Golden Cage is a twisting, brutal tale of betrayal and revenge. Lackberg paints a vivid portrait of a dark and complicated anti-heroine who is both the abused and abuser, victim and victimizer. A chilling, timely read sure to thrill her international legion of fans!" 
— Lisa Unger, New York Times best-selling author of The Stranger Inside

"A sexy, sensational novel with intoxicating vengeance and an unexpected tenderness—The Golden Cage is tensely and skillfully drawn."
— Karin Slaughter, author of nineteen international best-selling novels

"It's about time that Americans get to savor the delicious twists and bad behavior that mark a Camilla Läckberg thriller. The Golden Cage is a wonderful, take-no-prisoners mashup of Gone Girl, Billions, and The Girl with the Dragon Tattoo."
—Chris Bohjalian, best-selling author of The Flight Attendant and The Red Lotus

"Camilla Lackberg is a master of psychological suspense: she grabbed me by the throat with this sharply written, wildly entertaining tale of wealth, power and revenge and kept me up straight through the night. The Golden Cage may be my first exposure to Europe's "Queen of Crime" but it certainly won't be my last. I'm a Läckberg fan for life."
— Cristina Alger, New York Times bestselling author of Girls Like Us
Random House Large Print, 9780593214756, 480pp.
Publication Date: July 21, 2020
About the Author
CAMILLA LACKBERG is the prize-winning, best-selling author of the Fjallbacka series, which has sold more than 23 million copies worldwide. Her books are sold in over 60 countries and have been translated into 43 languages. She lives in Stockholm.

Translated by Neil Smith.