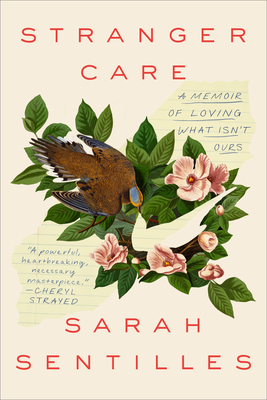 Stranger Care
A Memoir of Loving What Isn't Ours
Hardcover

* Individual store prices may vary.
Other Editions of This Title:
Digital Audiobook (5/3/2021)
Paperback (5/3/2022)
Description
NEW YORK TIMES EDITORS' CHOICE • "A powerful, heartbreaking, necessary masterpiece."—Cheryl Strayed, #1 New York Times bestselling author of Wild
 
The moving story of what one woman learned from fostering a newborn—about injustice, about making mistakes, about how to better love and protect people beyond our immediate kin
 
May you always feel at home.
 
After their decision not to have a biological child, Sarah Sentilles and her husband, Eric, decide to adopt via the foster care system. Despite knowing that the system's goal is the child's reunification with the birth family, Sarah opens their home to a flurry of social workers who question them, evaluate them, and ultimately prepare them to welcome a child into their lives—even if it means most likely having to give the child back. After years of starts and stops, and endless navigation of the complexities and injustices of the foster care system, a phone call finally comes: a three-day-old baby girl named Coco, in immediate need of a foster family. Sarah and Eric bring this newborn stranger home. 
 
"You were never ours," Sarah tells Coco, "yet we belong to each other." 
 
A love letter to Coco and to the countless children like her, Stranger Care chronicles Sarah's discovery of what it means to mother—in this case, not just a vulnerable infant but the birth mother who loves her, too. Ultimately, Coco's story reminds us that we depend on family, and that family can take different forms. With prose that Nick Flynn has called "fearless, stirring, rhythmic," Sentilles lays bare an intimate, powerful story with universal concerns: How can we care for and protect one another? How do we ensure a more hopeful future for life on this planet? And if we're all related—tree, bird, star, person—how might we better live?
Praise For Stranger Care: A Memoir of Loving What Isn't Ours…
"In prose so gripping it reads like a thriller, Sentilles describes the choices that led to the moment when she and her husband are on the phone with a social worker, saying yes to fostering a three-day-old girl. . .  What makes this book so powerful is that by experiencing motherhood through the lens of fostering, Sentilles is able to look at the wrenching and worn-out topics of parenting in a new way."—San Francisco Chronicle

"A heartbreaking memoir that, if you let it, will change the way you understand love and loyalty and family and caretaking and belonging."—Chicago Tribune

"An astonishing account of motherhood experienced through the complex lens of foster parenting."—Shelf Awareness

"Beautiful, harrowing, and profound . . . With sensitivity and insight, Sarah Sentilles takes readers with her on her tender and wrenching path to motherhood while grappling with the complexities, contradictions, and injustices of a system meant to protect the most vulnerable. I love this book so much it hurts."—Cheryl Strayed, author of Wild

"This is a memoir for anyone who has ever loved a child—or a whale or a bird or a tree, or indeed any part of this hard, beautiful world we all share, which is to say everyone. It is a memoir for everyone."—Laurie Frankel, author of This Is How It Always Is

"Stranger Care is an illuminating and heart-wrenching look at the foster care system in America, which includes half a million children and disproportionately impacts parents and kids of color. It is a transformative revelation."—Piper Kerman, author of Orange Is the New Black

"Stranger Care is a book about loving a child without boundaries, without bloodlines, without limits. This is the only book about parenting that I would recommend to anyone, because it strikes at the essential, complicated, and heartbreaking core of what parents do every moment of every day: love, love, love, love. No matter what."—Emily Rapp Black, author of The Still Point of the Turning World

"Stranger Care is a gripping and beautiful memoir. Sarah Sentilles shares a personal story that is also a story about how we live in America today—and why we must find new ways to love and care for one another."—Ben Rhodes, author of The World As It Is

"Stranger Care is a work of radical moral philosophy as much as a memoir of one family's journey through the foster care system. Their story has changed me—it broke my heart wide open in the best possible way—and I don't think I'll ever be same."—Lacy M. Johnson, author of The Reckonings

"Sentilles uses the sheer power of her writing to lift their story above the failures of flawed adults and to remind us of the human heart's limitless capacity for hope."—BookPage (starred review)
 
"Essential reading for those hoping to be foster parents."—Library Journal (starred review)

"Memoir lovers and book groups will be enthralled."—Booklist (starred review)

Random House, 9780593230039, 432pp.
Publication Date: May 4, 2021
About the Author
Sarah Sentilles is the author of Draw Your Weapons, Breaking Up with God, A Church of Her Own, and Taught by America. A graduate of Yale University and Harvard Divinity School, she lives in Idaho's Wood River Valley.
or
Not Currently Available for Direct Purchase