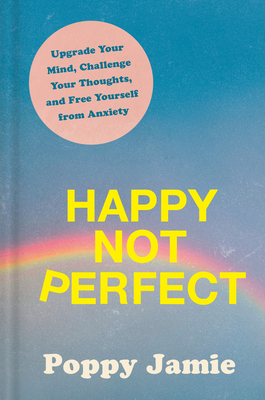 Happy Not Perfect
Upgrade Your Mind, Challenge Your Thoughts, and Free Yourself from Anxiety
Hardcover

* Individual store prices may vary.
Other Editions of This Title:
Digital Audiobook (6/7/2021)
Description
A clear path to overcoming uncertainty, perfectionism, and fears of rejection so you can finally find peace with the past and create a happier, healthier future

"Poppy's powerful approach will help you take control of your thoughts so they don't control you."—Lori Gottlieb, New York Times bestselling author of Maybe You Should Talk to Someone

Even before the pandemic brought on a crushing wave of stress, anxiety, isolation, life change, and financial struggle, there was already a growing mental health crisis. Due to a culture that encourages perfection, hustle, and fictional life/work balance, many are burning out. Behind her Instagram-projected image of "happy wellness founder," Poppy Jamie was also struggling mightily with perfectionism and life purpose.

She began working with mental health experts and researchers to find practical tools to overcome her inner critic and rewire her mind. She discovered that it is possible to create new neural pathways in your brain to break patterns of avoidance, challenge fears of not being good enough, and turn failure around by stretching the mind with new, healthier thought habits. The old wiring (and habits) that you've been stuck with can be written-over. You can actually upgrade your headspace to make curiosity, vulnerability, compassion, and emotional flexibility your default settings.

In the emphatic and trusted voice of Bridget Jones meets neuroscience, Poppy shares her Flexy Thoughts approach for changing how you react to emotional triggers and think of yourself while improving your mental and physical health, relationships, and vision of the future.

Our emotional resilience may continue to be tested, but the new perspectives and strategies in Happy Not Perfect will help us bring confidence, adaptability, and acceptance to whatever comes next.
Praise For Happy Not Perfect: Upgrade Your Mind, Challenge Your Thoughts, and Free Yourself from Anxiety…
"After perhaps one of the most a­nxiety-ridden years in our recent history, this book by wellness founder Poppy Jamie is a welcome read . . . [Jamie] details her work with mental health experts and researchers to uncover effective brain-rewiring strategies. Through her experience, you̕ll glean advice on how to be more adaptable and accepting of our very uncertain world."—mindbodygreen

"Poppy is one of my favorite voices in the world, always in pursuit of understanding, information, and empathy."—Jameela Jamil

"Happy Not Perfect is a must-read if perfectionism, comparing yourself to others, and thinking you're inadequate is taking you down. The strategies here are well thought out, practical, easy to implement, effective, and life-changing. Using them, you'll experience breakthroughs that lead to less anxiety, more emotional freedom, and genuine connection with others. Thank you, Poppy Jamie, for gifting us with your FLEX approach!"—Joan Rosenberg, PhD, author of 90 Seconds to a Life You Love

"For the past four years Poppy has been campaigning for better mental well-being education and accessible tools. She is inspirational and makes complex problems easy to understand. She teaches when you don't think you're being taught, so suddenly you leave a conversation with Poppy feeling amazing and realizing you know so much more than before you started. She's on speed dial when I need some words of wisdom mid-crisis!"—Suki Waterhouse

"What Poppy does in Happy Not Perfect is marshal the evidence from a legion of world-renowned thinkers, living and dead, to demonstrate the reality that striving for perfection is counter-productive, that before we can be happy we must offer ourselves compassion and ultimately, that the solution to our own happiness is not external but internal. She offers innumerable examples and practical techniques that gives us the tools necessary to be the architects of our own happiness and recognize that to be happy, one doesn't have to be perfect."—James R. Doty, MD, New York Times bestselling author of Into the Magic Shop: A Neurosurgeon's Quest to Discover the Mysteries of the Brain and the Secrets of the Heart and founder and director of the Center for Compassion and Altruism Research and Education at Stanford University

"I believe mental health is one of the most important things to address in our society today so that it can become more widely accepted and less ʽshameful' to talk about. That's why it's called mental HEALTH after all. The work that Poppy has done to normalize and celebrate the conversation around mental health has been beyond generous. I'm so grateful to have gotten to know her beautiful soul. From the minute you meet her, you can immediately sense that her mission in life is to help others."—Julianne Hough

"Happy Not Perfect takes what I teach people in therapy and puts it all in a book you can keep by your side."—Lori Gottlieb, New York Times bestselling author of Maybe You Should Talk to Someone
Rodale Books, 9780593231685, 320pp.
Publication Date: June 8, 2021
About the Author
Poppy Jamie is an entrepreneur, influencer, and rising star in the mental health and mindfulness space. She launched the Not Perfect podcast and the Happy Not Perfect app after four years of aggregating behavioral studies and developing the app with neuroscientists, researchers, and her neurotherapist mom. She has been featured in the New York Times, Wired, Fast Company, Refinery29, Forbes, Vogue, Bustle, Cosmo, E!, NBC News, and MTV.