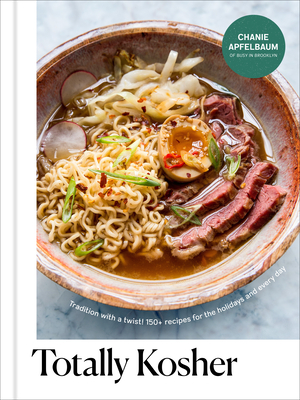 Totally Kosher
Tradition with a Twist! 150+ Recipes for the Holidays and Every Day
Hardcover

* Individual store prices may vary.
Description
More than 150 fun, flavorful, and modern kosher recipes inspired by dishes from around the world—featuring quick-and-easy weekday meals, traditional recipes, and unfussy holiday dinners from the creator of the blog Busy in Brooklyn

Known for bringing a trendy edge to kosher meals, Chanie's recipes are changing the way kosher cooks approach weekday dinners and holiday celebrations. In Totally Kosher, she introduces home cooks to exciting ways to bring global flavors to a kosher kitchen—such as homemade Chili Crisp, Miso Matzo Ball Soup, Kishke Corndogs, Tahdig Toast, Waffle Cone Chicken Drumsticks, Cauliflower Kasha Varnishkes, and Brownie Bar Hamantaschen.

Chanie keeps family meals fresh and practical, and shares her cooking secrets, kitchen hacks, and favorite pantry ingredients that will transform your cooking, as well as meal planning advice and make-ahead tips. Whether you're cooking a traditional holiday feast or making a crowd-pleasing Baked Potato Board, home cooks will discover more than 150 accessible, approachable ways to keep kosher food exciting and delicious for the entire family.
Clarkson Potter, 9780593232613, 320pp.
Publication Date: March 21, 2023
About the Author
Chanie Apfelbaum is the founder of the popular blog Busy in Brooklyn and author of the cookbook Millennial Kosher. She is a contributing writer to Mishpacha Magazine's Fleishigs Magazine and has been featured in The Wall Street Journal, HuffPost, The Meredith Vieira Show, Thrillist, and more. She was born and raised in Brooklyn, and lives there with her five children.