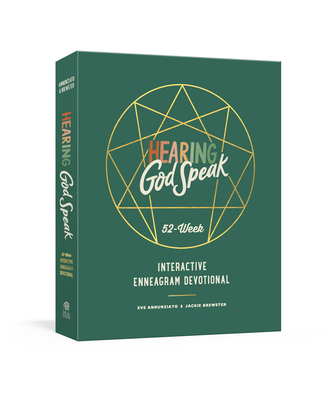 Hearing God Speak
A 52-Week Interactive Enneagram Devotional
Paperback

* Individual store prices may vary.
Description
Combining the Enneagram system with biblical truth, this interactive, yearlong devotional helps you better understand yourself and other people while guiding you toward a deeper relationship with Christ.

This weekly, interactive guide helps you explore how your heavenly Father is speaking to you as you listen to Him in your Enneagram language. Learn to identify patterns of behavior that drive your decisions and uncover your deepest thoughts, unconscious motivations, and personality traits.

Hearing God Speak addresses each Enneagram type with weekly disciplines, meditations, interactive responses, and contemplations. Once you understand how you are wired, you can engage with God and His Word in a fresh way, bringing you profound knowledge of His truth. Features include:


beautifully designed, full-color pages
multiple interactive elements each week
seven weekly actions and prompts for meditation, prayer, reflection, response, and gratitude
a lesson and action step for each Enneagram type

Hearing God Speak is a mentor and friend in book form. No matter your Enneagram number, this devotional experience is about learning to hear God as He communicates directly and uniquely to you.
Praise For Hearing God Speak: A 52-Week Interactive Enneagram Devotional…
"Have you ever read a scripture that meant something to you and something altogether different to someone else? What you found inspiring, they found frustrating. Jackie Brewster and Eve Annunziato have created a resource that takes the powerful truths of scripture and helps you hear it in a voice you understand. This will be your favorite devotional this year!"—Jenni Catron, leadership coach and author of The 4 Dimensions of Extraordinary Leadership

"I love the concept of this book! It's such a smart, creative, helpful way to approach the Enneagram. It's one of those classic tools that serves two critical purposes: it reminds you of your unique role in God's story but also how everyone else around you is experiencing life, too."—Jon Acuff, New York Times bestselling author of Soundtracks

"Eve and Jackie have taken their curiosity in the human psyche and used it in a way that will help God speak directly to people in their own language of understanding. Be prepared for your heart to change, your mind to open, and your relationships to grow in this 52-week masterpiece."—Kacie Gaston, Modern Southern Mother

"I've learned this much in my life: God is always speaking. The question is, are we paying attention? I hope you hear God's voice in such a real way through the pages of this book. He loves you, He made you just the way you are, and He has great plans for your life."—Emily West, mom, wife, Enneagram 8

"In the journey of learning who I am and how I'm wired, I've found the Enneagram to be a key that has helped to unlock some doors inside my heart. Hearing God Speak can be a key to unlock doors by opening eyes to the ways God is speaking to each of his children. It is a weekly invitation to let God work on you and show you how to step into the fullness of the unique story that He is writing through your life."—Matthew West, Emmy Award–nominated singer-songwriter, author, and actor

"This book is wonderfully written! Jackie and Eve have a unique way with words and powerful perspective!"­—Marc Pimsler, experiential therapist specializing in trauma, shame, and addiction at MVP Consulting and Onsite Workshops 

"While many are talking about the Enneagram, few have taken this ancient and sacred tool and made it an accessible spiritual resource. That's why I'm so excited about Hearing God Speak, which was written to help you connect with God, apply scripture through a personal and intimate lens, and begin to redeem some of the patterns that are holding you back."—Lindsey Nobles, vice president of marketing, Onsite

"Hearing God Speak is brimming with truly transformational material. This 52-week interactive devotional will help you experience freedom in being who God created you to be. Spend a year hearing God speak directly to you with this incredible book."—Beth McCord, bestselling author, speaker, and founder and CCO of Your Enneagram Coach
Ink & Willow, 9780593232699, 352pp.
Publication Date: February 9, 2021
About the Author
Eve Annunziato is an Emmy Award-winning journalist who segued from news writing and reporting to ministry leadership roles at some of the fastest-growing churches in the country. A freelance producer and writer, she loves spending time at her farmhouse outside Nashville, Tennessee, where she lives with her husband, Charlie Neese, and their two kids.

Jackie Brewster, a certified Enneagram coach, consults with teams and individuals, leading them toward finding the best version of themselves in their work and personal environments by identifying their unique personality type through the teachings of the Enneagram and biblical truth. Leaning on their many years of church ministry experience, Jackie and her husband, Stephen, own a consulting company while raising their four children in Franklin, Tennessee.
or
Not Currently Available for Direct Purchase